Weston School
Introduction
Constructed between 1882 and 1964, the grounds of Weston School are located at 205 E. Wallace Street in Weston, Umatilla County, Oregon. With buildings dating from the late nineteenth through mid-twentieth centuries, the grounds of Weston School have served in an range of educational capacities, including a Methodist-run academy, a State of Oregon teacher's college, and later a public school for Weston and other nearby communities and settlements. Today, the property reflects the changing use of the grounds throughout the nineteenth and twentieth centuries, and includes five contributing resources, including the Weston School, shop, the Weston Methodist Academy/Old Gym, the New Gym, and the original school bell, and two non-contributing resources
Images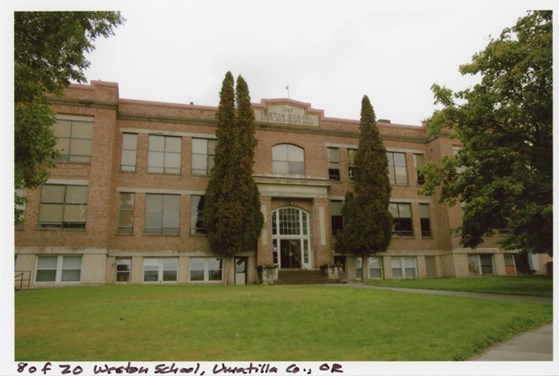 Bell in front of Weston School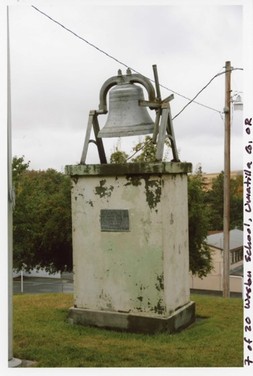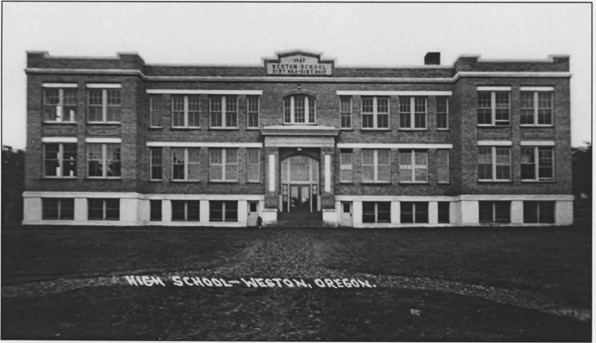 Backstory and Context
The Weston School grounds are situated at the top of a steep hill in the city of Weston, located in north-central Umatilla County at the junction between the slope and highland areas of the Blue Mountains. Weston School is roughly bounded by E. Wallace Street to the south, S. Hill Street to the east, E. Main Street to the north, and S. Broad Street and S. Franklin Street to the west.
The 1927 two-story brick school building is situated at the top of the hill on the Weston School grounds. The front entrance of the building faces west towards S. Franklin Street and overlooks downtown. The central block with projecting wings building has a flat roof and measures approximately 67x126 feet. A volume housing the building's auditorium extends to the rear of the building. The addition of an elementary wing in 1960 is attached to the south facade of the building. This addition has multiple shed roof pitches and measures approximately 77x175 feet. The original 1927 school volume is clad in brick, while the 1960 addition is constructed of poured concrete and concrete block.
Weston Methodist Academy/Old Gym The oldest building on the Weston School campus, the Weston Methodist Academy/Old Gym was first built in 1882 and heavily altered between 1923 and 1924. The building is located at the western edge of the Weston School grounds at the base of the hill. The approximately 60x120-foot building is composed of the original one-and-one-half-story 1882 main steep-pitched gabled-roof volume clad in stucco-over-brick and a one-story medium-pitch gambrel-roof rear addition clad in horizontal wood board constructed in 1924. The main volume houses classrooms while the rear addition houses a gymnasium.
The Weston School is significant under Criterion A for its association with the education in Weston between 1882 and 1964. Originally established as the Weston Methodist Academy, the school has been home to the Eastern Oregon State Normal School, Weston School District #19, and most recently Weston Middle School with the Athena-Weston School District #29RJ. Later additions to existing buildings and new construction during the nineteenth century demonstrate the growth of students in the Weston area during the period of significance and represent the school site's importance to the community of Weston and its historic function as a school.
Sources
National Register for Historic Places Nomination documentation
Additional Information