Jackson Homestead and Museum
Introduction
This local history museum is located in a historic home that was built by Timothy Jackson in 1809. Abolitionist William Jackson, Timothy's son, lived in the home from 1820 until he died in 1855. William Jackson used the home to support his abolitionist activities, including sheltering runaway slaves and assisting them as they traveled to freedom via a network of safe-houses known today as the Underground Railroad. Descendants of William Jackson continued to live in the home until 1932, after which time it was rented out. In 1949, the family gave the house to the city of Newton and it stands today as the Newton History Museum.
Images
Full view of the Jackson Homestead and Museum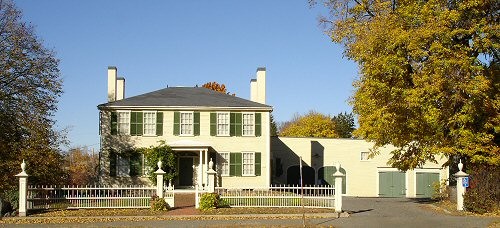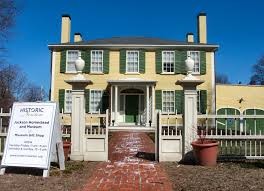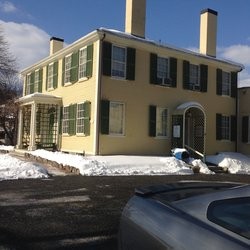 Backstory and Context
William Jackson's father, Timothy, fought in the Revolutionary War, and came home in 1870 at the age of 24. He was a hard-working man who improved the financial position of the family by beginning a soap and candle making factory. He was also very active in politics, holding positions such as Justice of the Peace and Massachusetts State Representative. In 1809, after expanding the size of the family farm, Timothy Jackson decided to build a large, modern house to replace the old family home. The two story home was built in the Federal style and is well preserved today.

An educated man, William Jackson took over the reigns of his father's soap and candle making factory. He enjoyed great financial success in his life, as well as great political success. At the age of 49, he became a United States Congressman. While in the political sphere, he became associated with the anti-slavery movement. It was during this time that the Jackson Homestead was used as a stop for fleeing slaves who were traveling the Underground Railroad. William died in 1855, leaving his wife Mary and three of his daughter's to keep up the house.

Jackson family members lived in the house from 1809 when it was built, until 1932. At that time, the family rented out the house, until 1949 when it was donated to the town of Newton. Today, the Newton History Museum is open to the public at the old homestead. One can view paintings, manuscripts, historical artifacts and much more, including a cellar which may have been a hiding place for runaway slaves. The museum not only offers information about the history of the Jackson family and the historic home, but also the general history of the town of Newton.
Sources
1. "Jackson Homestead," Last modified June 18, 2015 https://en.wikipedia.org/wiki/Jackson_Homestead. 2. "Jackson Homestead and Museum," http://www.newtonma.gov/gov/historic/visit/jackson_homestead_and_museum/default.asp. 3. "Jackson Homestead," Last modified: EST http://www.nps.gov/nr/travel/underground/ma7.htm
Additional Information