Lower Klamath National Wildlife Refuge
Introduction
President Theodore Roosevelt established the Lower Klamath National Wildlife Refuge in 1908 as the first waterfowl refuge in the United States. It is one stop on the Pacific Fyway migration route and overlaps the border with Oregon, though the majority of its 50,000 acres lie in California. It is one of six refuges located in Northern California and Oregon that make up the Klamath Basin National Wildlife Refuge. The five other refuges were established in the coming decades. The Lower Klamath refuge consists of freshwater marshes, open water, grassy uplands, and croplands, all of which are carefully managed. Water flows into the refuge through irrigation canals and as a result the refuge is vulnerable to water shortages. Over one million birds pass through the refuge each year. Activities for visitors include hunting, hiking, bird watching and photography. The refuge is historically significant in that it was the first of its kind in the country to specifically protect waterfowl and that it represented the growing awareness of the general public of the importance of preserving wildlife and natural places. For these reasons, the refuge was designated a National Historic Landmark in 1978 and placed on the National Register of Historic Places in the early 1990s.
Images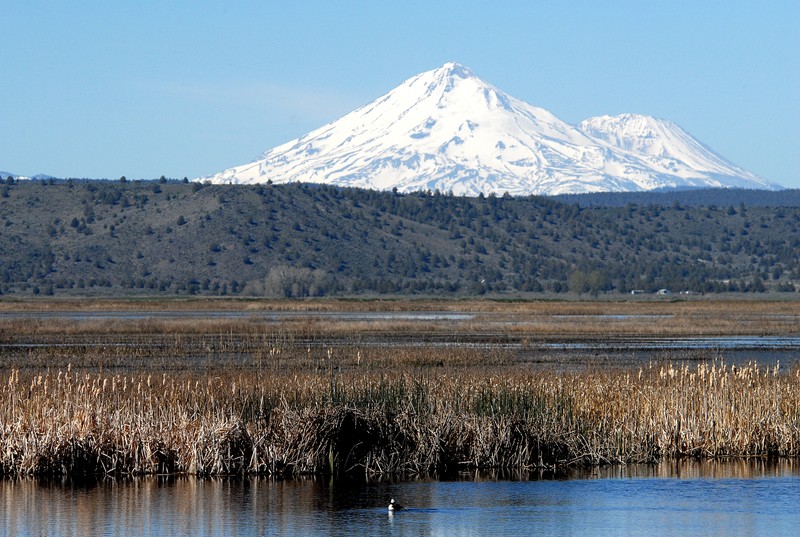 Backstory and Context
Native Americans inhabited the area from about 5,000 B.C. to around 1850, when settlers moved into and established farms around Tule Lake. By 1917, encroaching farmland and poor agricultural practices decreased the size of the refuge significantly. However in 1940 the wetlands were partially restored.
Sources
"About the Refuge," http://www.fws.gov/refuge/Lower_Klamath/about.html. Retrieved 6-24-15. Huston, Anne E. "Klamath Lake Reservation," National Register of Historic Places. 1990s.
Additional Information