National Hellenic Museum
Introduction
Chicago's National Hellenic Museum is dedicated to promoting Greek culture. Located in the city's popular Greektown district, the current museum building opened in 2011. The museum contains thousands of artifacts spanning Greek history from ancient Greece to Greek Americans in the present day. It has multiple permanent and temporary exhibits, as well as an extensive research library. The museum also engages in community outreach with educational programs such as lectures, language classes, and culture classes.
Images
The National Hellenic Museum was established in 1983. The current building was opened in 2011 in Chicago's Greektown district. Image obtained from Greek Reporter.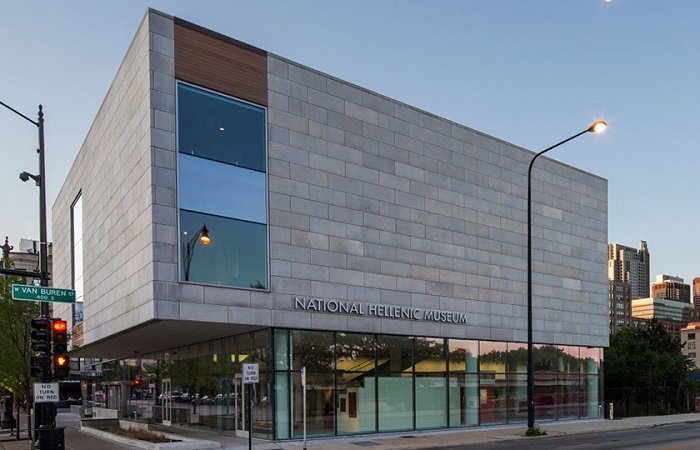 The museum has a variety of permanent and temporary exhibits exploring Greek culture and the story of Greek immigration to America. Image obtained from the Daily Herald.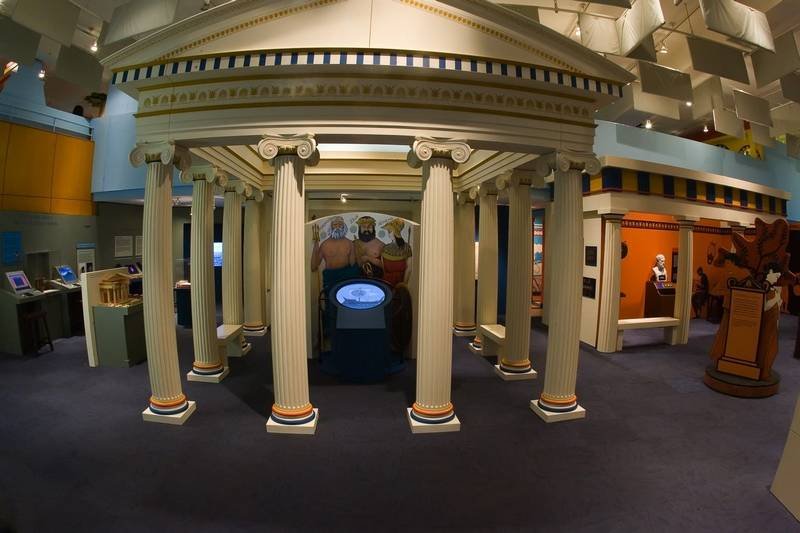 Backstory and Context
Hundreds of thousands of Greeks immigrated to the United States in the late nineteenth and early twentieth century in search of better economic opportunities. Most of them settled in large metropolitan areas, particularly New York, Boston, and Chicago. Many Greeks in Chicago lived together in a neighborhood that came to be known as Greektown. Originally Greektown was located around the Halstead, Harrison, and Blue Island areas, but the construction of the Eisenhower Expressway and the University of Illinois at Chicago forced the community to move several blocks north. It was once one of the most vibrant ethnic communities in the city; today it is primarily a commercial district, home to many Greek restaurants and other businesses.
In 1983 the Hellenic Museum and Cultural Center was founded in Chicago to promote Greek culture. It did not have a physical facility open to the public until 1992 when it opened in a location on Michigan Avenue. In 2004 the museum moved to a temporary space in the fourth floor of a building on South Adams Street in Greektown and announced its intentions to build a permanent location. After years of planning and fundraising, construction began on the new museum building in 2010 at the corner of Van Buren and Halsted Streets, on the site of a former hardware store. By this time the museum had been renamed the National Hellenic Museum as part of a rebranding effort in 2008. The new museum building was completed and opened to the public in 2011. The four-story, 40,000 square-foot facility incorporates elements of Greek architecture from various periods of history; it was designed by Chicago-based Greek American architect Demetrios Stavrianos, whose notable works include the U.S. Capitol Visitor's Center and the Food and Drug Administration Headquarters. In 2017 Greek Prime Minister Alexis Tsipras visited the museum, the first Greek head of state to do so.
In the years following the opening of the new building, the museum has been able to greatly expand its collection and operations. Today it possesses over 10,000 artifacts relating to Greek and Greek American history, displayed in several permanent and temporary exhibits. It includes the Frank S. Kamberos Oral History Project, which preserves recordings of interviews and memoirs from hundreds of Greek Americans and encourages others to participate as well. The museum is home to the Gus and Mary Stathis Library and Resource Center, which features a large non-circulating collection of books and documents on Greek culture, history, religion, and language. The museum also operates multiple programs including lectures, a popular series of Greek language classes, and culture classes in topics such as music, theatre, dancing, poetry, and art. It also hosts annual events such as a fundraising gala and a Greek food festival known as Kouzina.
Sources
"About Us." National Hellenic Museum. Accessed February 24, 2018. https://www.nationalhellenicmuseum.org/visit/about-us/
Chrysopoulos, Philip. "Alexis Tsipras Is First Greek PM to Visit National Hellenic Museum in Chicago." Greek Reporter. October 16, 2017. Accessed February 24, 2018. http://usa.greekreporter.com/2017/10/16/alexis-tsipras-is-first-greek-pm-to-visit-national-hellenic-museum-in-chicago/
Cityofchicagotv. "National Hellenic Museum" (video). Posted February 3, 2012. Accessed February 24, 2018. https://m.youtube.com/watch?v=9GytQudyC4E
Liebenson, Donald. "New Hellenic Museum to rise in Greektown." Chicago Tribune. March 17, 2010. Accessed February 24, 2018. http://articles.chicagotribune.com/2010-03-17/news/ct-x-c-hellenic-museum-0317-20100317_1_new-museum-one-of-a-kind-museum-greektown-community
YouAndMeThisMorning. "Did You Know: The National Hellenic Museum" (video). Posted January 14, 2014. Accessed February 24, 2018. https://m.youtube.com/watch?v=r4dwcz_ie0
Image 1: http://usa.greekreporter.com/2017/10/16/alexis-tsipras-is-first-greek-pm-to-visit-national-hellenic-museum-in-chicago/
Image 2: http://www.dailyherald.com/article/20111218/entlife/712189987/
Additional Information