Clarke Historical Museum
Introduction
Established in 1960 by high school teacher Cecile Clarke, the Clarke Historical Museum in Eureka, California explores the history of Humboldt County, featuring exhibits on the Native American tribes of the Northwest, the gold rush period, the lumber industry, and ranching. Its collections include numerous artifacts such as textiles, tools, various household items and weapons. Its photographs and documents illustrate the history of European settlement from the 1850s onward. The Native American collection is extensive, containing women's ceremonial caps, flour and gambling trays, baskets, flint and obsidians points, a Yoruk canoe, and fishing gear. The museum is housed in the former Bank of Eureka building that was built in 1911. The building is listed on the National Register of Historic Places.
Images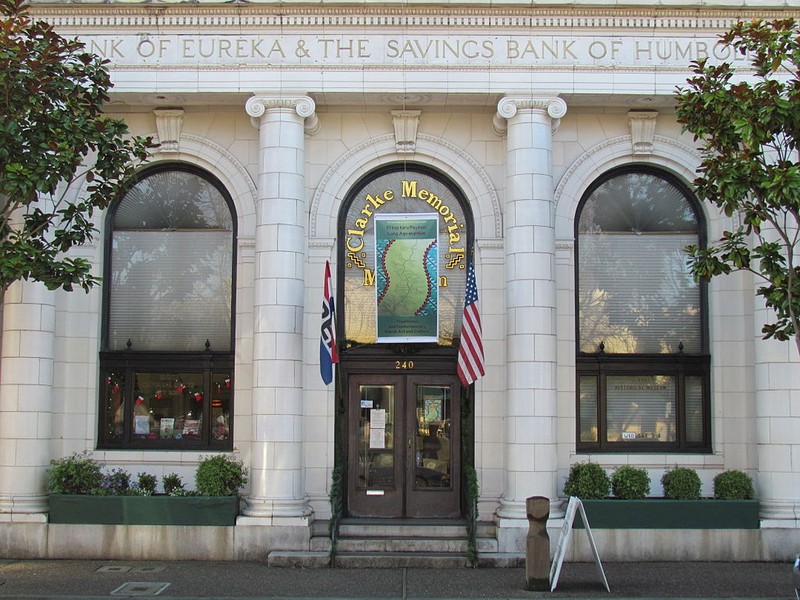 Backstory and Context
Cecile Clark (1885-1979) was a history teacher for many years at Eureka High School. During that time, she collected Native American baskets and displayed them at the school. Eventually, the school ran out of space for her growing collection so Cecile decided to sell her family's sheep farm and used the money to buy the Bank of Eureka Building (the bank merged with another in 1957 and moved out). The original name for the museum was the Clark Memorial Museum but it changed to its current one in 2001.
Sources
http://www.clarkemuseum.org/our-history.html
Additional Information