Mission San Rafael Arcangel (CA Mission #20)
Introduction
Constructed second to last of the 21 California missions, San Rafael Arcangel alone was not originally intended as a mission at all. This first permanent Spanish establishment on the north coast of the San Francisco Bay was actually founded in 1817 as a hospital for the ailing population of Mission San Francisco de Asis ("Mission Dolores"). Its rapid growth prompted an official designation as Mission on October 19, 1822. It briefly served as an encampment for Lt. Colonel John C. Fremont and his "Bear Flag Revolt" in 1846, immediately preceding America's war with Mexico and its annexation of California. The original mission was largely destroyed over the following century, until a replica chapel was built in 1949 with the support of the Hearst Foundation. Today it resides adjacent to the larger Saint Raphael parish church and is open seven days a week for tours, weddings, liturgies, prayer groups, and other events.
Images
1862 photo of the San Rafael area in a local newspaper. The building in the red circle was the first parish church built over the ruin of the original mission.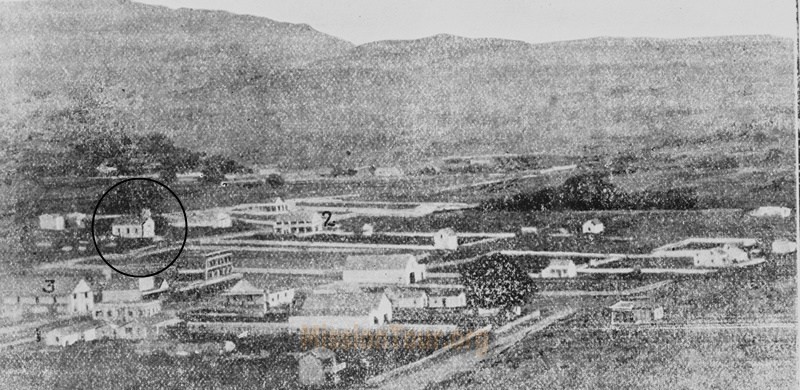 A contemporary painting of San Rafael. Since it was not originally conceived as a mission, San Rafael lacked a belltower. Its bells were instead hung on a wooden frame near the front entrance (CA Mission Foundation).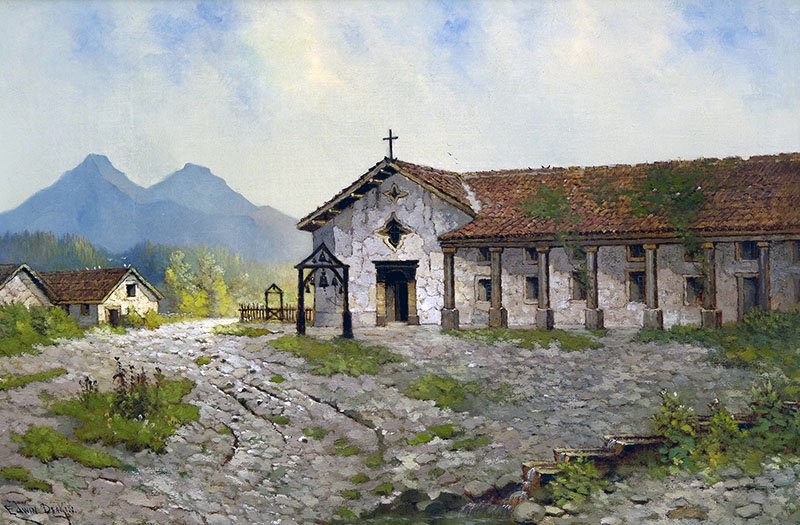 The Mission chapel (r) is adjacent to a present-day Catholic church. President Abraham Lincoln returned the mission's lands to the Catholic Church in 1862.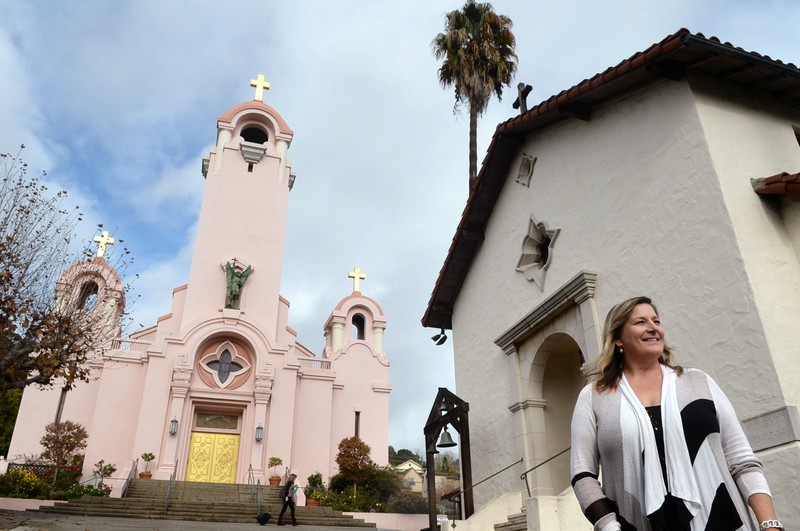 General Mariano Vallejo was a prominent figure from the era of Mexican and early American rule in California. As the government administrator for the Mission's lands after secularization, he may have taken much of the property for himself.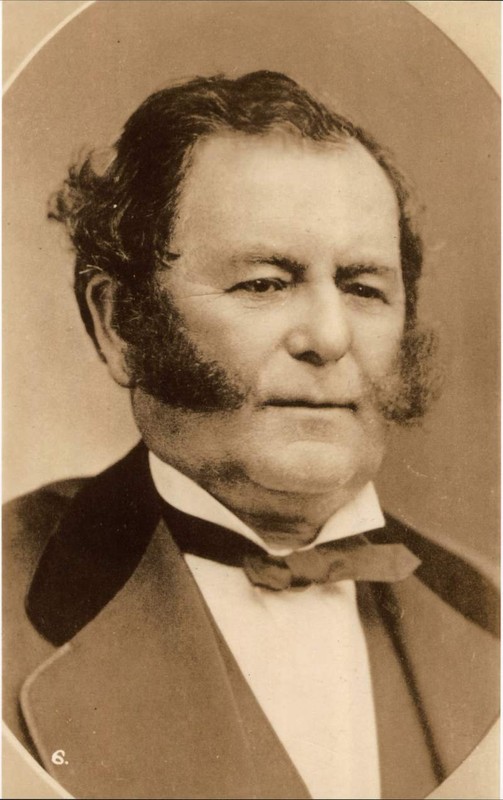 Lt. Colonel John C. Fremont used the mission briefly as his headquarters during the Bear Flag Revolt, his clandestine operation to foment rebellion in California and prepare the territory for annexation by the United States.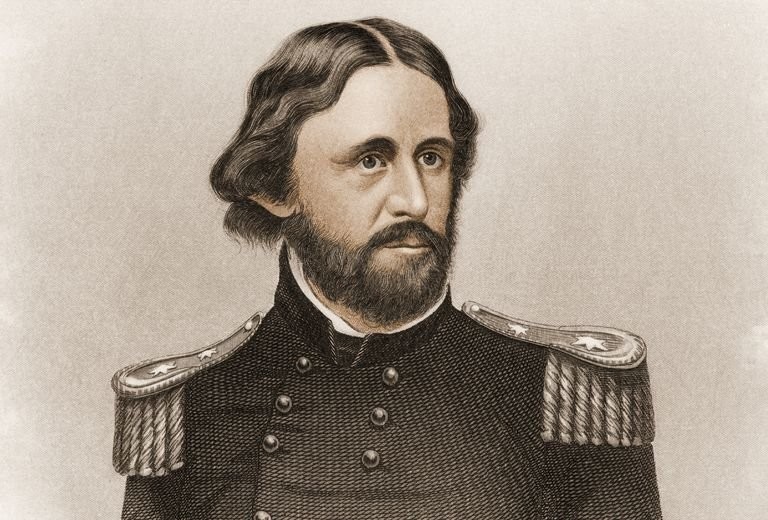 Famous scout Kit Carson accompanied Fremont through much of the Revolt, and was one of the snipers who killed three men approaching Mission San Rafael at Fremont's orders.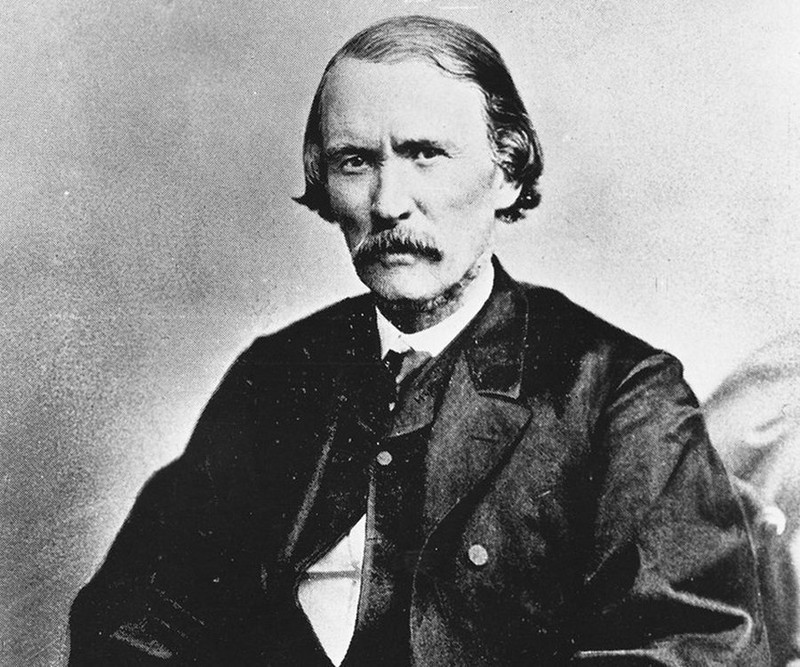 A woman of the Pomo tribe as photographed by Edward S. Curtis in 1924. The Pomo and Miwok peoples lived near the mission and comprised most of San Rafael's neophytes.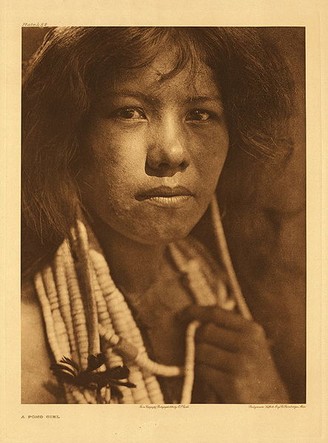 General Mariano Vallejo's 1878 sketch of the Mission as it may have looked in 1831, and the most important visual source in creating the replica chapel of 1949 (Claremont Colleges).

Backstory and Context
For several decades, Mission San Francisco de Asis was the farthest northward of the California missions, surrounded much of the year by the cold, damp, and fog near the San Francisco Bay's Golden Gate. The Native American population of neophytes suffered tremendously from the unfamiliar, rigidly monastic lifestyle and devastating European diseases to which they had little immunity, resulting in higher rates of illness and death than at the other missions.
Beginning in 1816 and 1817, meetings and correspondence took place between California's Spanish Governor Solá and Padre Ramón Abella at Mission San Francisico de Asis. Solá suggested an experiment: moving some of the neophyte population to a sunnier site across the Golden Gate (the narrow entrance to the San Francisco Bay, though it would not gain its famous name until 1846). Lieutenant Gabriel Moraga had scouted the Marin Peninsula there around the time the mission at San Francisco was founded, and now an experiment was to be attempted with a group of ailing Natives. In a few short months, they showed marked improvement, and soon Padre Gil y Taboada, being educated in medical science of the day, volunteered to minister at this new location.
On December 13, 1817 a group of padres including the missions' Presidente Padre Vicente de Sarría, Padre Gil y Taboada, Padres Ramon Abella and Narciso Duran, followed by a workforce and military escort, left San Francisco Presidio by boat. They arrived across the bay and planted a cross at a place known to the Native Americans as "Nanaguani" as the sun set over the hills.
On the 14th of December, the first Mass was held and the asistencia of Saint Rafael the Archangel was formally dedicated (Rafael means "healing of God"). At this point San Rafael became the first sanitarium in California. In 1818, Simple adobe buildings were erected at the site, with a main structure 80 feet long and 42 feet wide. It was essentially one building divided into storehouses, a hospital for the sick, and a monastery for the padres A church was also constructed at one end of the building. The church had no tower for its bells, which were hung outside the front door on a wooden frame, and since the asistencia was not intended as a mission, it lacked the traditional mission quadrangle.
Padre Gil's success at San Rafael brought the number of Indians there to 382 in the first year and the healing value of the site drew many converts. After two years at San Rafael Padre Gil was replaced by Padre Juan Amorós from Carmel, often cited for his energy and dedication. Under Amorós the asistencia was granted the full status of a mission on October 19, 1822, and usually maintained a much larger population than its parent, Mission San Francisco de Asis, despite being labeled "new and unimportant...this mission is quite poor and possesses no goods for trade," by the typically observant French sea captain Auguste Duhaut-Cilly in 1827. Though indeed San Rafael maintained fewer cattle than the average mission due to its location, it furnished an impressive amount of crops for its population and became well known for its pears.
A permanent, whitewashed adobe church was finished in 1823 and San Rafael seemed well on the road to prosperity. In February of 1829, however, a group of Indians attacked the Mission. Padre Amorós was saved by a group of Mission Indians formed a human shield, then hid him in the marshes until the fighting was over. The Mission was damaged in this encounter. More trouble arrived in 1832, when the popular Amorós died and was replaced with the more short-tempered Padre José María Mercado. Alarmed by reports of an approaching unidentified group of Native Americans, he armed a group of Mission Indians. These attacked the incoming group, killing 21 and wounding more. Padre Mercado was suspended for six months and exiled to the mission in Soledad.
After gaining independence from Spain, the new Mexican government feared the influence and dubious loyalty of the Franciscans at the missions. Secularization laws were ratified in 1834, divesting all missions of most of their property and placing much of their assets in the hands of government-appointed administrators. While one of the last to be established, Mission San Rafael was the first to be secularized. General Mariano Vallejo was ordered to carry out the secularization of the Mission and distribute property to the Mission Indians, but instead added the Mission properties to his own holdings and put the former neophytes to work for him. Vallejo even went so far as to have the Mission's famous pear trees and grapevines dug up and moved to his lands. Needless to say, San Rafael's structures and grounds suffered mightily after secularization; by 1840 a mere 150 neophytes remained.
In July 1846, shortly after raising the Bear Flag at Sonoma as part of a clandestine American operation to incite revolt in California, Lt. Colonel John C. Frémont encamped at Mission San Rafael. His lookouts sighted three people in a boat crossing from San Pablo and, presuming that they were messengers carrying orders to hostile California troops nearby, Fremont gave orders to have them ambushed--according to some contemporary accounts, he claimed to have no room for prisoners. Famed frontier scout Kit Carson and a pair of lookouts shot the three men, who were likely civilians and uninvolved in the conflict, as they disembarked from their boat
The mission lands were returned to the Catholic church in 1862, but so little remained to be salvaged that the ruins of San Rafael were cleared away in 1870 to make room for a new church. A wooden frame Gothic Revival-style church was constructed in 1890, and in 1909 the Native Sons of the Golden West erected a bell and a sign near the sole surviving pear tree from the Mission.
In 1949, a replica of the original chapel was constructed with a grant from the Hearst Foundation. A sketch made from memory by General Vallejo in the 1870s being the only record of San Rafael's physical appearance, the replica is not precise. The star-shaped window above the front entrance is likely not part of the original design, but true to history, three of the original bells now hang on a wooden frame near the doors of the chapel.
Sources
Yenne, Bill (2004). The Missions of California. Thunder Bay Press, San Diego, CA. "California Mission" Lowman Publishing Company, Arroyo Canyon, CA. 2011. Mission Rafael is on page 23.

Baxter, Don J.. Missions of California. San Francisco, CA. Pacific Gas & Electric Company, 1970. Compiled from a series of articles in P.G. and E. Progress

Hoover, Mildred Brooke. Rensch, Hero Eugene. Historic Spots in California. Edition 3. Stanford, CA. Stanford University Press, 1958. Mission San Jose, pp.252-253.

Duhaut-Cilly, Auguste. Translated by Fruge, August and Harlow, Neal. A Voyage to California, the Sandwich Islands, and Around the World. Berkeley, California. University of California Press, 1999. pp. 56, 134.

Solnit, Rebecca. Of illegal immigration and bloodshed -- in 1846 / Celebrated killings highlight dubious path to statehood. SFGate. June 25, 2006. Accessed March 16, 2019. https://www.sfgate.com/opinion/article/Of-illegal-immigration-and-bloodshed-in-1846-2494092.php#photo-2658161.

Mission History. Church of Saint Raphael. . Accessed March 16, 2019. https://www.saintraphael.com/72.

San Rafael Arcangel. Missions California. . Accessed March 16, 2019. https://www.missionscalifornia.com/mission-facts/san-rafael-arc%C3%A1ngel.



Additional Information