Powder Magazine
Introduction
The Powder Magazine is a military based museum housed in the oldest public building in South Carolina. Originally designed to hold the gunpowder which fueled the cannons protecting 1700's era Charleston, this important piece of South Carolina history has been preserved to nearly its original condition. Since the early 1900's it has served as a museum, showcasing important military and wartime artifacts and exhibits from throughout South Carolina. Today the building is just as significant as the content it contains. A revolutionary development for its era, the building was purposefully designed to explode up through the roof, instead of out through the walls.
Images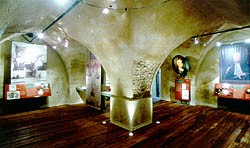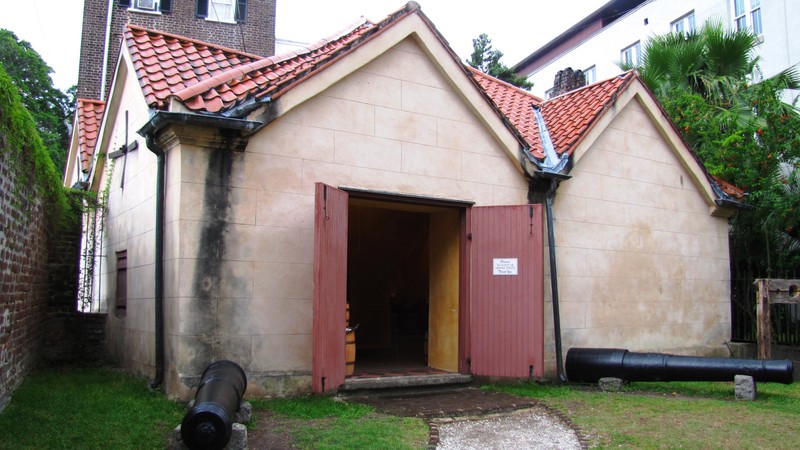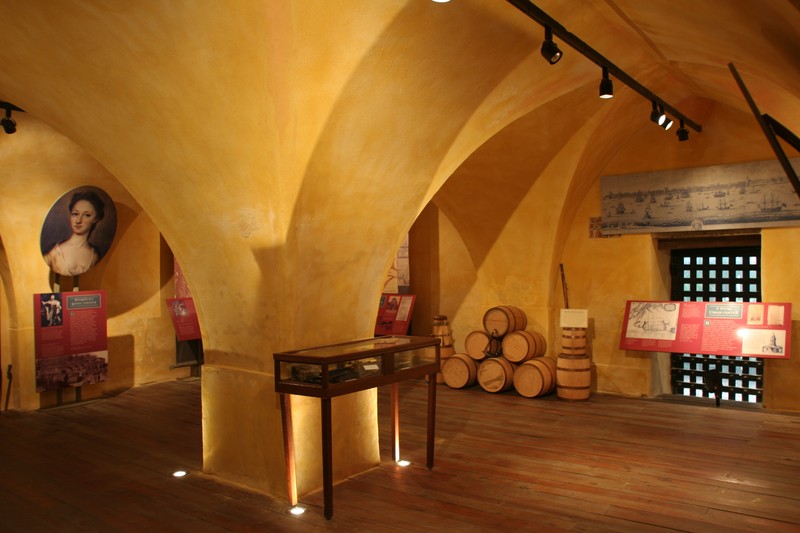 Historical Print Powder Magazine Exterior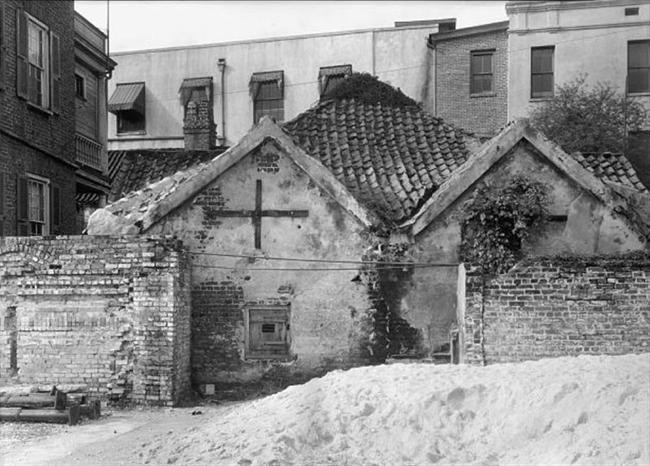 Backstory and Context
Built in 1713, the Powder Magazine is the oldest public building in South Carolina. During South Carolina's early phase as an independent colony, the Powder Magazine was created in conjunction with a large wall that was built around the city's exterior edge. Without the presence of a military force to protect the city, Charleston was vulnerable to attacks from outside. The wall's purpose was to promote protection within the city. Canons were placed intermittently along the wall, and the Powder Magazine housed the gunpowder used to fuel these canons.
After the use of the Powder Magazine declined in the 1800s, it was converted to a stable, printing press, a storage building, Blacksmith shop, wine cellar, and a horse carriage house.a By 1902 the National Society of the Colonial Dames of America bought the building and transformed it into a museum. Today, the museum offers a variety of exhibits and artifacts from Charleston's military history, spanning both the Revolutionary and Civil War era.
The Powder Magazine building is a unique structure that was built with high arching ceilings and a lean roof. The tile roof and the 32-inch thick brick walls of the Powder Magazine are very typical for early buildings. The building shares a distinct The interior roof structure was strategically designed in case the building would experience an explosion, the building's shape would cause it to blow upwards, instead of outwards. At the time of use, the building's attic was filled with sand to soften the blow of an explosion. It remains filled to this day.
Since 1902 the Powder Magazine has been owned by the South Carolina Society of Colonial Dames (SCSCD), which uses the property as a museum of early Charleston history. The Historic Charleston Foundation has led many projects to have the building undergo extensive archaeological and architectural conservation.
Sources
History. The Powder Magazine. Accessed April 06, 2017. http://www.powdermag.org.
Powder Magazine- Charleston, Sc. SC Citizen History. Accessed April 06, 2017. http://www.sciway.net/sc-photos/charleston-county/powder-magazine.html.
Powder Magazine. Charlestons historic, religious, & community buildings. Accessed April 06, 2017. https://www.nps.gov/nr/travel/charleston/pow.htm..


Additional Information