Paul Cuffee Estate
Introduction
The farmhouse situated on Drift Road in Westport was believed to be the home of Captain Paul Cuffee (1759-1817), a wealthy colonial-era African-American merchant. Cuffee was a leading advocate for minority rights in Massachusetts, and a promoter and funder of the resettlement of African-Americans to present-day Sierra Leone. He was an active shipbuilder, whaler, and merchant. In his later years, he brought a group of free African-Americans across the ocean to form a small colony in Sierra Leone, on the west coast of Africa. Local historian Lamont Thomas called him "a one-man civil rights movement." In 2016, a group of three historians provided a report which shed new light on the home's ownership. They doubted that the home designed as a National Landmark ever belonged to Cuffee and his family. In fact, they argue that the land and probate records, among other resources, proved that it belonged to the Tripp family during that time frame. Cuffee did own property nearby and used the shoreline for his shipping vessels during this period, but it appears likely that it was not actually on the site that has been called his home.
Images
This restored farmhouse was built in 1759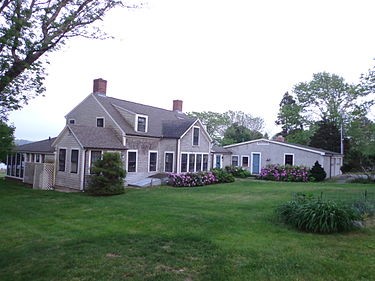 Paul Cuffee (Courtesy of Blackpast.org)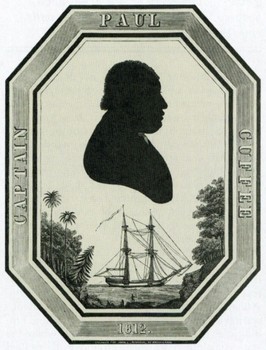 Backstory and Context
Paul Cuffee was an African-American entrepreneur who was raised in New Bedford, Massachusetts. He was born in 1759 to a freed slave named Kofi Slocum, on Cuttyhunk Island (southern Massachusetts). Cuffee's mother was a Wampanoag Native American. Paul changed his named from "Slocum" to "Cuffee," the Anglicized form of Kofi after his father's death. When he was a young boy, his father purchased a 116-acre farm in Dartmouth (part of which would later become Westport in 1787). His father died in 1772. Paul and his brother, John, inherited the farm and divided it in half.
The young man started his career as a whaler out of the ports of the Dartmouth township. Later, he became a merchant, trading up and down the American east coast as well as making trips to the Caribbean and Europe. He was a very successful merchant and soon accumulated enough wealth to start purchasing and building his own ships for trade. In addition to his entrepreneurial trades, Cuffee was also active in local politics. In 1780, he and several other free Black men petitioned the Massachusetts legislature to either give them (free Black and Native Americans) voting rights or stop forcing them to pay taxes to a government that won't hear their voice.
In the early 1800s, he used his own wealth to build a schoolhouse on his property, provided a teacher, and opened the school to all white and colored children who wished to attend. Cuffee has always pondered the secondary status of African-Americans in the United States, but it was around this time that he really started to form a plan to improve their situation. Cuffee had a new dream. He hoped to see the slave and freed African-Americans return to Africa. His plan included trips to the motherland and preparations to begin a new colony on the continent's west coast. He made his first voyage aboard his vessel the "Traveller" in 1810 to the West African country of Sierra Leone. In 1811, he established a group called the Friendly Society of Sierra Leone. His group aimed to encourage the Black settlers who returned to Africa, as well as the native population, to enter commerce by "the Cultivation of their Soil, by the Sale of their Produce."
He returned from Sierra Leone in 1812. The War of 1812 had just begun, which limited his travel opportunities. He sailed up and down the east coast, to Baltimore, Philadelphia and New York, to form the American arm of Britain's "Black poor" organization. He wasn't able to return to Sierra Leone for another emigration voyage until 1815. At that time, he brought 38 settlers and paid $4,000 of his own money for their passage. Unfortunately, it was the last trip that he made. He died in 1817 at the age of 59 while at home in Westport.
Captain Paul Cuffee's farm was added to the National Register of Historic Places in 1974. However, it is a private residence and although it has been restored, it is not open to the public for tours. The current owners purchased the property back in 2003 for $1.7 million. As mentioned previously, there is considerable doubt that this property was actually the home of Captain Paul Cuffee. Historians gathered conflicting information which was presented to the Town of Westport in November 2016.
Sources
Gates, Jr., Henry Louis. Who Led the First Back-to-Africa Effort?. PBS. Accessed July 23, 2017. http://www.pbs.org/wnet/african-americans-many-rivers-to-cross/history/who-led-the-1st-back-to-afric....

Winch, Julie. "Thou Art Often the Companion of My Mind": Paul Cuffe, James Forten, and the Portrait of a Friendship. Westport Historical Society. Accessed July 23, 2017. http://wpthistory.org/wp-content/uploads/2014/01/Winch_Julie.pdf.

Who was Captain Paul Cuffe. New Bedford Whaling Museum. February 03, 2017. Accessed July 23, 2017. https://www.whalingmuseum.org/explore/paul-cuffe/who-was-captain-paul-cuffe/.

Watson, Elwood. Cuffe, Paul, Sr. (1759-1817). BlackPast.Org: Remembered and Reclaimed. Accessed July 23, 2017. http://www.Blackpast.org/aah/cuffe-paul-sr-1759-1817.

Thomas, Lamont. Rise To Be A Book. Westport Historical Society. October 03, 2009. Accessed July 28, 2017. http://wpthistory.org/wp-content/uploads/2014/01/Thomas_Lamont.pdf.

Westport researchers uncover local origins of famous Cuffe family. SouthCoast Today. November 18, 2016. Accessed July 28, 2017. http://www.southcoasttoday.com/special/20161118/westport-researchers-uncover-local-origins-of-famous....


Additional Information