Chesapeake & Ohio Canal National Historic Site
Introduction
The Chesapeake & Ohio Canal National Historic Site is located in Potomac, Maryland right near Georgetown. The Canal is part of a 19th century public works project that sought to connect the Potomac River with the great lakes. The canal was operated despite the fact that it did not reach the intended length to end in Ohio. The canal at the park is now used for tourist boat rides and recreational activity. The park stands as both that and a reminder of pre-modern transportation.
Images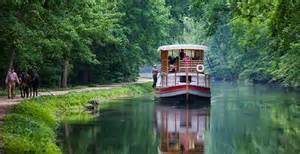 Backstory and Context
The Chesapeake & Ohio Canal was built in 1828, with the intentions of linking the tidal basin of Washington, DC to that of the Ohio River on the Western Border of Pennsylvania. This right around the time that the Erie Canal in New York was constructed and opened. The C&O Canal was to be used mostly for shipping up to this area. The commissioning of the first phase of the canal was done by-then President John Quincy Adams. However, the canal in full was not complete until 1850, when it reached Cumberland, Maryland. The Baltimore &Ohio Railroad was built in conjunction with around the same time.
The full canals heyday was from that point on into the early 20th century. In the Civil War, the Chesapeake & Ohio Canal would be used mostly for the transportation and shipment of coal. However most of this would fall to the B&O railroad after the war had ended. In addition to that several floods would ravage the area and then eventually forcing the B&O railroad to buy the canal from the original company that had owned it. The final blow to its operations would occur in 1924 when another devastating flood destroyed much of the equipment on the canal, in which all active use of the canal ceased.
Over a decade later, the canal would be sold once again. This would not be to another private company but the US government. The government would put the National Park Service (NPS) under it where it remains right up to this day. It would declared a National Monument in 1961 and ten years later it was declared a National Historic Site. Since then, it has remained open to the public as such.
Today the park is frequented by numerous tourists. One of the most popular activities is the tour boat ride that takes visitors through the canal showing the history of it. The locks, aqueducts, and dams that were originally built in the 19th century still stand. Other come for a simple recreation activities along the canal such as biking or hiking along the trail. The Chesapeake & Ohio National Historic site stands out as an important site for the memories of 19th century Maryland.
Sources
National Park Service . "Chesapeake & Ohio National Historic Park ." Accessed June 7, 2015. http://www.nps.gov/nr/travel/wash/dc6.htm.
Additional Information