Parkersburg Oil and Gas Museum
Introduction
Author-Uploaded Audio
This museum in downtown Parkersburg offers a collection of artifacts, exhibits, and documents related to the history of the oil and gas industry in the region and beyond. The museum also includes a replica of an old oilfield office. It is a blast from the past when walking inside this old building, which dates back to 1900 after the original building was destroyed by fire. The grounds of the museum include a collection of different engines and machinery dating back to West Virginia's first oil boom.
Images
The Oil and Gas Museum, located in the historic W.H. Smith Hardware Company building.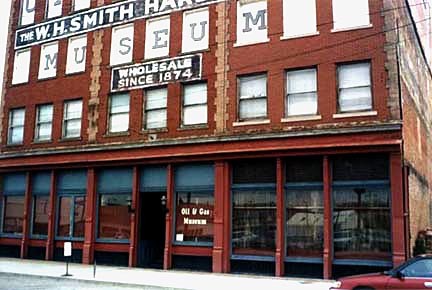 The Fascinating Story Of The People And Places Involved In The "Birth" Of The Nation's Oil & Gas Industry-click the link below to learn more about this book.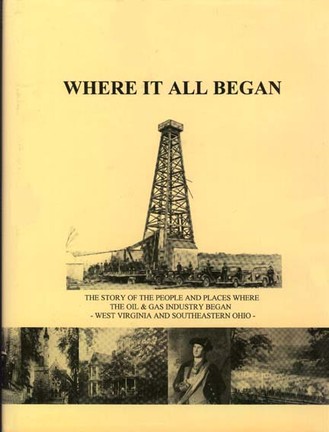 The Museum includes numerous exhibits on the extraction of oil and natural gas and its social and economic influences on the state. Courtesy of Visit Greater Parkersburg.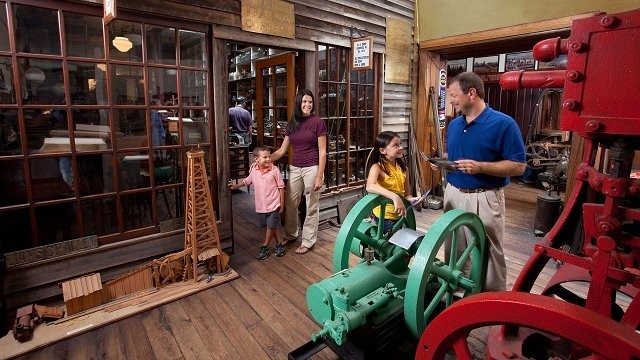 Backstory and Context
Author-Uploaded Audio
In the mid-eighteenth century, surveyors determined western Virginia was rich in oil and natural gas. Native Americans already utilized oil seeping from the ground for a variety of purposes, but it was not a major source of fuel until it was drilled in large quantities. In 1842, oil was accidentally discovered in Wirt County, WV. While drilling for salt on their property, the Rathbone family found that oil was getting in the way. One year after Edwin Drake successfully established the nation's first oil well in Pennsylvania, the Rathbones drilled West Virginia's first oil well in Burning Springs, Wirt County, in July 1860. Johnson Newlon Camden, later a state senator, established an oil refinery in Parkersburg where much of this oil was prepared for use. 
The oil rush quickly expanded throughout Wirt, Wood, and Ritchie County. With huge quantities of oil being produced, money was quickly coming to this area, which was a huge influence in the Civil War and was one of the reasons West Virginia became a state. With all this money, the owners did not want it to go to the Confederates. Oil was selling for about $30 a barrel, and with oil only a hundred feet under the ground, it created quick millionaires. Some of Parkersburg's mansions are the result of oil fortunes.
Natural gas, a byproduct of the creation of petroleum in the earth, also had use in nineteenth century western Virginia. As early as 1831, the Kanawha salt manufacturers were producing heat by using wooden pipes to move natural gas from wells. As oil production declined in the twentieth century, natural gas gained popularity as a more efficient and cost-effective option. 
The Parkersburg Oil and Gas Museum explores the history and technologies of these fossil fuels in West Virginia, along with some history of the Civil War in this area. 
The Museum is located in the historic W.H. Smith Hardware Company building, completed around 1900 and listed on the National Register of Historic Places. It retains unique, original features such as a historic Romanesque facade with the hand-painted sign, hardwood floors, light fixtures, hardware store shelving, and heating units. The Hardware Company was established in 1874 on this site and produced items for agriculture and industry; home items ranging from doors to stoves to roofing; and tools for Blacksmiths, wagonmakers, and saddlers. The original building burned in August 1899 and the current structure built on the former's original foundations. The Hardware Company kept shop at this site until the 1980s when they moved out of downtown; they remain in business today. 
Sources
Allen, Bernard L. and David Matchen "Natural Gas and Petroleum." e-WV: The West Virginia Encyclopedia. 27 June 2017. Web. 19 September 2018. https://www.wvencyclopedia.org/articles/1600
"Early Oil and Gas Industry." Visit Greater Parkersburg. Accessed September 2018. https://www.greaterparkersburg.com/things-to-do/history-heritage/oil-gas/
Geiger, Joe "Burning Springs Oil Field." e-WV: The West Virginia Encyclopedia. 25 March 2014. Web. 19 September 2018. https://www.wvencyclopedia.org/articles/726
National Register of Historic Places. "W.H. Smith Hardware Company Building." National Register of Historic Places Inventory/Nomination Form prepared by Alan Rowe, WVSHPO, and James Miracle, January 21, 2003. Accessed September 2018. http://www.wvculture.org/shpo/nr/pdf/wood/03000349.pdf
Hendricks, R. F. "Parkersburg." e-WV: The West Virginia Encyclopedia. 30 May 2013. Web. 19 September 2018.
"Oil & Gas Museum." West Virginia Commerce. West Virginia Department of Commerce. Web. 1 June 2015. https://www.wvencyclopedia.org/articles/1811
"Parkersburg Oil and Gas Museum adds drilling exhibit." Parkersburg News and Sentinel. January 2018. Accessed September 2018. http://www.newsandsentinel.com/news/business/2018/01/parkersburg-oil-and-gas-museum-adds-drilling-exhibit/
Sturm, Philip "The Rathbone Well." e-WV: The West Virginia Encyclopedia. 11 March 2014. Web. 19 September 2018. https://www.wvencyclopedia.org/articles/13
Additional Information