Miami Sit-Ins to Protest Segregation at Lunch Counters, 1959-1960
Introduction
In September 1959, the Congress of Racial Equality (CORE) held an Interracial Action Institute in Miami. Following this meeting, white and Black students and others began sit-ins at area department stores that refused to serve Black patrons. This image shows a later sit-in at Burdine's on East Flagler Street (presently the location of Macy's). Although these sit-ins did not immediately lead to the integration of Miami lunch counters, they gave activists important lessons that would help spur the wave of successful sit-ins that began in Greensboro, NC in 1960.
Images
White and Black clergymen participate in a sit-in at Burdines luncheonette in downtown Miami.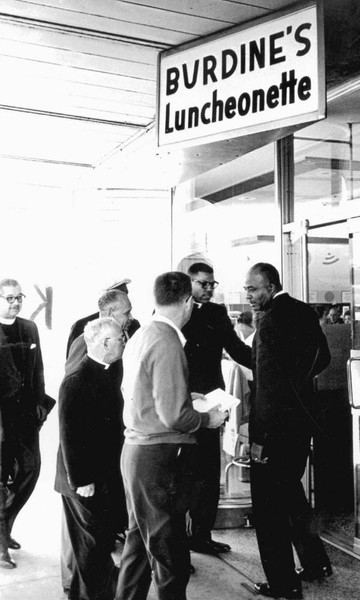 Waitresses refused to serve African Americans at a Miami store.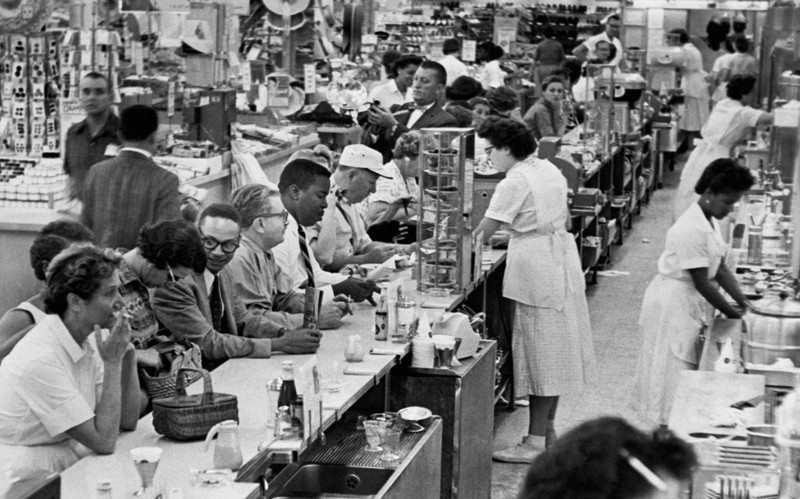 For more information, please click the link below and learn about this book available from the University Press of Florida.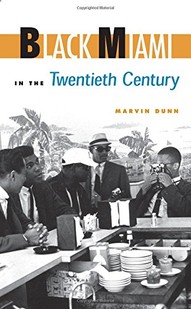 Backstory and Context
Brief History of CORE
The Miami Sit-Ins came as a indirect result of teachings and campaigning for greater equality by CORE, which was first established in 1942 as the Committee of Racial Equality. Based on a pacifist mentality that sought to change racist attitudes, University of Chicago student George Houser and the eventual First National Director (student at the time) James Farmer began organizing protests against segregation in public accommodations through the non-violent practice of sit-ins.
From the beginning, sit-ins and CORE attracted significant tension from local communities and national leadership. The aftermath of the Brown v. Board of Education decision in 1954 and the Montgomery Bus Boycott revived and revitalized CORE and its members, and the organization continually provided these events with a philosophical commitment to non-violence.1
The Sit-Ins in Miami
Throughout the late 1950s, CORE moved south with its message of equality and non-violent protest. Then in September of 1959, CORE organized a two-week seminar on non-violent direct action called the "September Action Institute." Participants in the seminar decided to stage a series of sit-ins at the segregated lunch counters located at Jackson-Byron and Grants department stores.
These stores closed their counters as a reaction, and by the end of the seminar, Jackson-Byron notified CORE and stated that they would de-segregate their lunch counters. Of course, this was met with enthusiasm and a feeling of great success, but when the counter re-opened, Black members of CORE were refused service.
When the sit-ins resumed on the 23rd of September, CORE and other activists occupied all of the Jackson-Byron's 40 seats for around 5 hours. The peaceful situation quickly fell into violence as racist groups attacked CORE members while the police harassed and arrested sit-in members. The protests were temporarily suppressed until 1960, when sit-ins swept across the Southern states.2
An Example of the Time:
The August 19th, 1960 edition of the Ocala-Star Banner featured a small article on Page 10, next to the funnies, titled "Miami Sit-Ins Draw Criticism." Although this is one small piece of the greater history pertaining to anti-segregation in the 1960s, the article does show the mentality of the time. The article read, verbatim, as follows:
MIAMI (AP): A Miami restaurant sit-in that resulted in 18 arrests drew criticism from Florida's Governor, the Mayor of Miami, and two Miami newspapers as un-constructive.
Gov. LeRoy Collins said yesterday the demonstration by integrationists of the Congress of Racial Equality (CORE) hurt rather than helped their cause.
Mayor Robert King High said the demonstrators deliberately aimed at being arrested and thus displayed a lack of spiritual substance in their approach.
CORE spokesmen denied the group intended to be placed under arrest. They said their visit to a northeast Miami shopping center restaurant was to test reaction there to Negroes seeking service.
The 18 were booked at Dade County jail under a law governing ejection of unwelcome guests. Twelve refused to be bailed out. One said getting out on bond would be like "paying to have segregation forced on you."
The Miami News, in a front page editorial, advised the "hothouse liberals" to "go home and grow up."
The Herald said editorially "Those who would integrate lunchrooms and restaurants were poorly served" by the group attested.3
Sources
Kevin McCarthy, African American Sites in Florida, Pineapple Press, 2007. History of the Congress of Racial Equality, http://www.core-online.org/History/history.htm History of the Civil Rights Movement website, http://www.crmvet.org/tim/timhis59.htm#1959miami Ocala Star-Banner - Aug 19, 1960 https://news.google.com/newspapers?nid=1356&dat=19600819&id=cPkjAAAAIBAJ&sjid=4QQEAAAAIBAJ&pg=1055,6753098&hl=en Image Credit: http://floridamemory.com/items/show/4521
Additional Information