The Holocaust Memorial at Miami Beach
Introduction
Conceived in 1984 and dedicated in 1990, the Holocaust Memorial at Miami Beach pays fitting tribute to its more than six million Jewish victims. Designed by architect and artist, Kenneth Treister, the memorial's centerpiece is an outstretched, forty foot bronze arm reaching to the heavens as hundreds of human figures cling to and rise with it. However, the memorial contains so much more than this dramatic sculpture.
Images
Central sculpture of the memorial.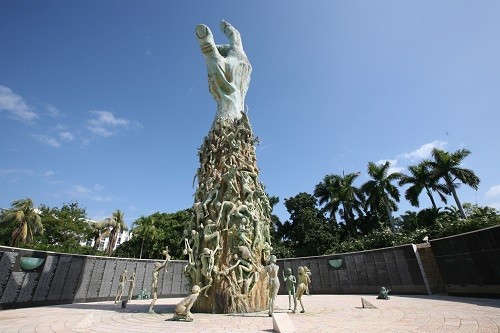 Smaller sculpture with memorial wall.
A mother tries to explain...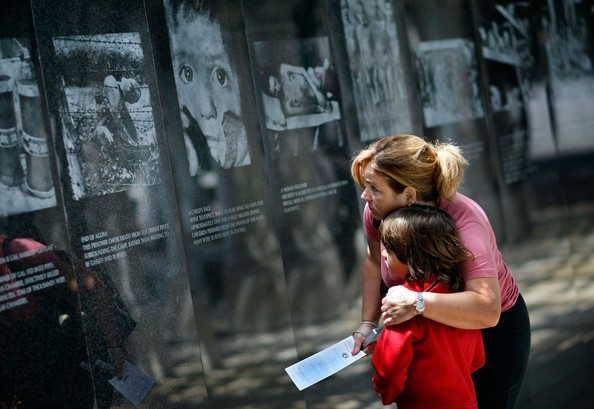 Backstory and Context
The Holocaust Memorial Committee was created in 1985 and chose Miami Beach as the location for its memorial due to the large population of Holocaust survivors that resided in South Florida at that time. After overcoming some initial resistance, the funds they raised allowed construction on the memorial, which takes up several blocks, to begin in 1986 and they secured Elie Wiesel as the guest speaker at the memorial's dedication.
Aside from the central sculpture, the memorial also contains a moving series of smaller sculptures that depict Holocaust victims in various poses of fear and anguish. Built on a foundation of Jerusalem stone, the memorial invites visitors to contemplate the horrors of the Holocaust as they stare into the reflecting pool, read the thousands of names on the Black granite memorial wall and stand in stunned silence in the bare Dome of Contemplation.
Many considered the eventual creation of the memorial to be "bashert," or fate, as the address was, and still is, 1933-1945 (the years of Nazi rule in Germany) Meridian Ave. It is entirely proper, in the playground of Miami Beach that we take a few minutes to remember those souls who perished at the hands of such evil.
Sources
History of the Memorial. Holocaust Memorial Miami Beach. Accessed April 15, 2017. http://holocaustmemorialmiamibeach.org/about/history/.


Additional Information