Britton Lane Battlefield
Introduction
Near the village of Denmark, TN the battle of Britton Lane occurred on September 1, 1862, which is marked by several historical monuments. A memorial monument marking the mass grave of 21 Confederate soldiers killed at the site. Also located on the site is a cabin that was used as a Federal and Confederate hospital. The cabin can be toured. The Historic site has regular events such as reenactments, gun shows and Civil War church services. The road in which the battle took place was named after the property owner, Thomas Britton.
Images
Monument in honor of Confederate soldiers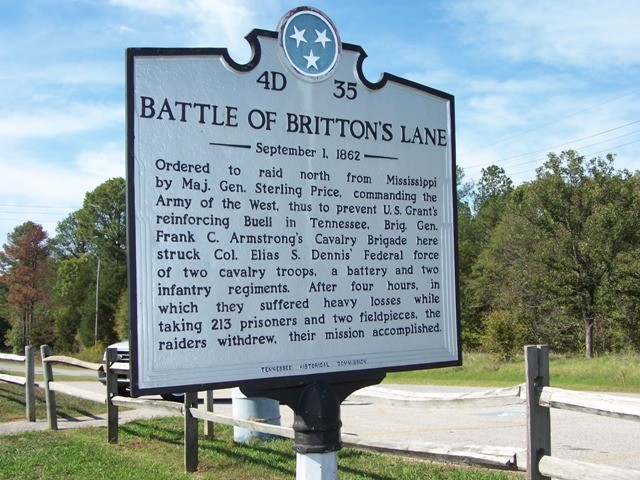 Cabin used as field hospital.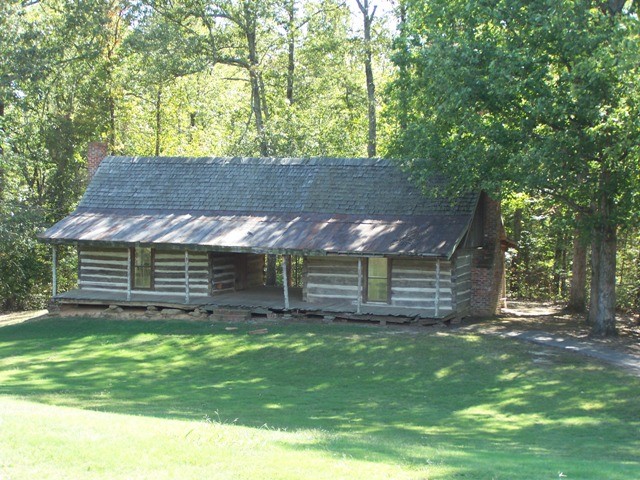 Mass grave memorial of 21 unknown Confederate soldiers.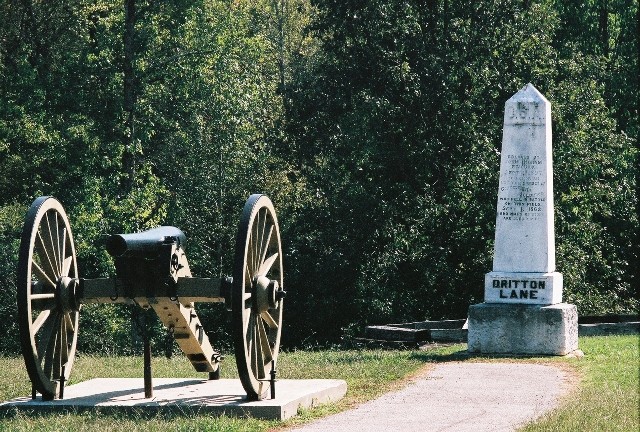 Entrance to Britton Lane.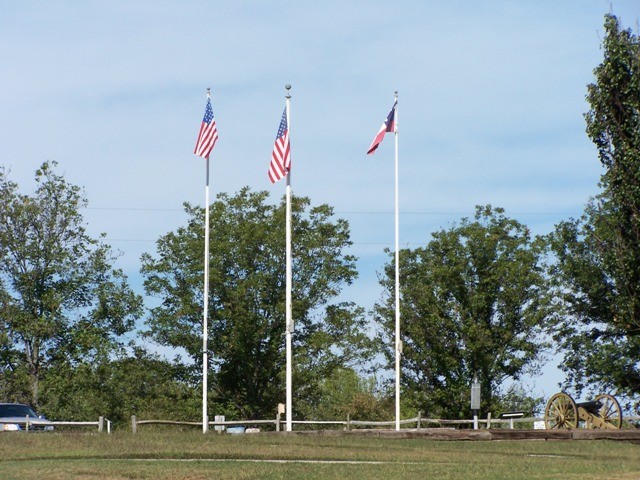 Backstory and Context
Federal and Confederate troops accidentally ran into each other on September 1, 1862, marking the Britton Lane Battlefield with a four-hour battle. Confederate General Armstrong led his troops towards Denmark while Colonel Elias S. Dennis led his troops to Medon on a country lane (Britton's Lane).
At the intersection of Steam Mill Ferry Road and Collins Road (Britton's Lane), both troops ran into each around 9:30 am. The Federals saw the Confederates first and were able to get two cannons to the front and center of the troops.
Armstrong hears the cannons firing and gallops to the front of his troops. He orders his troops to charge the guns. The Confederates galloped toward the enemy with their sabers drawn. By this time it was almost 10:00 am. The Southerners came within several feet of the enemy but were turned back after considerable loss.
The next charge was ordered by the Confederates around 10:30 am through a cornfield on foot. The Federalists did not have time to re-establish their artillery before the attack. During this attack, the Southerners captured several supply trains and wagons.
Two hours after the battle began Armstrong was finally able to have enough forces to have a successful attack against Dennis. The forces Armstrong sent were fresh troops and ordered directly to charge into the enemy guns. This attack caused confusion while the cavalry was held up by dead men and horses that bottlenecked the lane.
The Confederates had heavy losses by 12:30 or 1:00 pm and Colonel Armstrong chose to withdraw his troops towards Denmark, during which Armstrong ran into Federals who had retreated (maybe deserters) and was almost captured. Although Armstrong retreated the mission was considered accomplished.
Armstrong had five thousand men under seven different regiments. While Dennis only had six hundred men. The soldiers who fought in the battle were from Tennessee, Alabama, Missouri, Louisiana, Arkansas, Mississippi, Illinois and Ohio. Some were within only ten miles of their homes in Madison County.
Sources
"The Battle of Briton Lane." http://www.brittonlane1862.madison.tn.us/battle_history.htm.

"Battle of Britton Lane - An Unexpected Clash." The Historical Marker Database. Accessed May 27, 2015. https://www.hmdb.org/marker.asp?marker=82228.

"Briton Lane Battlefield." Big Black Creek Historical Association. Accessed May 27, 2015. http://www.bigBlackcreekhistorical.com/15britton_lane_battlefield.

Photos: Big Black Creek Historical Association
Additional Information