Meridian Hill/ Malcolm X Park
Introduction
This lesser-known 12-acre park, officially named Meridian Hill Park but more commonly referred to as Malcolm X Park, is on a hill that overlooks downtown DC. It is called "Malcolm X Park" due to a proposal that was presented before Congress to rename it as such after the 1968 riots. The city park sign includes both names.
Images
Nation's largest cascading fountain
Member of the drum circle playing in the park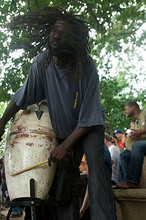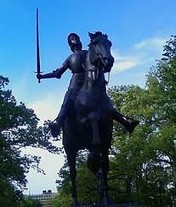 Backstory and Context
During a 1969 rally in the park, political activist Angela Davis, who was a leader of the Communist Party of the USA and was associated with, but not a member of, the Black Panther Party, suggested that the park be renamed Malcolm X Park. Meridian Hill Park has long served as a DC community public space for recreational activities, political rallies, and speeches. On August 14, 2014, the park was host to a peaceful protest against police brutality following Michael Brown's death in Ferguson, Missouri. The protesters marched from Meridian Hill/ Malcolm X Park all the way to the National Portrait Gallery. During the 1970s, the park became a dangerous place filled with crime and drug sellers. A neighborhood organization called the "Friends of Meridian Hill" restored it to its former glory in the nineties. Today it is once again a safe and lively hub of activity. Famously, every week the park is home to a drum circle with roots in the tradition of drumming in the African American community. Slave masters in the antebellum South banned the tradition of drumming.
On June 25, 1910, an Act of Congress established that the land known as Meridian Hill would become a park. Construction planning began in 1912. Landscape architect George Burnap was asked to create a park similar to those found in European capitals—complete with dramatic statues of historical figures such as Joan of Arc and Dante Alighieri (author of The Divine Comedy) and the nation's largest cascading fountain. Horace Peaslee approved Burnap's plans and became the project's architect.
The person responsible for Meridian Hill's establishment as a park (the area had several previous uses, including acting as a vantage point for the Union Army during the Civil War) was Mary Henderson, an activist and developer. She was the wife of Missouri Senator John B. Henderson, who introduced the thirteenth amendment, which was responsible for abolishing slavery. The Hendersons lived at the bottom of Meridian Hill in a house that they built, which is now known as Henderson's Castle. Mary Henderson even proposed building a new White House on Meridian Hill Park, a plan that, of course, never came to fruition.
Sources
http://dcentric.wamu.org/2012/05/meridian-hill-park-or-malcolm-x-park/ http://content.time.com/time/travel/cityguide/article/0,31489,1852610_1852670_1852662,00.html http://urbanscrawldc.com/2014/08/21/the-long-evolution-of-meridian-hill/ http://www.nbcwashington.com/news/local/Thousands-Rally-in-DC-for-Michael-Brown-Ferguson-Protests-MalcolmX-Howard-271327751.html http://en.wikipedia.org/wiki/Angela_Davis http://www.nps.gov/mehi/learn/historyculture/henderson.htm http://www.nikolasschiller.com/blog/index.php/archives/category/location/dc/meridian-hill-park/
Additional Information