The Crown Heights Riots, 1991
Introduction
According to TIME Magazine, the Crown Heights Riots were the worst episode of racial violence in New York City city since the death of Martin Luther King. Responding to false reports and misunderstandings in a tense racial climate, Black and Orthodox Jewish residents of the Crown Heights neighborhood responded with violence during two days of rioting in August, 1991. The trouble began after a car in the motorcade of Menachem Mendel Schneerson, the leader of a Jewish religious sect, accidentally hit two Guyanese children. One of the children, Gavin Cato, died. During the riots, several Jews were injured and two people, one Jewish and one not, were killed by rioters. It is assumed that the rioters thought the non-Jewish man was Jewish.
Images
Then New York mayor David Dinkins (with megaphone) speaks to crowd at Gavin Cato's house.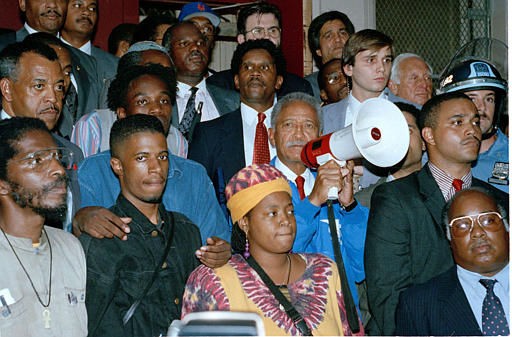 Casket carrying body of Yankel Rosenbaum, 29-year-old Jewish Australian student doing research in New York who was killed during the riots.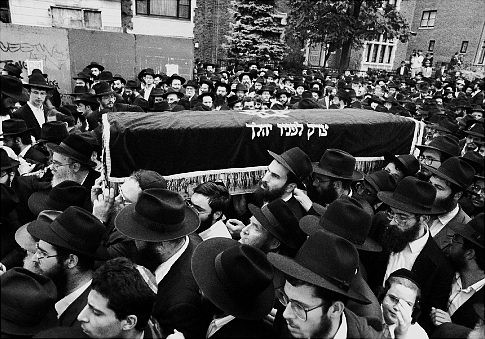 Police officers respond to a confrontation at Utica Ave. and President St. during the Crown Heights riots.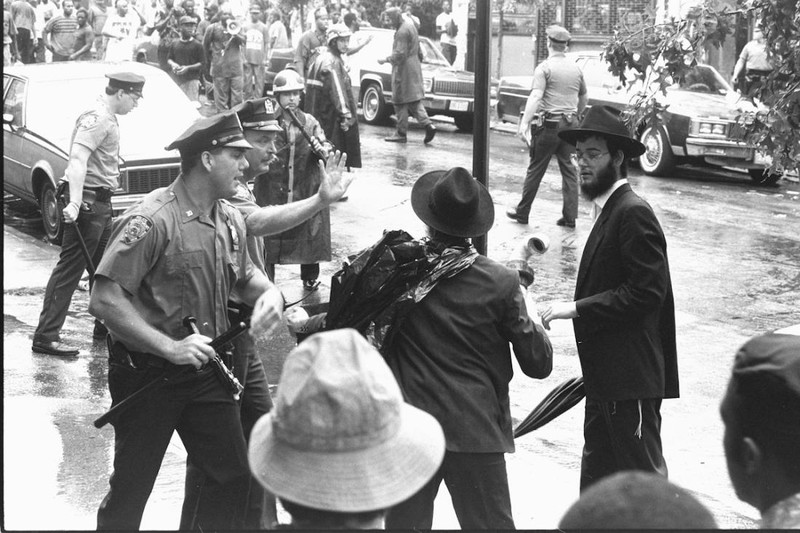 Backstory and Context
To understand the social climate that led to the Crown Heights Riots, it's important to understand the already existing racial tensions in the area. Black residents of Crown Heights believed that law enforcement, the government, and the general community treated Jewish residents better. The feeling that the Jews received preferential treatment by law enforcement, in particular, stemmed from the Black community's loss in a 1976 redistricting fight. One of the other most controversial occurrences in the event concerned ambulance response time. For reasons that are unclear, a Hatzolah (volunteer Jewish EMS service) ambulance did not bring Cato to the hospital before one of the city ambulances.
The riots became a major political issue during the 1993 mayoral race between Republican candidate Rudy Giuliani and Democratic candidate David Dinkins. Some voters perceived Dinkins, who was serving as mayor during the riots, as a Black nationalist. He was accused of not properly controlling the riots. Giuliani won the election in part by gaining votes for saying that New York had failed its Jewish community.
The Crown Heights of today is a much more peaceful place, with racial tensions not as fresh, angry, and glaring. However, this is not to say that racial tensions between area Blacks and Jews have dissipated entirely. The two sides of the community are still relatively separate, if not as filled with animosity. This is not to say that the events of the early nineties have been forgotten. In 2011, a panel to discuss the riots was postponed to a later date due to expressions of anger over the Reverend Al Sharpton's plan to speak at the event. At Cato's funeral, Sharpton controversially referred to Jews as "diamond dealers" and likened the ambulance situation to "apartheid."
Sources
Eisner, Jane. "Crown Heights Was Ticking Time Bomb." Forward. 8/18/11. Accessed Web, 6/5/17. http://forward.com/opinion/141518/crown-heights-was-ticking-time-bomb/.

Okeowo, Alexis. "Heights, Twenty Years After the Riots." The New Yorker. 8/19/11. Accessed Web, 6/5/17. http://www.newyorker.com/news/news-desk/crown-heights-twenty-years-after-the-riots.

"Timeline: How the 1991 Crown Height Riots Unfolded." New York Daily News. Accessed Web, 6/5/17. http://www.nydailynews.com/new-york/timeline-1991-crown-heights-riots-unfolded-article-1.945012.

"1991 Crown Heights Riots in Pictures." abc7NY. 8/19/11. Accessed Web, 6/5/17. http://abc7ny.com/archive/8315581/.


Additional Information