Henderson Hall
Introduction
The centerpiece of the larger Henderson Hall Historic District, this Italianate-style mansion features 29 rooms and sits upon an historic 2,600 acre plantation. The estate included a large horse-breeding operation and even its own river port. Also on the grounds stands what is possibly the first schoolhouse in West Virginia. Now operated by the Oil, Gas and Industrial Historical Association, the historic home served the Henderson family for six generations, spanning two centuries of Virginia and West Virginia History.
Images
Henderson Hall is one of a few historic plantations remaining in West Virginia. The Hall is now run by the Oil, Gas, and Industrial Historical Association.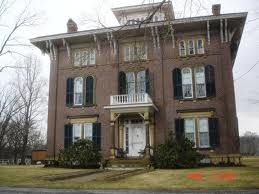 Backstory and Context
Alexander Henderson Sr. left his home in Scotland and arrived in Virginia in the 1700s. He was a member of the House of Burgesses, Virginia's colonial legislature. He was also well-acquainted with leading statesmen of his time, especially fellow Virginians such as George Washington, Thomas Jefferson, James Monroe and James Madison. Given advice from Washington, Henderson settled in western Virginia in the mid-Ohio Valley on 25,000 acres with his three sons. Two of those sons, Alexander Jr. and John played roles in thwarting Aaron Burr's attempt to acquire territory in the West. Although Burr never committed his plans in writing and thus narrowly escaped execution for treason, it was clear that Burr was trying to create his own empire in the West, separate from the United States. 
Henderson's grandson, George Washington Henderson (G.W.), maintained the plantation in subsequent decades. Educated at both Ohio University and Marietta College, G.W. remained loyal to the Union as the American Civil War began. During the Wheeling Convention of 1861, he made those intentions clear. However, the rest of the family chose to remain with Virginia, some being influenced by their status as slave-holders on this very plantation. The Civil War engulfed this section of West Virginia. This is made clear by the Battle at Burning Springs in 1861, which occurred near Henderson Hall, and was the second battle to take place in what would become West Virginia two years later. 
Notable visitors to Henderson Hall include Chief Justice John Marshall, Patrick Henry and John James Audubon. In addition to materials related to the history of the plantation and the region, Henderson Hall's exhibits include correspondence from Robert E. Lee and other prominent individuals. Visitors can also see ballots and materials related to the Lincoln-Douglas debates. Through the plantation's various displays of its rich history, guests have a chance to gain a unique perspective on the importance of West Virginia in the formation of the United States as it is today.
Sources
African-American Heritage Trail of WV. West Virginia Division of Tourism. www.callwva.com
Brust, Pam. History. Historic Henderson Hall. . Accessed June 26, 2018. http://hendersonhallwv.com/history.html.
Additional Information