Wesselman Woods Nature Preserve
Introduction
The 240-acre Wesselman Woods earns the title of the largest tract of virgin woods inside any city limits in America. It is, moreover, a National Natural Landmark, with trees reaching 400 years in age. Among some of the most spectacular trees in the preserve are a tulip poplar measuring 147-foot tall with a 13.2 trunk circumference, a 28-foot tall berry tree, and a 106-foot Biltmore ash. Wandering the paths of the nature preserve will allow visitors to interact with trees older than the nation. The nature preserve is also one of the few places left in Evansville to see and explore the remnants of the Wabash-Erie Canal.
Images
Class of children gathered around a large tree in the Wesselman Woods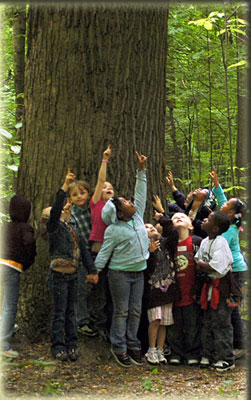 The Wesselman Woods' Main Trail in Autumn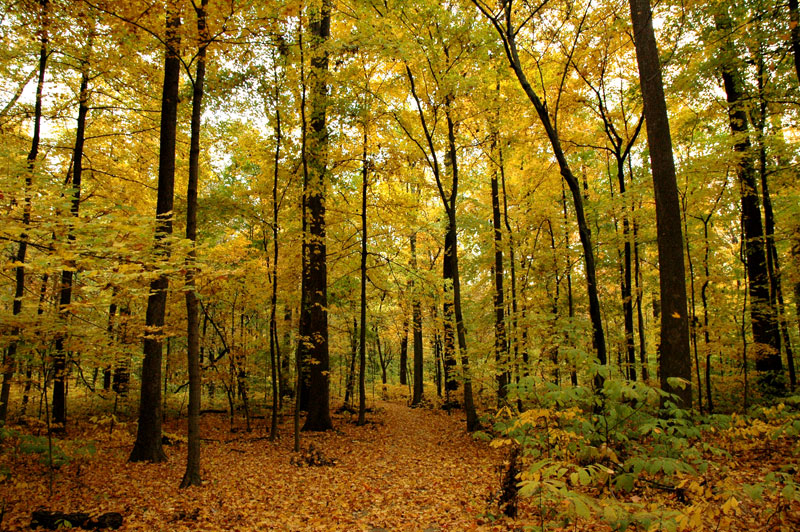 Backstory and Context
The old forest takes visitors back to an era before settlers changed Indiana's landscape forever. With more than six miles of trails, visitors can explore the enormous hardwood trees, forest wetlands, and the remnants of the historic Wabash-Erie Canal. In addition to finding trees hundreds of years old, many visitors in springtime will appreciate the lovely wildflowers that make a show of the forest.

The tree density of the lowland forest is unusually high, with 125 trees per acre. Many of the canopy trees reach 100 feet tall, with sweet gum and tulip trees dominating, allowing still many more plants and shrubs to grow far under the canopy. Scientists have identified more than 125 plant species growing in the forest. Moreover, this dense urban forest has also provided a much-needed refuge for the wildlife of the region. Visitors may witness deer, squirrels, coyotes, fox, woodpeckers, and owls all in the forest.
Sources
http://www.wesselmannaturesociety.org/woods/index.php
Additional Information