Liberty Bell Museum, Allentown
Introduction
Located in the basement of the Zion's Reformed United Church of Christ, the Liberty Bell Museum shares the story of how the people of Allentown hid the Liberty Bell during the American Revolution. As the King's Army was about to seize Philadelphia, concerned residents feared British soldiers would destroy the bell given is great symbolic importance. As a result, these men moved the bell to Allentown and hid it under floorboards, hay, and manure for nearly a year. Visitors to the museum can discover an exact replica of the bell as well as a mural depicting the hiding of the bell and other Colonial America exhibits.
Images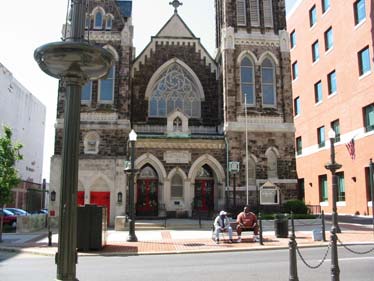 Liberty Bell Replica at the Museum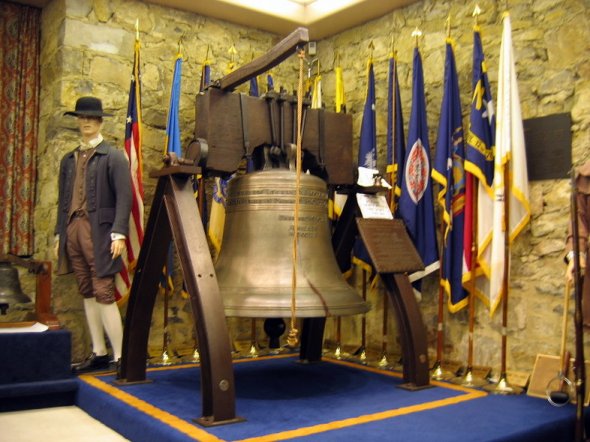 1908 Recreation of the Liberty Bell's Journey to Allentown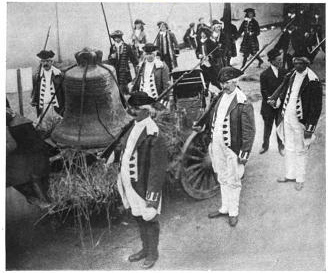 Backstory and Context
Although a small museum, the variety of exhibits related to the Liberty Bell and the Revolution in this part of Pennsylvania offer visitors the chance to explore the early history of the community. In addition to this story, visitors to the museum can also experience the historic Zion's Reformed Church, which was built in 1762 and was added to the National Register of Historic Places in 1983.
History of Hiding the Liberty Bell
The Battle of Brandywine in 1777 was a monumental defeat for George Washington, and it left Philadelphia virtually defenseless. An attack was inevitable, and the Supreme Executive Council of the Commonwealth of Pennsylvania ordered the removal of several bells throughout the city, as the Council feared that the British would melt them and use the material for weaponry.
Thus, on a train of over 700 wagons, the Liberty Bell was hidden under manure and hay and taken to the Zion's Reformed Church, where it remained unscathed. By 1778, after the British occupation of the area, the Liberty Bell was returned to its former resting spot.
Exhibits and Museum Features

Because the Liberty Bell Museum stands as a commemoration to the defiance and patriotism surrounding the hiding of the bell, the museum is quite small. Nonetheless, it attracts thousands of enthusiasts every year due to its importance. Visitors to the museum won't be disappointed, either, as the museum displays several Revolutionary and Colonial America exhibits.
For example, the "Civil War 150: Celebrating the End of the War" exhibit showcases the events that led to the war's end through pictures of battlefields, interpreted material, and documents. Also, the exhibit focuses on the women and African Americans who contributed to the war as well as Allentown's First Defenders.2
The Pip the Mouse exhibit in the museum features a digitized and restored soundtrack and puppet show celebrating the history of the holiday puppet show, "The Mouse Before Christmas."3
Sources
1.) http://libertybellmuseum.org/ 2.) http://libertybellmuseum.org/events-education-exhibits 3.) http://libertybellmuseum.org/pip-the-mouse
Additional Information