National Museum of Crime and Punishment (2008-2015)
Introduction
Opened on May 23, 2008, The Crime Museum operated at this location until 2015 with exhibits dedicated to providing the public with a comprehensive perspective on all aspects of the crime and punishment process, including law enforcement, forensic science, and crime scene investigation. Most of the museum's collection can now be viewed at the Alcatraz East Crime Museum in Pigeon Forge.
Images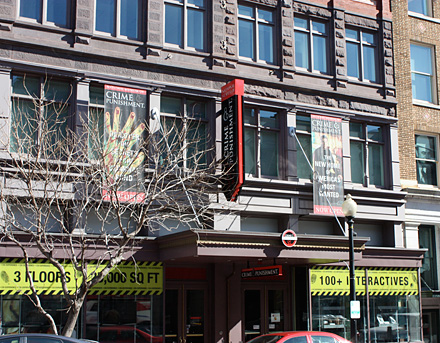 One of the exhibits on display was this car from the Bonnie and Clyde movie
Backstory and Context
John Morgan, an entrepreneur and attorney, had the idea for the museum while visiting Alcatraz in San Francisco. The former federal prison's preservation as a national park and its success as a tourist destination inspired Morgan to create a museum exhibiting the history of crime and punishment. He partnered with the host of America's Most Wanted John Walsh to found the museum. The museum consists of the following five galleries: A Notorious History of American Punishment, Punishment: The Consequences of Crime, Crime Fighting and Crime Solving: The Technology of Crime Fighting, and America's Most Wanted: John Walsh's Personal Story.
While the museum mostly focuses on aspects of crime and punishment from American history, it does include some information on crime around the world. In an effort to analyze and display how crime has changed through the centuries, gallery one includes information on crime as far back as medieval times.
 In addition to providing general information about the now-closed museum, the website also contains educational resources. One of these resources is a crime library—a database containing information on topics such as the justice system, forensic investigation, mass murder, and international crime, to name a few. The public is invited to make suggestions for additions to this database via the website, encouraging interaction and education. The museum sought to offer various educational resources and programs, including workshops taught by forensic scientists on topics fro arson to firearms and ballistics, and how forensic scientists use human remains such as bones.
Sources
http://www.crimemuseum.org/ thedistrict.com www.tripadvisor.com www2.ljworld.com
Additional Information