Historic Brattonsville
Introduction
Historic Brattonsville is a 775-acre outdoor living history museum featuring more than 30 historic structures dating from the 1760s to the late 19th century. Originally a plantation established by Scots-Irish settler named William Bratton, its mission is to promote the history of Scots-Irish and African Americans in northern South Carolina. The historic structures include the Revolutionary House (built 1766), slave houses (built ca. 1828), the large Homestead House (built ca. 1826), the Brick House (built 1855), and Hightower Hall (built ca. 1854), which is located not far up the road. Staff dressed in period clothing and offer demonstrations of historical farming techniques and every-day activities. The site also features an active farm with cattle, sheep, and poultry.
Historic Brattonsville is also significant for preserving the site of a key American Revolutionary battle called the Battle of Williamson's Plantation, which occurred on July 12, 1780 and resulted in a Patriot victory (the battle took place on an adjacent plantation a quarter mile away). Every July there is a two-day event recreating the the battle, which is also known as the Battle of Huck's Defeat. The site is listed on the National Register of Historic Places as the Brattonsville Historic District.
Images
The Homestead House was built by Bratton's son, John, around 1826.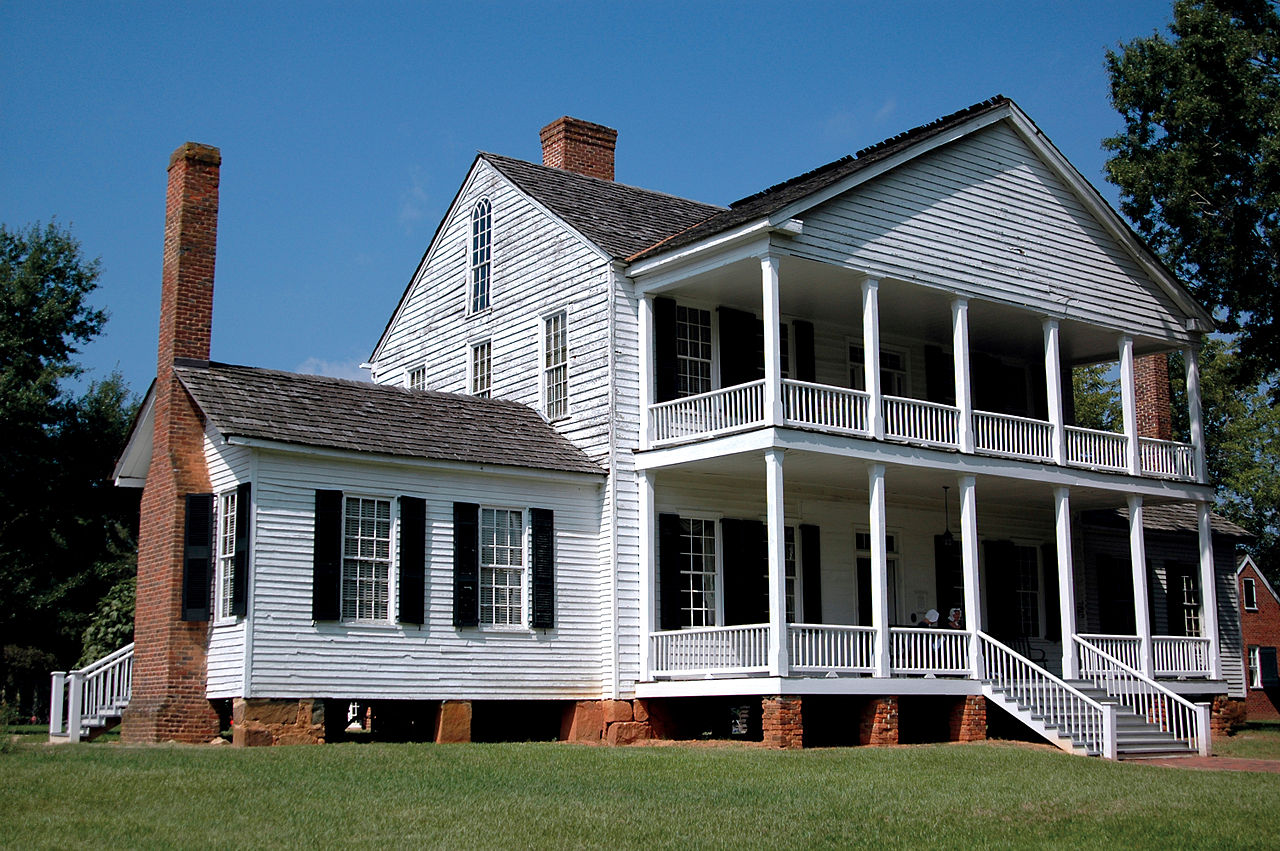 William Bratton built the original part of the Revolutionary House around 1766. Over time it was enlarged and covered in clapboards and enlarged to its current size.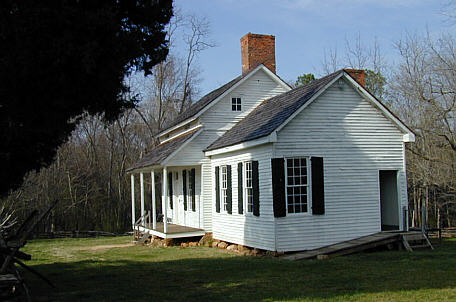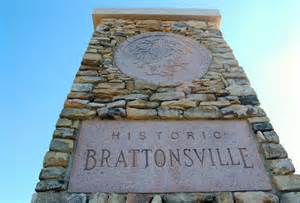 The site of the Battle of Williamson's Plantation, which also known as the Battle of Huck's Defeat, is a part of Historic Brattonsvile.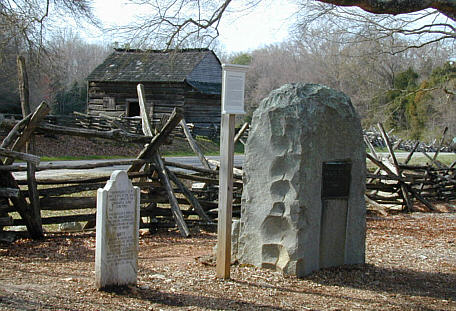 Backstory and Context
William Bratton (ca. 1742-1815)
According to a deed from the period, William Bratton and his wife, Martha (1749-1816), bought the initial 200 acres of their plantation in 1766. They also built the original portion of the Revolutionary House, a two-story log structure, at this time. Over time the house was enlarged to its current size and clapboards were placed over the logs. Bratton was an ardent Patriot during the Revolutionary War and fought in at least 26 battles that took place in North and South Carolina and Georgia. He did not write about his experiences in the war but others did in audited accounts and federal pension applications.
After the war, Bratton opened a tavern in the house and he may have added the shed room for this purpose. In 1793, he acquired a cotton gin and started to plant cotton, which was quickly becoming a profitable export in northern South Carolina. He bought more land and additional enslaved people as well to increase his cotton production. Before 1793, Bratton owned 12 enslaved people; he eventually owned 23 by 1810. He died in 1815 and left the plantation to his youngest son, John, who became very wealthy thanks to the enslaved workers who cultivated the cotton. John built the Homestead House around 1826. He later converted the old Bratton House into a girl's school in 1839 called the Brattonsville Female Seminary. It operated until 1846.
Historic Brattonsville
Three successive generations of the Bratton family lived on the plantation. The last descendants moved away in 1910 but leased the property to tenant farmers through the 1950s. A retired IBM manager bought the Bratton House in 1960 and then donated it to York County Historical Commission. York County bought the rest of the manager's estate in 1994 and acquired 55 more acres in 2001. The Bratton family still owns the Homestead House but leases it to the York County Culture and Heritage Commission. Parts of the 2000 film The Patriot starring Mel Gibson were filmed here.
African Americans at Brattonsville
As noted above, Historic Brattonsville includes slave houses. By 1860 there were 20 but only two original ones remain standing today; three have been reconstructed and two are in ruins. When they were built is unclear but they may date to around 1828. They were built of brick, probably to showcase the family's wealth. Not all of the enslaved individuals lived in these houses; they were probably where enslaved artisans domestic workers lived. Those who worked in the fields lived in log or frame houses close to the fields. As indicated by an 1843 inventory, it appears that the largest number of enslaved workers at the plantation was 139. One notable enslaved worker was a man named Sampson "Sam" Smith who was acquired in 1838. His great grandson, Leon Smith, owns some of the land on which his ancestors worked.
Battle of Williamson's Plantation
The Battle of Williamson's Plantation was a small but critical victory for the Patriots. It occurred after the British had captured the largest Patriot army in May 1780 and four important towns in the colony. On July 11, Bratton's wife, Martha, learned that British forces were approaching. She sent a trusted family slave to warn Bratton of the development. The British arrived on the plantation that evening and they asked Martha where Bratton was. She refused to tell them. An angry Loyalist soldier then put a reaping hook on her neck, threatening to kill her. Fortunately, a lieutenant intervened and saved her life. After Huck arrived, he ordered his troops to surround the Williamson Plantation to wait for Bratton to return (he also ordered Martha to prepare dinner for him and his officers).
As Bratton and his force of 250 men were returning to his plantation in the early morning on July 12, residents told them that the British were camped at Williamson's Planation. The battle commenced an hour after sunrise. Bratton and his officers decided to attack Huck's forces from three sides. The British were taken by complete surprise. Many of them were sleeping, including Huck. While Huck was riding on his horse trying rally his men, he was shot and killed instantly. The British and Loyalists surrendered, seeing no chance to win the battle, which was over in just about 15 minutes. Around 30-50 men of the British force were killed or wounded. Only one Patriot was killed.
The battle, which became known as "Huck's Defeat," significantly boosted Patriot morale in South Carolina. It was one of a series of events that paved the way towards the British surrender in Yorktown in 1781.
Sources
"African American History." Historic Brattonsville. Accessed June 28, 2021. http://chmuseums.org/african-american-history-hb.
"The Battle of Williamson's Plantation." Carolana.com. Accessed May 13, 2015. http://www.carolana.com/SC/Revolution/revolution_battle_of_williamsons_plantation.html.
"Historic Structures." Culture & Heritage Museums. Accessed June 28, 2021. http://chmuseums.org/historic-structures.
"History." Culture & Heritage Museums. Accessed May 13, 2015. http://chmuseums.org/history-hb.
"Patriots and plantations." Past in the Present. October 2, 2010. https://pastinthepresent.wordpress.com/tag/battle-of-williamsons-plantation.
Ruhf, Nancy R. "Brattonsville Historic District." National Park Service - National Register of Historic Places Nomination Form. August 19, 1971. https://npgallery.nps.gov/GetAsset/084ce2dc-0fe4-48c7-bd36-ab75b0a435bd.
Image Sources
Homestead House: CH Museums, via Wikimedia Commons, https://commons.wikimedia.org/wiki/File:Historic_Brattonsville_main_house.jpg

Additional Information