Kansas Sports Hall of Fame
Introduction
The Kansas Sports Hall of Fame was founded in 1961 by the Kansas State Legislature. The Hall honors individuals from a variety of sports including (but are not limited to) Football, basketball, baseball, golf, track and field, boxing and, hockey. The Hall of Fame is not just known for its induction ceremonies. The Kansas Sports Hall of Fame holds the Pride of Kansas awards program. The program honors outstanding achievement from Kansas coaches, athletes, contributors and teams in individual ceremonies held year-round throughout Kansas.
Images
The view from outside the Basketball section of the Kansas Sports Hall of Fame. Notable inductees in this section of the Hall include Adolph Rupp and Wilt Chamberlain.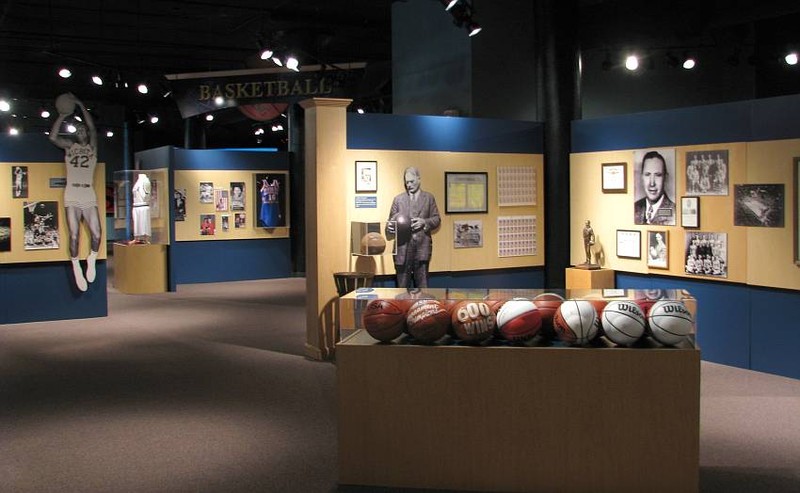 Backstory and Context
When the Hall of Fame was opened in 1961, the inaugural class had some special inductees that included: Forrest "Phog" Allen, Walter Johnson and Garfield Weede [1].  However, one of the inductees played a crucial role in the American Civil Rights movement when he feuded with African American boxer Jack Johnson in the ring. Jess Willard, the man nicknamed the "Kansas Giant" headlined the induction ceremony, and for good reason. He was the tallest man to ever win a World Heavyweight Championship. He fought the aforementioned Jack Johnson in 1915, when he knocked Johnson out in the 26th of 45 scheduled rounds. He eventually lost the title to Jack Dempsey after a loss in 1919. Twenty of his 24 wins came by knockout. [2]
Many great figures would go on to be inducted in the following years, but there was one basketball player many touted as the greatest winner of all-time. That man is Boston Celtics legend Bill Russell. Russell played at Kansas University from 1956 to 1958 where he averaged almost 30 points a game. He would get the Jayhawks to a Final Four appearance in 1957. He was eventually drafted by the Boston Celtics after he won a gold medal in the 1956 Summer Olympics. In 13 seasons with the Celtics, he won a staggering 11 championships, rightfully cementing his place in multiple Halls of Fame. He was subjected to racism from Boston fans due to his African American roots, but he has since forgiven the city [3]. 
All in all, this Hall of Fame's illustrious lineup isn't the only thing that attracts attention from the public. The venue has held an annual golf tournament for the past 15 years [4]. The venue has also had Speaker Tours featuring multiple inductees in a traveling exhibit across Kansas. The 2015 tour will travel to 22 different communities from January to November [5] . Spectators are also able to purchase personalized pavers (bricks) with the name of an individual or team they would like to remember. These bricks will be put in the Kansas walk of Fame at the Wichita Boathouse [6].  
Barry Sanders was inducted in 1998 to the Kansas Hall of Fame because of his great skills and ability to take over in a football game. Barry Sanders was one of the best running backs that ever played the game of football.
Sources
1. "About." http://www.kshof.org/about.html
 2. "Willard, Jess." http://www.kshof.org/inductees/inductees-by-year/2-
kansas-sports-hall-of-fame/inductees/273-willard-jess.html
3. "Chamberlain, Wilt." http://www.kshof.org/inductees/inductees-by-year/2-kansas-sports-hall-of-fame/inductees/95-chamberla...
4. "Annual Golf Tournament." http://www.kshof.org/events-14875/annual-golf-tournament.html
5. "Kansas Hall of Fame Speakers Tour." http://www.kshof.org/events-14875/speakers-tour.html
6. "Annual Golf Tournament." http://www.kshof.org/events-14875/annual-golf-tournament.html
All links accessed May 8, 2015.
Additional Information