Alexandria Museum of Art
Introduction
The Alexandria Museum of Art is the cultural center of Alexandria. Its mission is to bring art education to the community through outreach programs and exhibitions. Its collection contains hundreds of works—paintings, photographs, ceramics, prints, sculptures, works on paper, and textiles— created by Louisiana and Southern artists as well as those impacted by the South. The museum is housed in a building consisting of the former Rapides Bank and Trust Company building and a modern addition built in 1998. The old bank is listed on the National Register of Historic Places.
Images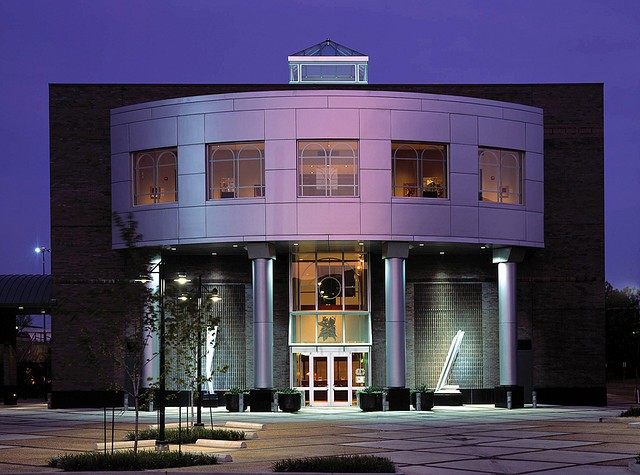 Backstory and Context
The Alexandria Museum of Art was established in 1977 as an extension of the Central Louisiana Art Association. The museum was originally located in a complex among historic buildings that included the former bank. However, since its founding, there had been a plan to have the museum housed in its own building, and thus, the museum trustees established the "Jewel in the Red" campaign. The objective of the campaign was to raise a total of $8,000,000 for construction, renovation, and operating endowment. Once its goal was achieved, the museum made additions and renovations, including the grand foyer. Only two years after its initial opening, the Alexandria Museum of Art was honored as an Outstanding Arts Organization. 
Since its opening, the museum's mission has been "to preserve, exhibit, and promote visual art throughout Central Louisiana in a manner that contributes to the quality of life."1 The museum accomplishes this through its community programs and classes that showcase the art and its cultural importance, seeking to educate its visitors and offer them a cultural experience that will connect them to and appreciate art. 
The museum's collection numbers over eight hundred pieces of original works. These pieces were made made by twentieth and twenty-first century century artists who have been influenced by Southern culture. The museum was established as an educational and cultural center to serve the community, and it continues to function as such today.  
Sources
1"Mission & History." Alexandria Museum of Art. http://themuseum.org/mission-history "Collection Overview." Alexandria Museum of Art. http://themuseum.org/collection-overview.
Bolton, Peg. "Rapides Bank & Trust Company Building." National Park Service - National Register of Historic Places Nomination Form. May 15, 1980. https://npgallery.nps.gov/GetAsset/01d3e8fb-40e1-4ea4-9977-2bdb1f2b826a.
Additional Information