Coonskin Park
Introduction
Originally conceived to be a memorial for fallen soldiers of West Virginia in both world wars, Coonskin Park was created in 1944 as a side project related to the construction of Kanawha Airport after land was secured adjacent to the airport site near Charleston, West Virginia.
Images
The old entrance to Coonskin Park from the Air/Army National Guard Base.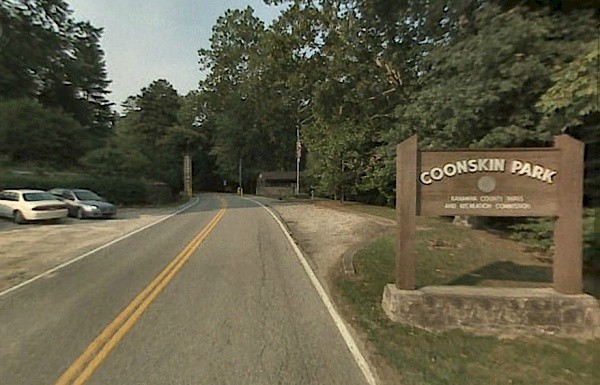 New entrance to Coonskin Park after the entrance next to the Air/Army National Guard base closed due to heightened security requirements.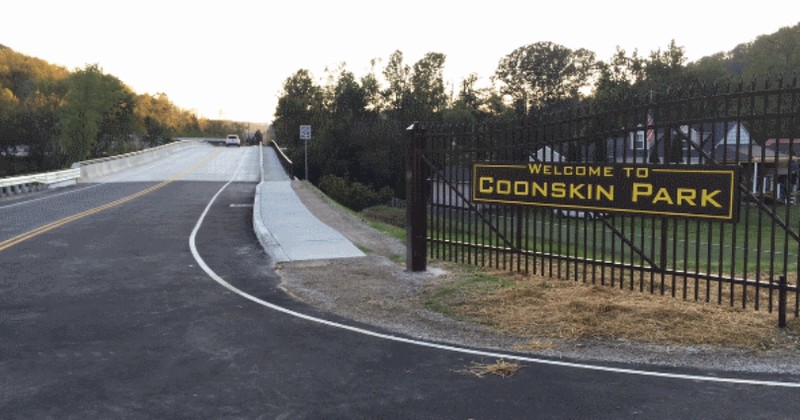 Herscher Lake at Coonskin Park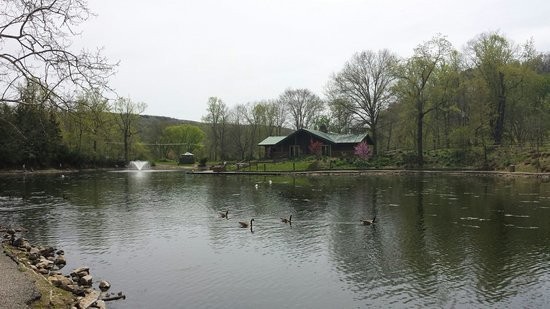 Olympic-sized pool at Coonskin Park. via www.kcprc.com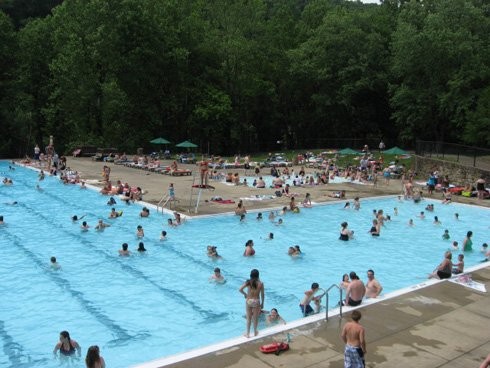 Schoenbaum Soccer Stadium, also a venue for area lacrosse teams.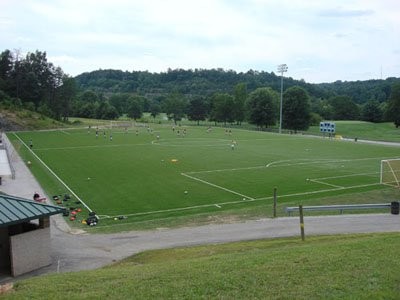 Backstory and Context
Original plans to build Coonskin Park for the City of Charleston, WV, stalled as money was not forthcoming from city government. So, after six years of delays the project was put into the hands of the citizens of Charleston, who grew restless and decided if there was ever to be a park near the airport they were going to have to take action and do it themselves. "Operation Coonskin" began to take shape as private interests donated time and energy to organizing the construction of the park in 48 hours.
A committee of local business owners and concerned citizens began "Operation Coonskin," as many people contributed time and effort in the organization phase and the park was scheduled to be installed in a frenzied 48 hour time period, one of the largest and most involved undertaking in Charleston's history. Members from building and commercial contractors, as well as equipment operators and laborers, worked around the clock and were able to finish the project which included a fish pond, dance pavilion, walking and hiking areas, as well as numerous picnic areas and fire pits.
It has grown into one of the most beautiful parks in the region. Located 10 minutes from downtown Charleston, WV, the park includes over a thousand acres of woodland, hiking and biking trails, disk golf, a handicapped accessible 18-hole par three golf course, and driving range, skateboard park, small fishing lake, Olympic-sized pool, picnic shelters of all sizes, tennis courts, horseshoe pits and modern playground area, amphitheater, 3,000 seat soccer stadium, and a wedding garden. In recent years, the main entrance has been changed due to federal security requirements for the adjacent WV Air National Guard facilities. Access to Coonskin Park is from US 119 (Elk River Road) near the Mink Shoals exit of I-79, north of Charleston.
Schoenbaum Soccer Stadium was dedicated in October 2000 and was funded by the Schoenbaum Family Foundation, Kanawha County Commission and the citizens of Kanawha County. The stadium seats 3,000 spectators and has hosted two high school soccer championships and NCAA college games. High school lacrosse is played on the field, as well. The original grass field was replaced with Field Turf in June 2006, and again in 2016, a wise expenditure which has allowed local youth, high school and college teams to use the field under extreme weather conditions. Schoenbaum Soccer Stadium also contains an amphitheater whichhosts various concerts and civic activities.
Sources
http://www.mywvhome.com/fifties/park.html
Additional Information