1979 Pot Plane Crash
Introduction
Charleston, West Virginia, has had many instances of drug abuse and crime in relation to drugs in its past, but in 1979 a plane crash took the spotlight as one of the wildest smuggling attempts ever in state history. A Douglas DC-6 flying to Kanawha Airport (now Yeagar Airport) filled with 12 tons of marijuana touched down momentarily only to lift off again in a failed attempt to regain altitude. The plane lost control and crashed off the runway, and pieces of plane and its cargo littered to area of Keystone drive and the hillside adjacent to the runway.
Images
The landing strip at Yeager Airport formally Kanawha Airport. The grassy, forested hillside below the runway was the site crash and subsequent hunt for bails of marijuana.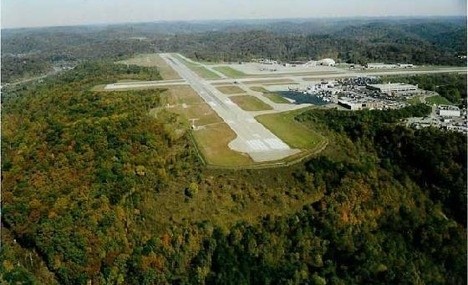 Backstory and Context
The plane crash led many locals out into the woods around the site of the debris, as well as law enforcement and aid workers, in an attempt to understand the accident. The ensuing confusion has gone into local legend as residents combed the hillsides looking for bales of marijuana strewn through the woods. Law enforcement officers arrested some and drove others away, but not before reports of large amounts of contraband being recovered and eventually consumed. In an attempt to dissuade would be looters, the marijuana was doused with fuel and burned.

Throughout the investigation into this accident multiple arrests were made, including a future Oscar winning documentary film director. Two police officers were under suspicion of acting as lookouts during the caper but were eventually found innocent. A number of individuals suspected of bankrolling the operation were also brought up on charges. however, as the trials drew on many were convicted of other crimes or died. After months of litigation the plane crash resulted in at least 20 arrests and numerous other charges, including aiding and abetting, bank fraud, and possession of controlled substances.

Sources
James Haught, Fascinating West Virginia: Wild, Memorable Mountains State Tales. Charleston Gazette, 2008.
Additional Information