Scenic State Park
Introduction
Scenic State Park is a large Minnesota state park seven miles east of Bigfork and about forty-six miles north of Grand Rapids. The park covers almost 4,000 acres and sees over 50,000 visitors per year. Its name is derived from the abundant wildlife found in the park as well as its wilderness-like setting. The park contains ten, well-preserved historic log cabins built in the mid-1930s by the Civilian Conservation Core, one of the federal programs put in place to help Americans during the Great Depression. The cabins, collectively, were placed on the National Register of Historic Places in 1992 (they are also recognized as a U.S. Historic District).
Images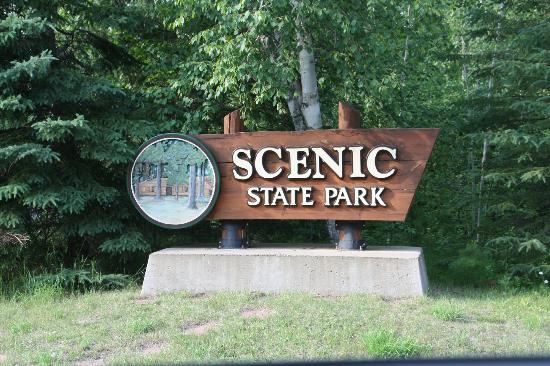 Backstory and Context
The state bought the land for the park in 1921 but it wasn't fully developed until the CCC arrived and made it a fully functioning park (it was the state's CCC park). The cabins were designed by National Park Service architects, who also designed the general landscape of the park. The cabins are significant as they serve as a reminder about the social, political and economic impact the CCC (and federal New Deal programs) had on the country.
Sources
"Scenic State Park," http://www.mnhs.org/places/nationalregister/stateparks/Scenic.php. Retrieved 5-7-15. Minnesota State Park CCC/WPA/Rustic Style Historic Resources," http://pdfhost.focus.nps.gov/docs/NRHP/Text/64500285.pdf. 6-8-92.
Additional Information