South Park Historic District
Introduction
Located just south of Morgantown's downtown commercial center, South Park is one of Morgantown's first suburbs and the first neighborhood in Monongalia County to be listed on the National Register of Historic Places. It was nominated and added to the register in 1990 because of its preservation of most of the houses through strict deeds. South Park was added because of the distinctive post-Victorian style used throughout the neighborhood.
Images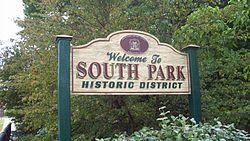 Backstory and Context
South Park Historic District, located in Morgantown, West Virginia, is one of the largest early twentieth-century historic districts identified in West Virginia with 501 contributing buildings and five contributing structures.1 It is listed on the National Register of Historic Places because of its significance in its association with Morgantown's growth from a village to a city. Also the Post-Victorian architectural design is rarely seen after the second World War.3

After 1890, Morgantown grew rapidly in terms of industry, education and transportation. South Park was planned out by Morgantown Bridge and Improvement Company and its general manager J.W. Wiles. The reason that this Bridge company was detrimental in the creation of South Park was because the Pleasant Street Bridge had to be built across Deckers Creek to connect the area to Morgantown.3 J.W. Wiles was not only a developer but a realtor who intended for South Park to be a distinct neighborhood with upper class amenities. Russell L. Morris was Morgantown's city engineer at the time and he designed almost every surrounding neighborhood addition including South Park. The neighborhood was officially incorporated into Morgantown in 1901.3
With the rapid increase in business and industry came an increase of upper and middle class families looking for homes. The suburban area of South Park was not only planned with the new urban white families in mind but was restricted to white families through deeds. The main stipulations in the deed were houses were only to be owned by Caucasians with good morals and owners were not to sell or make alcoholic beverages.

The architectural integrity of the homes and structures in South Park allow a glimpse into Morgantown's past. This historic district is known for its variety of architectural styles. Because the goal when building the homes was to attract specific buyers, builders chose a variety of housing styles ranging from a Craftsman Bungalow style to the dignified Colonial Revival style. A reason that the integrity of these buildings was maintained was also because of restrictions in the deeds of the home. Restrictions such as the houses must be built far enough from the street, be two stories high, and only have a slate or a tile roof.3 Air pollution was also a concern and most homes were built with lots of windows, porches and balconies.5
At the time of creation South Park was a typical neighborhood with brick paved roads, water, and sewer lines and not very unique architecture. It was also Morgantown's first exclusive residential area and although mostly known for being advertised towards families J.W. Wiles actually intended for students to live in it too. In J.W. Wiles original marketing brochure he claimed a room for a student would only cost six dollars a month or seventy two dollars a year total. Today it is still residential with a growing student population. Morgantown and South Park residents work very hard to keep the homes and buildings in this area in good condition, while preserving the history that lies within each home.
For those who live in the South Park District there is an organization they have formed called the South Park Association of Neighbors (SPAN). Anyone in the district can join but for a small fee and they also provide you a chance to purchase a plaque. The South Park District contributes to the community by doing things like earning money for the Morgantown High School's marching band. One of the more significant events that they do is hold each year is a block party where they urge everyone in the neighborhood to get together and share a meal to have everyone get to know each other.4
Sources
http://www.wvculture.org/shpo/nr/pdf/monongalia/90001054.pdf http://en.wikipedia.org/wiki/South_Park_Historic_District_%28Morgantown,_West_Virginia%29 (picture)
3 Bartlett, David A. "Exploring South Park, Morgantown, WV: Accessing Historico-Geographical Material Through the Internet" 2000 http://appalachia2009.wikispaces.com/file/view/Bartlett_D_Thesisop.pdf
4 Bell, Joy. "South Park Association Of Neighbors (SPAN) Morgantown, West Virginia." Get Your South Park Historic District Plaque, 1 Jan. 1970, spanwv.blogspot.com/2009/03/get-your-south-park-historic-district.html.
5 "South Park Historic District." South Park Historic District, 10 Feb. 2009, www.wvexp.com/index.php/South_Park_Historic_District.
Additional Information