Christian Waldschmidt Homestead Museum
Introduction
This 1804 home, built by Revolutionary War veteran Christian Waldschmidt, stands as an excellent example of Pennsylvania Dutch architecture. This historical home served as the headquarters for General Joshua Bates during the Civil War. Once he returned to civilian life, General Joshua Bates returned to his Cincinnati law practice and became a member of the Ohio State Senate in 1864. Today, the site houses various Americana historical pieces. Members of the Ohio Society Daughters of the American Revolution (OSDAR) came into the possession of the house in 1941. OSDAR members are responsible for collecting relevant pieces of Americana to furnish the house. Many of the pieces are original ones owned by the Waldschmidt family. The home rests on its original site.
Images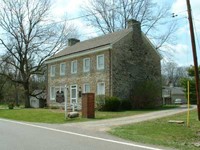 Backstory and Context
Originally from Pennsylvania, Waldschmidt moved, along with a group that he organized, to Ohio due to reports of golden opportunity in the West. When the group arrived, they immediately began settling, even damming the Little Miami River so that they could set up a number of mill businesses. He was a powerful player in the nineteenth century Cincinnati German community and funded many community businesses, notably among them the state's first paper mill. The severe shortage of paper had become a serious problem in the town. He also funded a Blacksmith and sawmill shop.
Waldschmidt was also involved with shipping goods via the river trade down to New Orleans. His historical significance stands as a reminder of the now less-visible German immigrant population that once was a dominant force in Cincinnati culture. Ethnic Germans, coming from Pennsylvania, Tennessee, and Virginia, were among the early settlers of the area. There was another wave of German, as well as Irish, immigrants in the mid-nineteenth century that served to alleviate a labor shortage at the time.
The site also includes the Memorial Barn, which houses historical farm tools and a reconstruction of a Conestoga wagon. The home was settled as part of Ohio's New Germany Community, now Camp Dennison.
Sources