Arkansas Gazette Building
Introduction
This building is a staple in the downtown Little Rock history. It was home to the oldest newspaper west of the Mississippi River. The newspaper and the building itself represent great historical importance that helped shape the city and region.
Images
Early photo of the Arkansas Gazette building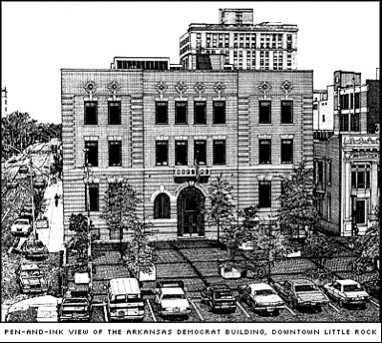 Current of the desks waiting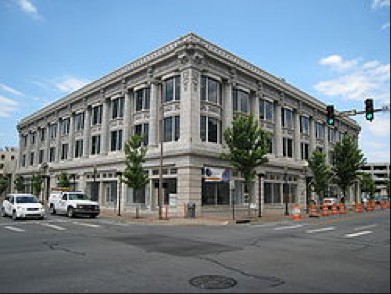 Backstory and Context
The Arkansas Gazette newspaper was established in 1819 before Arkansas even became a state, it was only a wilderness territory at that time. William E. Woodruff founded the paper. He immediately brought up to date printing press equipment and processes to the state that rivaled the same qualities they were using in New York City. By 1936, Arkansas had become a state, which had been heavily supported by the paper, and the city of Little Rock would have a population of around 50, 000 people. At this time the paper had almost 2,000 subscribers and over $30,000 in advertising, which was quite a bit for this time period and location. The ownership of the paper would change hands many times throughout the years even be bought and sold twice by the original owner. A rival newspaper called the Democrat was formed shortly after and a war between the two papers would go on until 1991 when the Democrat would eventually buy out the Gazette and they would form one paper.
The building itself housed the newspaper from the time it was built in 1908 by prominent Arkansas citizen Peter Hotze. It is a grand three story building located in downtown Little Rock's business district. This building started the re-organization and re-building of the area with goals on a successful future. The building is most famous for being the home of the Arkansas Gazette, which was called the "voice" of the state. The building is currently used as an elementary and middle school.
Sources
http://www.arkansaspreservation.com/!userfiles/PU3132.nr.pdf http://www.arkansasonline.com/tools/newspaperhistorymain/
Additional Information