William Howard Taft National Historic Site
Introduction
Built in 1845, this is the birthplace and childhood home of the 27th President of the United States of America, William Howard Taft. It also serves as a presidential museum in honor of Taft displaying the history of his life and career in politics. It is a two-story house that is built in the Greek Revival architectural style. The museum even has it's own visitor's center called the Taft Education Center where tourists can watch a short biographical film on Taft himself.
Images
The William Howard Taft National Historic Site honors the legacy of our 27th president, who lived in this house as a child.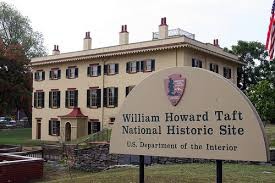 William Howard Taft National Historic Site: Image 2

Early Photo of the Taft House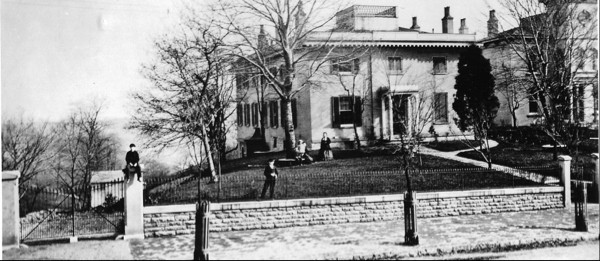 Backstory and Context
William Howard Taft was born on September 15, 1857 in Cincinnati, Ohio to his parents, Alphonso and Louise. Taft's father had a very influential career in politics serving as a judge, a minister to both Austria-Hungary and Russia, Secretary of War, and the Attorney General. Taft was not a bright child, but he delivered hard effort into his work and he was very overweight, but use it to his strengths by competing in intramural wrestling. Taft graduated from Yale College in 1878 and enrolled into Cincinnati Law School where he graduated with a Bachelor of Laws in the year of 1880. While attending law school, Taft worked with the team that created The Cincinnati Commercial newspaper where he was hired as a reporter covering lower courts.
Taft's first job in the political world came in 1887 when he was 29 years old and he was appointed to a vacant seat in the Superior Court of Cincinnati. From there, President Benjamin Harrison made Taft the Solicitor General of the United States, but he came into the office with a lot of catching up to do since the office was vacant for two months. In 1891, Taft introduced "confession of error" where the government would concede a case in the Supreme Court that it won previously in a lower court, but the solicitor general thought it should've lost. Soon, Taft was appointed as a judge in the Sixth District of the United States Courts of Appeal. In 1896, he also became a professor and dean at the Cincinnati Law School.
Theodore Roosevelt had asked Taft to become his nominee for Secretary of War to which Taft agreed to take the position. His main priorities were mainly to be a legal adviser and a helper in the campaign of President Theodore Roosevelt. In 1908, Taft sought the Republican nomination for the presidency. There was no serious competition in Taft's way which led him to an easy campaign in the primaries and he got the nomination. He faced William Jennings Bryan in an easy win in the general election winning 321 electoral votes and his running mate was Representative James Sherman of New York. During his presidency, Taft mainly focused on reorganizing the State Department, protectionism, Dollar Diplomacy towards Latin America, East Asian affairs, and his six judicial appointments. During the 1912 presidential election, Roosevelt jumped into the race against President Taft for the Republican nomination, but Taft managed to get the nomination anyway. However, Woodrow Wilson would defeat Taft in the general election among a four-way race making him one of the only presidents to serve just one term in office.
After his defeat for re-election, Taft became a law professor at Yale Law School. During World War I, Taft expressed himself a supporter of United States intervention in the war and loved it when President Wilson asked Congress to declare war. He left Yale to become the co-chairman of the National War Labor Board to make sure relations between industry owners and workers were positive. In 1921, Taft was nominated by President Warren G, Harding to become the new Chief Justice of the United States. He served in this position until 1930
when he began to have health problems. Taft died on March 8, 1930 due to ongoing health problems. He was laid to rest at the United States Capitol rotunda.
The house and museum has been restored and reconstructed to look like the house that Taft had lived in. The first floor holds five rooms like Taft's bedroom and four other rooms that were representative of that period. The second floor details the accomplishments of Taft's presidency and his legal career. The visitor's center holds an exhibit dedicated to Taft's son, Charles, as he recites stories about fishing and his father. Other exhibits detailing other Taft family members are also in this center.
Sources
"Historic Mount Auburn Avenue." William Howard Taft National Historic Site. Accessed April 30, 2015. http://www.nps.gov/wiho/index.htm.
"William Howard Taft." National Park Service - National Register of Historic Places Nomination Form. October 15, 1966. https://npgallery.nps.gov/GetAsset/db75eb69-22bd-452c-a230-275ea899fb09.
Additional Information