American Negro Theater, 1930-1955
Introduction
The American Negro Theater was the first all African-American resident theater company in the U.S. During its active years, the resident acting ensemble members included Ruby Dee, Sidney Portier, and Harry Belefonte. The American Negro Theater utilized a variety of venues, including the basement of the New York Public Library.
Images
ANT's production of Macbeth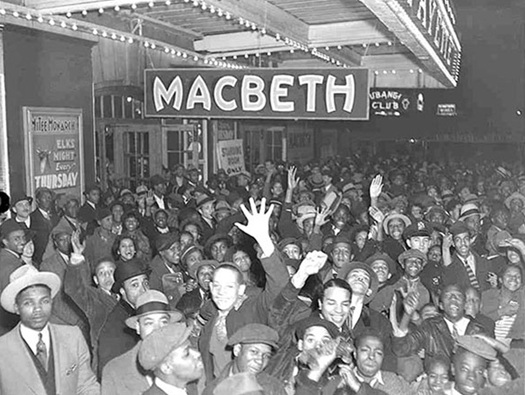 ANT's production of Macbeth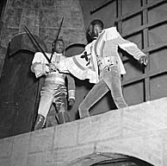 ANT's production of Macbeth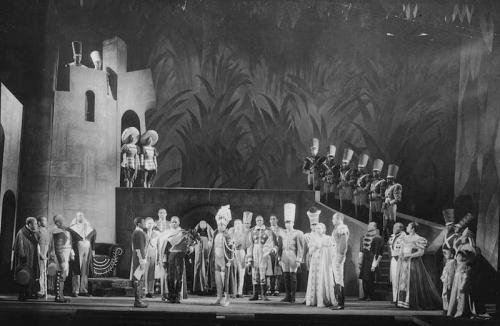 ANT's production of Macbeth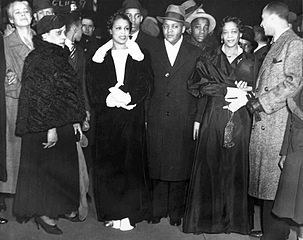 ANT's production of Macbeth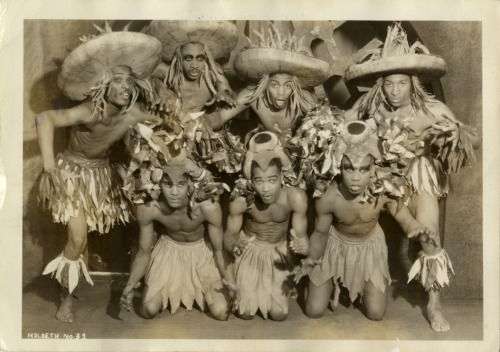 ANT's production of Macbeth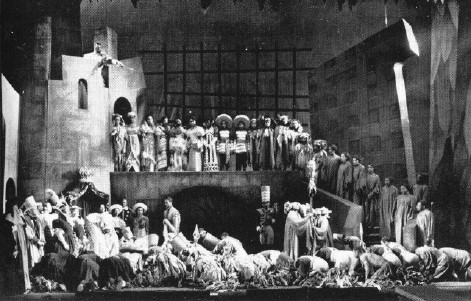 Backstory and Context
   In 1940, the American Negro Theater was formed by founding members Abram Hill and Fredrick O'Neal in Harlem, New York. It was a product of the Negro unit of the federal Theater project. There was a desire to establish a permanent acting company specializing theater that also catered to the special skills of African-American performers and culture. At this time, there was a lack of representation in this art form. The Theater's objective was to produce plays that reflected accurately and truthfully contemporary Black life. The company members prided themselves on being trailblazers and delighted in guiding other companies that followed in their footsteps. The earliest officers elected to hold positions in the company were Hill (artistic director/playwright), O'Neal (company manager), and John O'Shaughnessy. Theatrical technicians were Perry Watkins, Charles Sebree, and Roger Furman.
ANT's program was divided into three categories: stage production, training, and radio program. Stage productions included On Striver's Row by Abram Hill (September 1940), Natural Man by Theodore Browne (May 1941), On Striver's Row, the musical version, by Hill (March 1941), Three is a Family by Phoebe and Henry Ephron (November 1943), which transferred to Broadway (April 1944), Anna Lucasta by Philip Yourdan, adapted by Abram Hill (June 194), Garden of Time by Owen Dodson (March 1945), Henri Christophe by Dan Hammersmith (June 1945), Home is the Hunter by Samuel Kootz (January 1946), On Striver's Row by Abram Hill, (revived in February 1946), Angel Street by Patrick Hamilton (July 1946), Juno and the Paycock by Sean O'Casey (July 1946), You Can't Take It with You by Moss Hart and George Kaufman (August 1946), The Peacemaker by Kurt Unkelbach (November 1946), Tin Top Valley by Walter Carroll (March 1947), The Later Christopher Bean by Sidney Howard (July 1947), Rope by Eugene O'Neill (July 1947), The Show Off by George Kelly (August 1947), Rain by John Colton and Clemence Randolph (December 1947), The Washington Years by Nat Sherman (March 1948); Sojourner Truth by Katherine G. Chaplin (April 1949), Almost Faithful by Harry Wagstaff Gribble (June 1948), Riders to the Sea by John Millington Synge, and Freight by Kenneth White (February 1949). The play that brought ANT the most recognition, however, was Anna Lucasta. It opened at The Harlem Library Theatre, but Broadway producers were anxious to move it downtown because of its commercial appeal. The show ran on Broadway for 957 performances before it toured throughout the country and later abroad in London, England. The success of Anna on Broadway had a two-fold effect on the company. It caused the demise of ANT because it departed from the company's community roots and resulted in the loss of its founder Hill, who resigned due to the shift in goals and ideology.
   Many company members left the ensemble and had immediate success. Ruby Dee, after leaving, was in the hit Broadway production of A Raisin in The Sun by Lorraine Hansberry. Sidney Portier, also had a turbulent stint with the company, being rejected by ANT twice. He finally managed to prove himself and gained roles with the company after fellow member, Belefonte, left a show for another job. Sidney had major success in a touring production and began his film career shortly after. Harry Belefante, in his time with the company, was one of the most revered members of the acting ensemble. He also left for stardom shortly after his arrival.
  The educational portion of the company was very extensive and rigid. It provided many young talented African-American stage actors with training in all elements of theater, film, and radio. In 1945, the theater was the first to have its own radio show featuring performances of different operas and a variety show. The theater began to lose its relevancy around this time but managed to produce work well into the mid-1950s. The American Negro Theater brought awareness to Black artists of the time and exposed many people to the culture of African-American theater. 
Sources
Hill, Anthony Duane. "American Negro Theatre." BlackPast. Accessed Web, 5/14/17. http://www.Blackpast.org/aah/american-negro-theatre.
"American Negro Theater Formed." African American Registry. Accessed Web, 5/14/17. http://www.aaregistry.org/historic_events/view/american-negro-theater-formed.