Aracoma Senior High School
Introduction
Colloquially referred to now as "Old East," what was originally known as Aracoma Senior High School went through more than one incarnation. During segregation, Aracoma High was the school for African-Americans, while white students would go to the old Logan High School (now demolished) on the east end of Stratton Street in downtown Logan. The school ceased to be known as Aracoma High School in 1962 when desegregation made its way to southern West Virginia.
Images
Painting of the historic school by Betty Gore Thompson
Picture taken from Loganwv.us of the school circa 2011.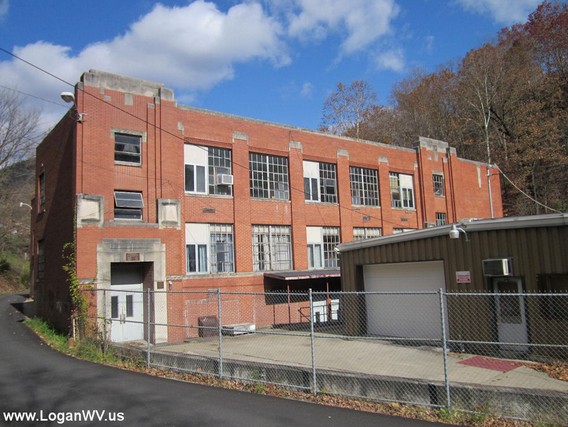 Backstory and Context
Located on Riverview Avenue (at one time referred to as "Black Bottom" before desegregation) just outside of downtown Logan and directly across from Taco Bell, the Aracoma Senior High School went through a variety of changes. The school opened in December of 1929.1

The Aracoma Senior High School's mascot, the Bulldogs, according to Dwight Williamson (a Logan Banner contributor) took a "bite" out of history. The Bulldogs won back to back football state championships in the 1948 and '49 seasons under the direction of coach Lacy Smith. Smith, as of the time of this entry, was still living and 94 years of age.

When the building was built, the Logan Banner stated that "It's stairways are large, easy to ascend and descend, and is strictly fireproof. It has one of the most complete heating and ventilating systems of any building in the state. It has a large gymnasium and auditorium combined, where the devotional and student activities may be carried on. It has splendid lavatories and shower baths for girls and boys, an excellent cafeteria, as well as a number of class rooms."

The structure was later used as East Junior High, the counterpart to Central Junior High, both of which fed into Logan High School on Midelburg Island. The school ceased to be Aracoma High School in 1962. Now, the structure is a community center, which is used by the Logan High School boys basketball team for practice, and also by the Logan Buddy League Basketball association for practice and games.

Sources
"Logan Banner.com" last modified March 3rd. 2015 http://www.loganbanner.com/news/home_top-news/152136058/Aracoma-High-School
Additional Information