Trail of Tears State Park
Introduction
Trail of Tears State Park is a Missouri State Park along the Mississippi River, north of Cape Girardeau, Missouri. Here, 9 groups of Cherokee Indians (numbering in the thousands) crossed the river on the orders of the Indian Removal Act of 1830, signed by President Andrew Jackson. The bill stipulated that all Indians east of the river must move across to the other side. Some crossed on their volition but the majority were forced to relocate against their will. The park is a certified site on the Trail of Tears National Historic Trail. Visitors can learn about the Cherokees as well as the natural features of the park at the visitor center. There are also hiking trails and campsites.
Images
The sign next to the entrance of the park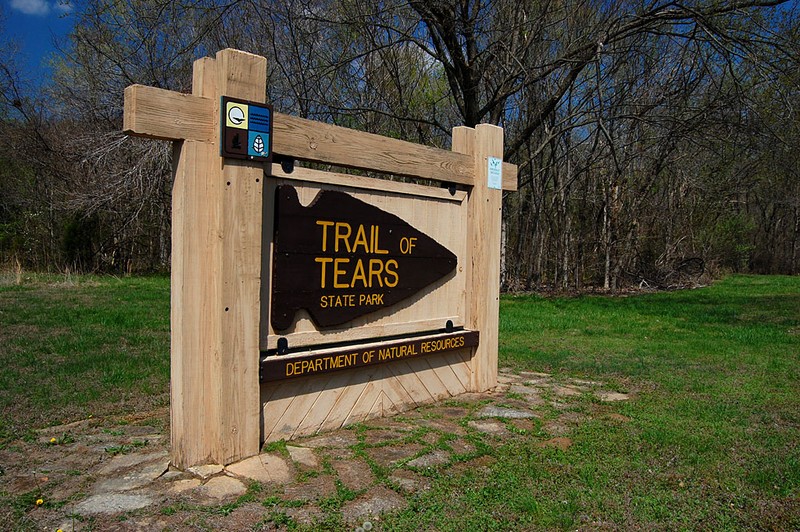 Visitors can view the area on the overlook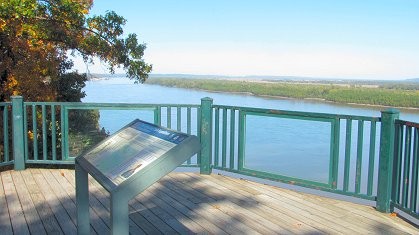 Backstory and Context
Thousands of Indians died during the process of forced relocation. Of the 16,000 Cherokee Indians that traveled westward during the harsh winter of 1838-1839, it is estimated that 4,000 perished due to starvation, disease and the elements. Ice prevented them from crossing, so they had to camp on either side of the river. In total, those that survived trekked about 800 miles to their final destination in what is now Oklahoma.
Sources
"Remembering an American Tragedy." http://mostateparks.com/page/55010/general-information. Retrieved 4-23-15.
Additional Information