North Point Water Tower
Introduction
This lovely Victorian water tower has become the name for the Historic Water Tower Neighborhood, which is one of the most historic neighborhoods in Wisconsin and is recognized by the prominent North Point Tower. The tower was added to the neighborhood in 1874, when Milwaukee began its first waterworks system. The tower was an essential component to the very modern system. The inner pipe relieved pulsations caused by the steam engines and thus reduced the pressure on the rest of the system. The tower remained in use until 1963, when the steam pumps replaced by electric pumps. Today, however, the landmark can still be seen by visitors who wish to explore the historic neighborhood.
Images
North Point Water Tower stands near Lake Michigan (Credit: Melinda Larson-Horne)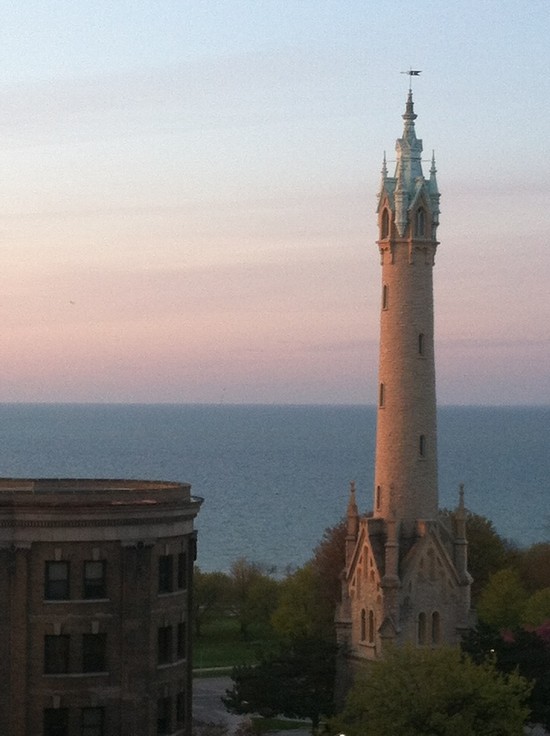 North Point Water Tower from above (Credit: Craig Wilson)
Backstory and Context
Building a modern, steam-powered waterworks system in the 1870s was no small feat. In 1871, the state legislature authorized establishing a water works system for the city of Milwaukee. Matthew Keenan was named the supervisor of the water works system and managed the construction of the system.

Similar waterworks systems were running successfully in places like Philadelphia and Chicago. Keenan used these cities as his model as he designed a system for Milwaukee. A simple pumping house pushed water from Lake Michigan up the hill to the Kilbourn Park Reservoir, and gravity carried the water through pipes down to its users. The North Water Point Tower relieved the pulsations of the engines, essential to maintaining pressure and to preventing breakage in the system.

The late 1800s were an era when waterworks were considered significant engineering feats of advanced society, thus they were shown off with pride and made into parks. Thus the North Point Water Tower displays the same pride and an effort to create a beautiful structure out of the functional utility. Designed by Charles A. Gombert, the Victorian Gothic tower rises 175 feet from the ground. It is made from Niagara limestone from Wauwatosa and houses an iron standpipe inside that rises 120 feet.
Sources
http://www.city.milwaukee.gov/ImageLibrary/Groups/cityHPC/DesignatedReports/vticnf/NorthPointWaterTower.pdf
Additional Information