The National Postal Museum
Introduction
Established in 1993, the National Post Museum serves as part of the Smithsonian Institute dedicated to educating its visitors about the history and worldwide influence of the postal service, as well as the inner workings of it. The Museum holds one of the world's largest stamp collections, as well as historic postal artifacts that date to before the advent of stamps, all of which can be seen in the Museum's many displays and exhibits. In addition to postal history exhibits, the National Post Museum also offers research opportunities for those interested in researching postal history.
Images
A view of the National Postal Museum.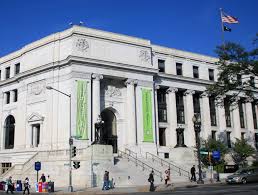 Backstory and Context
The Smithsonian Institution began the collection of postal history with a number of ten-cent Confederate stamps, and through this, the National Philatelic Collection was founded in 1886. The collection grew through gifts and donations from individual donors and governments around the world, as well as a number of direct purchases, and in 1908, the Smithsonian began displaying the collection in the Arts and Industries Building. The collection was housed there until 1963, when it was proposed that the collection was to be moved to the National Museum of American History, where the collection began to also display exhibits on postal history and on how stamps were produced.
The collection remained in the National Museum of American History until November 6, 1990, when the Smithsonian Institute and the United States Postal Service decided to make the collection into a museum of its own: the National Postal Museum. The collection was moved into the City Post Office Building, which served as the post office of Washington, DC, for decades, and on July 30, 1993, the Museum opened its doors to the public. Today, the Museum's collection continues to grow. The Museum works to circulate more exhibits on all aspects of postal history, and does so by offering many public programs and exhibitions for the education of visitors interested in the rich history of the postal service.

Sources
Smithsonian Institution. "History." National Postal Museum. Smithsonian Institution. http://postalmuseum.si.edu/about/history-of-the-smithsonian-national-postal-museum.html

Smithsonian Institution Archives. "National Postal Museum." Smithsonian Institution Archives. https://siarchives.si.edu/history/national-postal-museum


Additional Information