Soldiers' and Sailors' Monument (New Haven)
Introduction
The Soldiers' and Sailors' Monument is located at the top of the 366-foot summit of East Rock within East Rock Park, and standing around 112 feet high, this monument is visible throughout the surrounding area and the Long Island Sound. First completed in 1887, this war memorial pays tribute to all the New Haven residents who had fought in the Revolution War, the War of 1812, the Mexican War, and the Civil War. The Soldiers and Sailors' monument features round granite columnn rising from a highly detailed square base. Surrounding the base on all four corners, four allegorical bronze female statues and bas-relief panels depict scenes from the wars this monument highlights. Despite the beauty of the base and columnn, the 11-foot, 5,000-pound bronze Angel of Peace statue located at the top of the monument endures as the most prominent feature, as the Angel of Peace is facing towards downtown New Haven while holding an olive branch in her left arm.
Images
Soldiers' and Sailors' Monument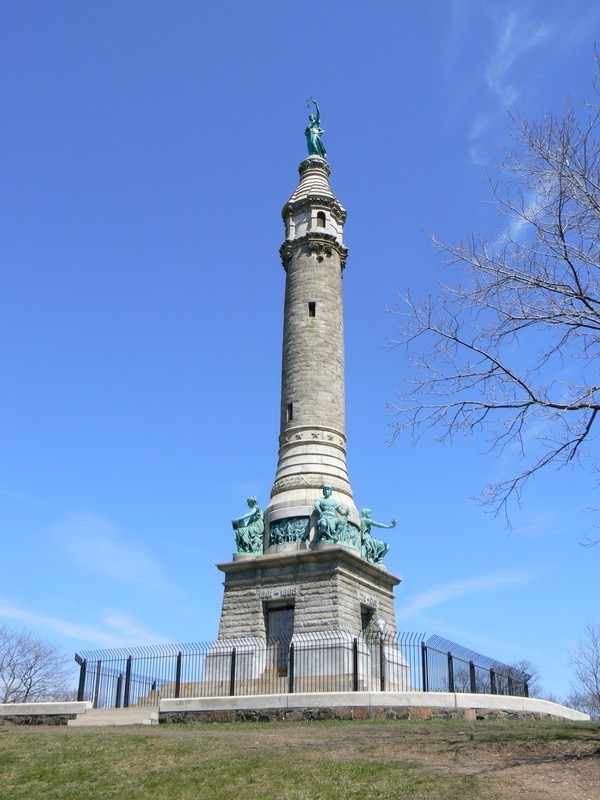 Invitation to the dedication ceremony of the Soldiers' and Sailors' Monument, 1887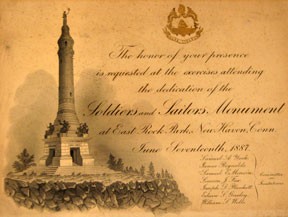 View of East Rock and Horseshoe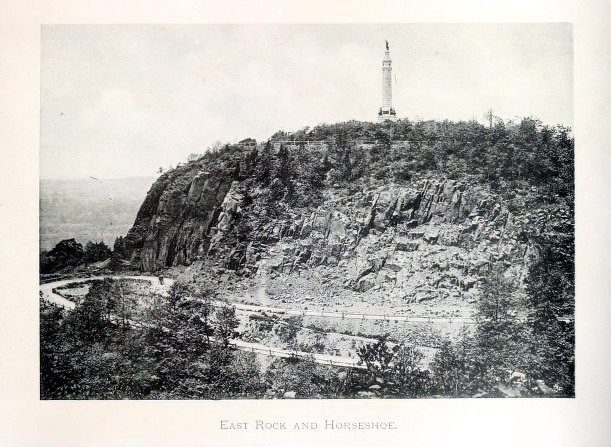 Backstory and Context
In the wake of the Civil War, communities across America were putting up war memorials to pay tribute to their countrymen who fought. However, this war exacted a dreadful toll in New Haven, and citizens sought a monument to promote peace for generations to come. The first plans to build a monument was initiated by the Admiral Foote Post of the Grand Army of the Republic in 1878, but it took more than four years before a special New Haven committee allocated $50,000 to build the monument.
Construction of the Soldiers' and Sailors' Monument began in 1886 atop East Rock by the New Haven firm of Smith & Sperry, and the monument held a dedication ceremony on June 17th, 1887, celebrating its completion. More than 175,000 spectators lined the streets at this ceremony, and a parade of nearly 20,000 men, women, and military divisions marched by. This ceremony and the parade remain as one of the city's greatest historical events.1
Features of the Monument

The four faces of the monument pay tribute to the four major wars of the 18th and 19th centuries. Along the southwest face, visitors can discover accurate depictions of the Civil War, including scenes from Gettysburg, Port Hudson, and Fort Fisher. This southwest side also features a door to the interior of the monument, where 87 steps takes visitors to the top's upper-level viewing area. The southeast face of the monument honors the Revolutionary War and lists battles such as Bunker Hill, Bennington, and Saratoga.
Visitors can also discover a large bronze plaque listing the names of soldiers and sailors who died in the Civil War on the northwest and southeast faces. The northeast and northwest faces of the monument honor the War of 1812 and the 1846 Mexican-American War, respectively. The four bronze female statues around the pedestal of the monument represent Patriotism, Victory, Prosperity, and History.2
Sources
1.) http://www.chs.org/finding_aides/ransom/074.htm 2.) http://ctmonuments.net/2009/05/soldiers%E2%80%99-and-sailors%E2%80%99-monument-new-haven/
Additional Information