C. A. Thayer
Introduction
In the bay of San Francisco docked along the Hyde Street Pier is the C. A. Thayer, the last remaining schooner specifically designed for transporting lumber along the Pacific Coast during the 19th century. Built to 1895, the Thayer's usual route was from Grays Harbor, Washington—picking up timber from E.K. Wood's mill—to San Francisco. It is a National Historic Landmark and is part of the San Francisco Maritime National Historical Park.
Images
The C. A. Thayer is the last surviving schooner from the 19th century designed for the purpose of transporting lumber along the Pacific Coast.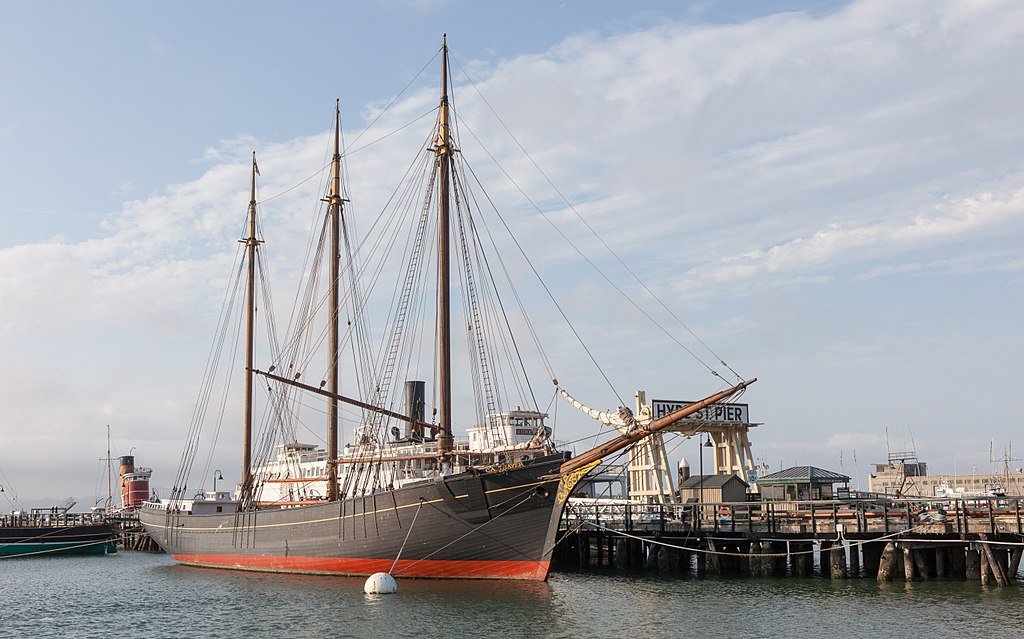 Backstory and Context
The Thayer is a three-mast, lumber schooner and was 219 feet long. It had a small crew, only consisting of 8 or 9 men. These men did not only sail the boat, they also had the duty of unloading the large cargo off the ship. After 17 years in the lumber industry, the Thayer sustained damage in early 1912 from a strong gust of wind.

Steam power pushed the Thayer to switch from transporting lumber to barrel staves (holding salmon) and salt. In April 1912, The Thayer sailed from San Fransico all the way to Western Alaska carrying empty barrel staves and salt. The Thayer would then sit in Squaw Creek or Koggiung, where the sailors would capture fish. The Thayer would return to San Fransico with its cargo hold filled with salted salmon from Alaska.

When WWI broke out, inflation became an issue for the Thayer. The cargo ship began making two-month voyages to Australia carrying Northwestern fir and redwood. Coming back from Australia the cargo would consist of coal, hardwood or copra. Beginning in 1925 the ship made yearly visits to the Bering Strait from Poulsbo, Washington to codfish. In 1942, the U.S. Army bought the Thayer to help with the war effort, turning it into an ammunition barge in the British Columbia. After the war had ended, J.E. Sheilds bought back his boat from the Army and returned it to shipping.

The ship's final voyage was in 1950. It was the last commercial sailing vessel to ever operate along the West Coast.

Sources
"CA Thayer History." National Park Service - San Francisco Maritime National Historical Park. Last updated: February 28, 2015. http://www.nps.gov/safr/learn/historyculture/ca-thayer-history.htm.

"CA Thayer." National Park Service - San Francisco Maritime National Historical Park. Last updated: November 9, 2017. http://www.nps.gov/safr/learn/historyculture/c-a-thayer.htm.

James P. Delgado & Gordon S. Chappell. "C.A. Thayer (schooner)." National Parks Service - National Register of Historic Places. November 13, 1966. https://npgallery.nps.gov/GetAsset/4f279e95-9be0-4c1c-9923-0bc5df4ad4bb.

Photo: Wikimedia Commons
Additional Information