Nubble Light / The Cape Neddick Light Station
Introduction
Just north beyond Long Sands Beach from York Harbor, the Cape Neddick area had been the scene of many shipwrecks prior 1874. Because of these wrecks Savage Rock, or the Nubble as locals call it, an island just 100 yards off the cape came to host one of the United States' most famous lighthouses. An image so human that it was selected to be carried into space. The Cape Neddick Light Station, or the Nubble Light, was a manned station from 1879 until 1987 when the lighthouses operation was automated. Though the island is not open to visitors, nearly 500,000 people a year come to photograph it from across the channel in Sohier Park.
Images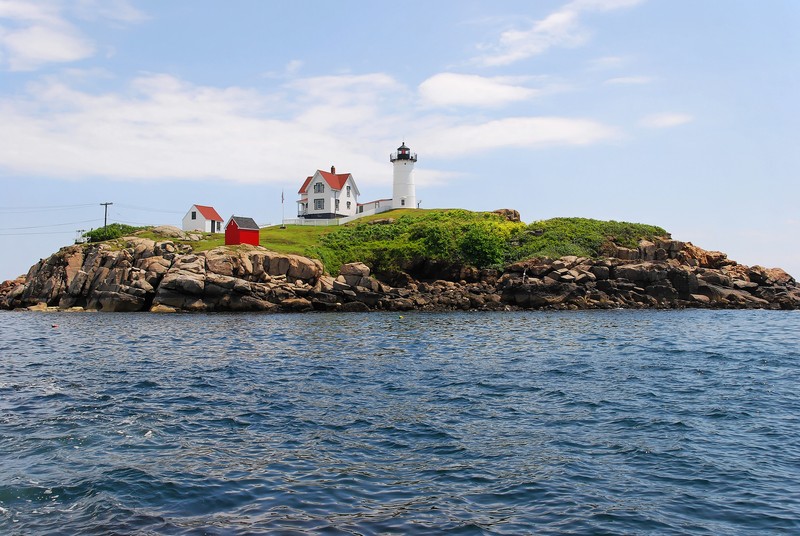 An aerial view of Nubble Light
Newspaper picture from the Ottawa Journal from July 16, 1968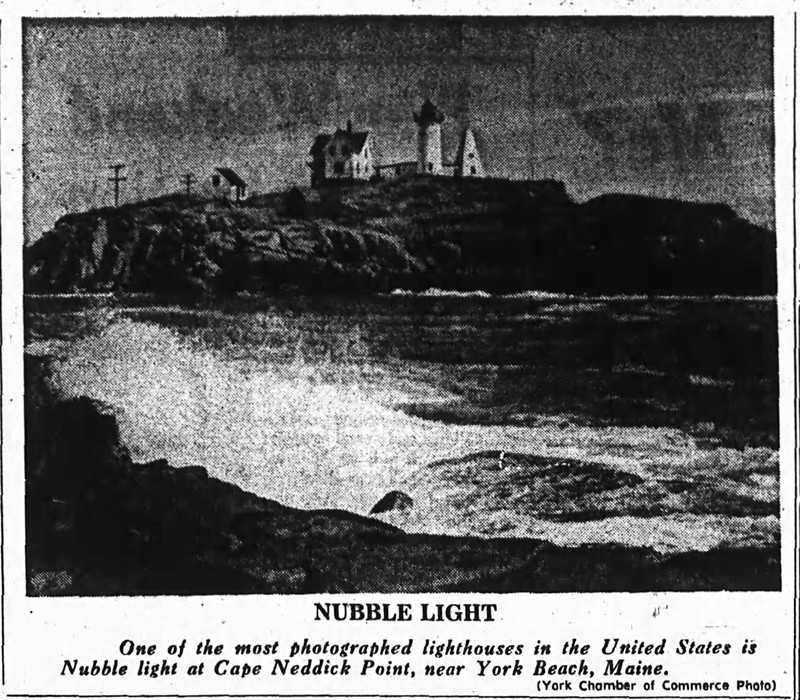 Famous newspaper picture of Rickie Winchester, the keeper's 7 year old son, on his way to school.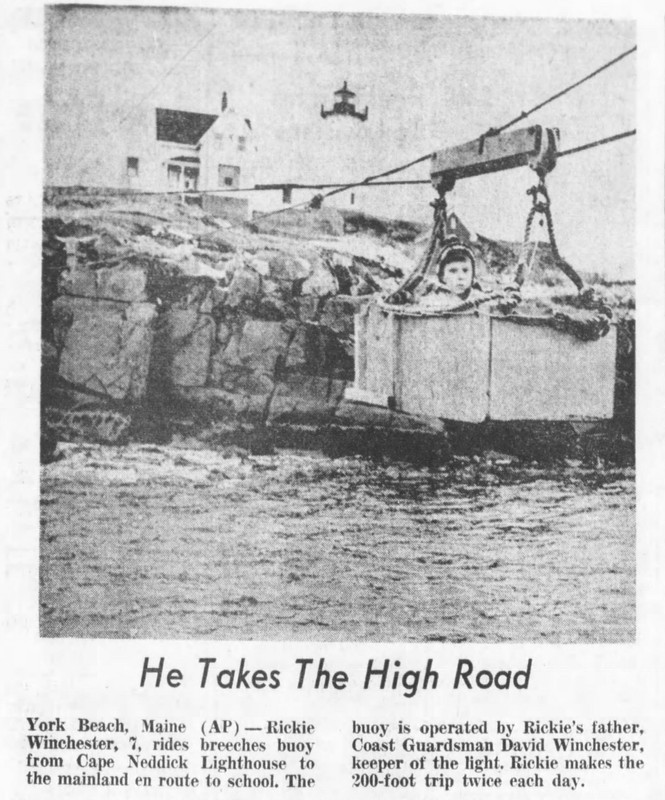 Backstory and Context
   Originally named Savage Rock, because the English explorer Bartholomew Gosnold first meet a group of Natives, which he deemed as savages, on the island in May of 1602.1 Though many wrecks had occurred near the island, the wreck of the Isidore in 1842 was the most well-known. The Isidore sailed out of Kennebunk, ME on November 30, 1842 on a planned trip to New Orleans. Sailing its first voyage, the ship's crew of fifteen were all lost. The captain, Captain Foss and the crew were from Kennebunk. One of two vessels that were lost in the region that night, pieces of The Isidore came ashore on Cape Neddick.2    Congress earmarked fifteen thousand dollars for the establishment of a lighthouse on Savage Rock in 1874. Purchasing the island in 1879 cost the Coast Guard fifteen hundred dollars. Over ten thousand dollars was spent to complete the construction.3 The completed lighthouse tower is only 41 feet high, however, the elevation is enhanced by the height of Nubble island. Other structures are a keepers house, a storage shed, a boat house, and a generator/ oil house.4
    With an annual salary of $500 Brackett Lewis, the first light keeper at Nubble Light, began his nineteen year stint.5 Many of the Lighthouse's keepers provide interesting study. One keeper in the early 1900's brought visitors to the island and his wife provided tours. The trip and the tour cost each visitor a total of 15 cents. When their tourism business interfered with lighthouse operations, the two were relieved of their duties. In 1967, light keeper David Winchester sent his seven-year-old son to school by means of a trolley over the channel. His son Rickie sat in a bucket attached to the lighthouse's wire rope supply-line and was pulled back and forth, as he went to and returned from school. A picture of Rickie Winchester setting in the trolley bucket as it rolled over the channel made its way into newspapers across the country. The Coast Guard requested that David stop using the trolley to transport his son.6
     When administrators of the Voyager II space craft launched on a mission to look for life beyond earth they decided to send three earthly images on the ship, images that reflect the earth and human life on earth, the Nubble Light was one of the images selected. The other images were the Great Wall of China and the Grand Canyon.6 Nubble Light's last keeper left in 1987 when lighthouse operations were automated. York secured ownership of the lighthouse in 1998.7
Sources
1. "Legendary Lighthouses", Great Lighthouses Maine, PBS.org , accessed April 18, 2015, http://www.pbs.org/legendarylighthouses/html/mainegl.html 2. "Melancholy Shipwreck", The Brooklyn Daily Eagle (Brooklyn, New York), December 5, 1842, p. 2, Newspapers.com, downloaded April 18, 2015, http://www.newspapers.com/image/50303298 3. Despres, Debbie, "Nubble Lighthouse/ Facts and Trivia", YankeeMagizine.com, 2013, accessed April 18, 2015, http://www.yankeemagazine.com/article/travel/nubble-lighthouse#_ 4. McElroy, Ethan, "Nubble Lighthouse", Northeast Architecture, 2015, accessed April 18, 2015, http://www.nearchitecture.com/buildings/me/nubble_lighthouse.html 5. Despres, Debbie, "Nubble Lighthouse/ Facts and Trivia", YankeeMagizine.com, 2013, accessed April 18, 2015, http://www.yankeemagazine.com/article/travel/nubble-lighthouse#_ 6. "Legendary Lighthouses", Great Lighthouses Maine, PBS.org , accessed April 18, 2015, http://www.pbs.org/legendarylighthouses/html/mainegl.html 7. McElroy, Ethan, "Nubble Lighthouse", Northeast Architecture, 2015, accessed April 18, 2015, http://www.nearchitecture.com/buildings/me/nubble_lighthouse.html
Additional Information