Mid-America Air Museum
Introduction
Mid-America Air Museum is the largest aviation museum in Kansas and the fifth largest in the nation. It is home to more than 105 aircraft and serves as an interactive educational resource for all visitors. It strives for recognition as an outstanding air museum with engaging exhibits and a major collection of historically significant aircraft. Independent visitors to the museum take self-guided tours. However, guided tours, booked in advance, are available for school, church, corporate and other tour groups. Two electric carts are available at no charge for use by elderly, disabled, or injured visitors. It's recommended to start a visit to the air museum by watching the 17-minute video, "A Story of Aviation in Kansas." It has a wealth of information about early flight and the pioneers of Kansas aviation, the history of all the aviation companies in Wichita, the aviation museums in Kansas and interesting statistics about the number of planes and pilots produced in Kansas during World War II.
Images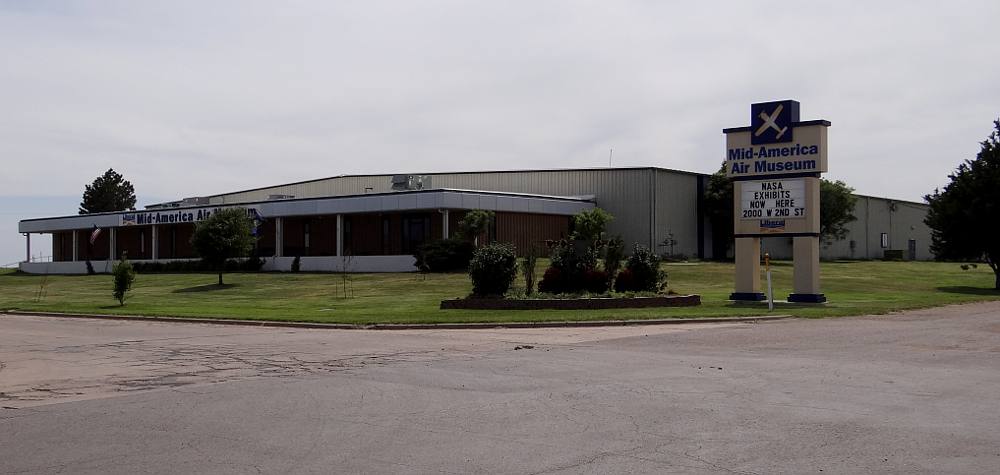 Backstory and Context
The Mid-America Air Museum is on the local public airport, originally an airfield that served as a military bomber training base during WW II

The Museum is located within a large hanger that formerly belonged to an aviation company that formerly built small private aircraft.
Liberal, once home to a major Beech Aircraft manufacturing facility and a B-24 Liberator pilot training base during World War II, established the museum to help preserve a proud local and national aviation heritage. It is a vision started by the late Colonel Tom Thomas, Jr., who donated his personal collection of over 50 planes to the museum. The museum interprets and preserves the history of flight through its collection of aircraft and related artifacts, its exhibits and its public programs.
It is an impressive display, with the aircraft in close proximity to one another in the small space. The average visitor may be able to take in all they wish within an hour, or with more direct investigation, could spend half a day among the artifacts and airplanes. The Mid-America Air Museum could be considered a regional travel destination.
The museum is more than just aircraft. It houses one of the country's finest hands-on aviation science exhibits and plays host to special events like an annual air show The museum also features aerospace education for students in its 200-seat theater. You may want to make sure you visit the museum's gift shop for that special item or the model airplane kit of your choice.
Camp Falcon at the Mid-America Air Museum is a seven-week summer educational program for children ages 8-12. Campers learn about the history of flight, the scientific principles behind flight, perform experiments, make models, and conduct test flights.
Some of the unique aircraft on display include:
· Aero Commander L-26, The smallest ever Air Force One, having been used by President Dwight D. Eisenhower from 1956-1960 for flights between the White House and his farm in Pennsylvania.
· Max Conrad's Piper Comanche. This plane set several distance records for its size, including a 7668 mile non-stop - Africa to Los Angeles.
· Vought F-8H Crusader and other military aircraft
· Ironically and unfortunately there are no B-24 Liberators in the Air Museum collection
Additional Information