The Armsmear
Introduction
The Armsmear was built in 1857 in Hartford, Connecticut, for Samuel Colt and his family. Armsmear was once called "the grandest residence in Hartford." Architect Octavius Jordan is often credited for designing the majority of the structure. Although the mansion has been renovated and remodeled, Armsmear still stands at 80 Wethersfield Avenue. Today it is used as a retirement home for widows of Episcopalian ministers, as Elizabeth Colt requested in her will.
Images
The Armsmear was built in 1857 and is today used as a retirement home for widows of Episcopalian ministers.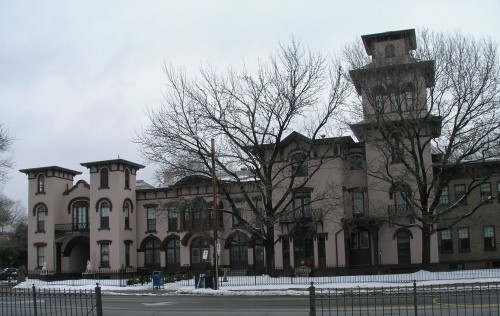 An original picture of the Armsmear before renovation. Notice the glass dome on the right side of the building that was later removed after the death of Elizabeth Colt.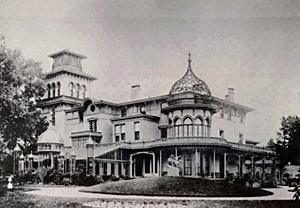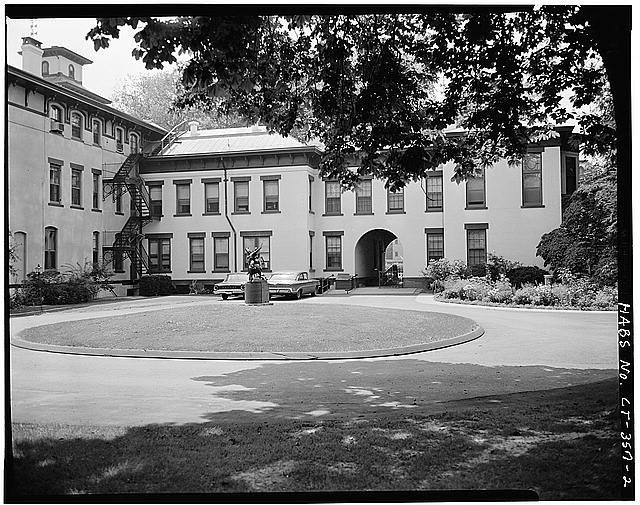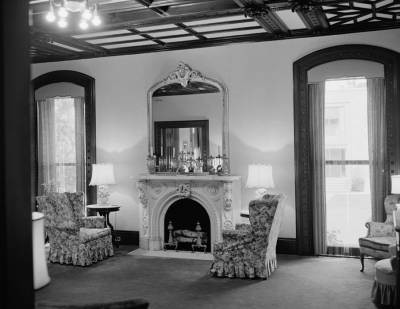 Backstory and Context
The Armsmear was designed and constructed for Samuel colt's 1856 wedding to Elizabeth Hart Jarvis. It is believed to have been designed and built by either Octavius Jordan or H.A.G. Pomeroy, who worked as one of Colt's factory engineers. The Armsmear was built so that it overlooked the recently completed Colt armory.
The Colt family moved into the Armsmear by 1857. Interestingly, the man with an explosive passion for firearms development was also into gardening and conservation. Samuel and Elizabeth Colt had multiple gardens, greenhouses, ponds, fountains and a deer park all on the acreage of the estate. The Armsmear itself had two glass-domed conservatories, added from 1861-62 that were modeled after London's Crystal Palace. The Colt's estate had some 2,600 cubic feet of greenhouses located all throughout the backyard of the estate.
The Armsmear was the primary residence of the Colt family. Unfortunately, Sam Colt became ill and died of gout in 1862 at the age of 47. Sam was buried on the grounds of the Armsmear amongst the graves of his and Elizabeth's four children who did not survive infancy. The burial ground that Samuel Colt was lowered into was known as the "Grove of Graves".
Colt left behind a $15 M fortune for Elizabeth and Caldwell Hart Colt, along with ownership of the Armsmear. They lived lavishly at the Armsmear for decades, throwing large parties that were the talk of the Hartford community. Elizabeth died in 1905, 43 years after the passing of her beloved husband. Elizabeth requested in her will that the Armsmear be turned into a retirement home for widows of Episcopalian ministers.
The Armsmear is still a retirement home for elderly Episcopalian women and is administered by the Colt Trust. One-hundred and forty acres of the property were donated to the town of Hartford for the creation of the Colt Park. The greenhouse gardens and ponds were replaced by ballparks and a skating rink. The Colts continued to give to the community of Hartford, even posthumously. The Armsmear is still a pillar of Hartford's history.
Sources
"Armsmear." Historic Buildings of Connecticut. July 3, 2007. http://historicbuildingsct.com/?p=67.

Hosley, William. Colt: The Making of an American Legend. Amherst: University of Massachusetts Press, 1996.

Photos: Library of Congress
http://loc.gov/pictures/item/ct0331

Additional Information