Leavenworth County Historical Society
Introduction
As the main repository of history in Leavenworth County, it is the business of the Leavenworth County Historical Society to discover, preserve, and share as much information as possible about Leavenworth County in contrast and comparison to larger themes of the history of the state of Kansas and the United States. Being a historic home museum and county historical society, these larger themes are explored through guided tours, special exhibits, programming, research, and publications.
Images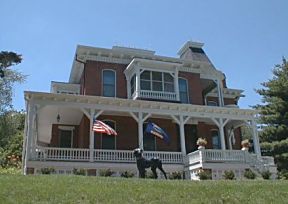 Backstory and Context
The thought of forming a historical society came during the planning of Leavenworth's Centennial Celebration in 1954 when interested citizens realized the rapid destruction of significant Leavenworth landmarks. It was actually the Kiwanis Club, then headed by James Fussell, that helped promote the idea. In the fall of 1954, they announced their sponsorship of a "Historic Essay Contest" in order to motivate public interest in the organization of the Leavenworth Historical Society. Formed in December 1954, with a mission to collect, preserve and share the rich history of Leavenworth County, Miss Ella Carroll was a charter member of the society, who then donated her Victorian home in 1964 for a museum.