Kansas State Historical Society Museum and Archives
Introduction
The state museum includes Santa Fe's oldest surviving locomotive, the first Kansas-made aircraft, John Brown's pike, a flag from Quantrill's raid, Civil War weapons and flags, and other artifacts related to Bleeding Kansas and the Civil War. It also displays Carry Nation's hammer and other artifacts related to prohibition. One of the favorite displays is a 1950s diner, complete with a lot of artifacts from that era.
Images
This modern facility was constructed to house the growing museum and archives in the 1980s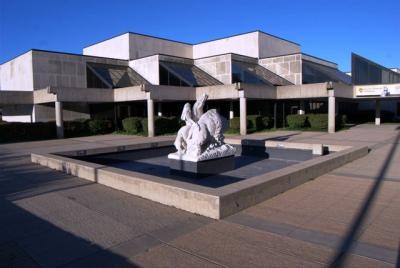 Between 1914 and the construction of the current facility, the museum and archives were housed downtown in Memorial Hall.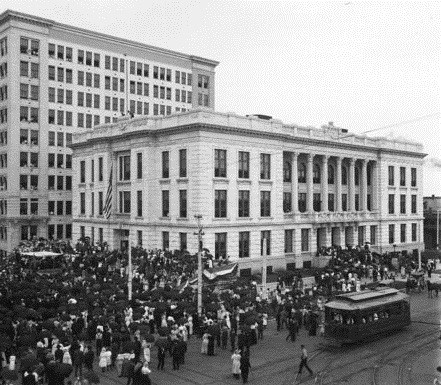 Backstory and Context
The museum's parent agency is the Kansas Historical Society, founded in 1875 by newspaper editors and publishers. In 1879 the state enacted legislation recognizing the Society as the trustee of Kansas' history.
Begun during the earliest years of the Society, the museum originally was located in the Kansas statehouse. These quarters soon became overcrowded, and the museum and other Historical Society departments relocated to the then-new Memorial Hall in downtown Topeka in 1914. The first curator was hired that same year. Displays continued to expand with the collection holdings.
The museum experienced a period of great growth during the 1980s. The state legislature appropriated money for a new building in northwest Topeka with more space for exhibitions and storage. The division hired an experienced, professional staff. National awards were received for the museum's interpretive exhibits and programming.
Today the exhibits and collections depict the full spectrum of Kansas history. Particular strengths include the Bleeding Kansas era, with an outstanding group of objects associated with John Brown, and Civil War flags, including one of the nation's largest groupings of African American regimental flags. Objects represent all facets of Kansans' lives, from all periods of the state's history.
Currently the museum is a top Kansas tourist attraction and one of the most-visited museums in the state.
Sources
"Kansas Museum of History." Kansas Historical Society. Accessed March 17, 2014. http://www.kshs.org/kansapedia/kansas-museum-of-history/18161.
Additional Information