Dr. Thomas Walker State Park
Introduction
In 1750, Dr. Thomas Walker passed through the Cumberland Gap and built the first house in Kentucky. A replica of Walker's cabin today stands on the original site, which is now the Dr. Thomas Walker State Historical Park. This park includes mini-golf, gift shop, picnic shelters, playground, and lighted basketball court surrounded the replica of the cabin. Come and visit there to enjoy outdoor activities and learn more about Dr. Thomas Walker and his journey.
Images
Replica of Thomas Walker's cabin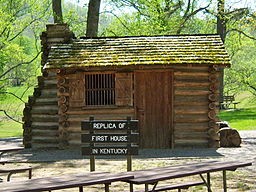 Replica of Thomas Walker's cabin in the other side

State Historical Marker at Dr. Thomas Walker State Park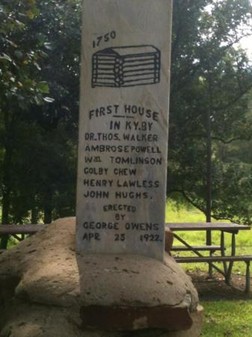 Backstory and Context
Dr. Thomas Walker was born in January 25, 1715. When he was young, he studied medicine and became a practicing physician in Fredericksburg, Virginia. He was also a member of the Loyal Land Company which was a group of ambitious land speculators.
On April 13, 1750, the first English Expedition was organized by Dr. Thomas Walker and passed the Cumberland Gap through the mountains, named after the Duke of Cumberland. By April 23, 1750, the Walker expedition had arrived in Kentucky. The Walker expedition also encountered a river which was named Cumberland by Dr. Thomas Walker.
After the successful exploration, Walker constructed a small, crude cabin to legally claim the land that the expedition had found. On July 13, 1750, Dr. Thomas Walker and his expedition returned to Virginia and never came back to Kentucky. Based on Walker's Journal Records, the structure of the cabin was around twelve feet by eight feet. According to Kentucky State Parks, "the Barbourville Post of the American Legion became interested in honoring the memory of Walker. They campaigned to make the traditional site of the Walker cabin a state shrine. The American Legion and the Barbourville community donated the 12-acre tract to the commonwealth"(1). On June 20, 1931, the Dr. Thomas Walker State Shrine became part of Kentucky Parks.
Sources
(1)"Dr. Thomas Walker History". Kentucky State Parks. Retrieved April 3, 2015 from http://www.parks.ky.gov/parks/historicsites/thomas-walker/history.aspx
Additional Information