Kennedy-Douglass Center for the Arts
Introduction
The cultural center for Florence, Kennedy-Douglass Center for the Arts is a gallery, educational facility, museum, and a center for the coordination and promotion for cultural activity in the area. It serves as the administrative office for all the museums. It is a home base and meeting place for cultural groups and a showcase and classroom for all arts disciplines. The Center features annual exhibits and rotating exhibits by artists from the Southeast, workshops and classes for all ages, concerts, and interesting lectures and programs.
Images
Kennedy-Douglass Center for the Arts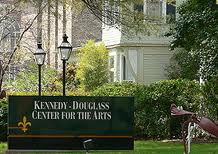 One of the fun and quirky pieces outside of the center.
Sources
http://www.florenceal.org/Community_Arts/Art_Galleries_Museums/Kennedy_Douglass/index.html
Additional Information