Santa Cruz Museum of Natural History
Introduction
This natural history museum dates back to 1905 and offers a variety of exhibits and programs that connect people to the natural world. The museum opened due to the support and generosity of Laura Hecox. Hecox donated her extensive collection of rare species and also provided financial support. For this reason, the museum was known as the Hecox Museum in its early years. Highlights of the museum include exhibits about the mammals, reptiles, birds, and insects in this section of California. There is also an impressive exhibit about the Ohlone Peoples, the original human inhabitants of the region. The museum's collections have grown significantly from the time of Laura Hecox's donation of 200 artifacts and specimens. With a collection of over 16,000 items, the museum can offer a variety of new exhibits each year.
Images
The Santa Cruz Museum of Natural History is often referred to as "the whale museum" by locals owing to its incredible collection of marine life.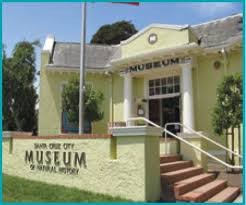 The museum's first home was in the downtown library. This library was located at the present location of the Central Branch library.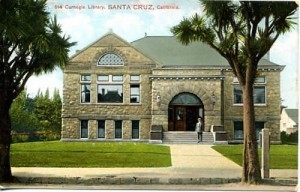 Backstory and Context
The Museum traces its beginnings to the late 1800s and the collection of naturalist Laura Hecox. Miss Hecox was born in Santa Cruz in 1854 and from childhood had a keen interest in the natural sciences. Her parents, Adna and Margaret Hecox, traveled overland from Illinois to California in 1846 and settled in Santa Cruz the following year. In 1869 Mr. Hecox was appointed keeper of the original Santa Cruz Lighthouse and took up residence there with his wife and family.
Young Laura soon began collecting seashells, minerals, fossils, Indian artifacts, and other specimens and curios, turning part of the lighthouse into a private nature museum. "This young lady is quite a student of conchology, and her display of shells and cabinet specimens is greatly admired by all who visit the lighthouse," said a writer in 1879.
In 1883 Adna Hecox died and Laura Hecox was appointed lighthouse keeper by the federal government. She stayed at the post for thirty-three years. On weekends she gave public tours of the lighthouse including her personal natural history museum. Although interested in all of natural history, her specialty was mollusks. She corresponded with prominent scientists of the day and had at least two mollusk species named in her honor.
In 1904 Laura Hecox deeded her collection to the City of Santa Cruz for the establishment of its first public museum. The following year, the Hecox Museum opened in the basement of the new Carnegie Library, which was located on the site of the present Central Library. Dr. Charles Lewis Anderson, local physician and naturalist, served on the library Board of Trustees and played a key role in establishing both the library and museum.

Additional Information