Printer's Alley
Introduction
Printer's Alley (also sometimes spelled Printers Alley) is Nashville's answer to New Orleans' Bourbon Street, both in its colorful character and highly risqué history. Running from Union to Commerce Streets between Third and Fourth Avenues in downtown Nashville, the area became, around the turn of the 20th Century, a major center of Nashville's bustling printing industry. In fact, were it not for its strong association with the music industry, Nashville might well have become known as the Printing Capital rather than the Music Capital of the World. The alley also became famous (and in some quarters, infamous) as a red-light district, with just about every pleasure, legal and illegal, available to its patrons. Today the area is still bustling, but as a tourist attraction, offering visitors both a fascinating glimpse into the history of Nashville's old nightlife, as well as lively examples of present-day nightlife.
Images
"Printers alley" by Kaldari - Own work. Licensed under Public Domain via Wikimedia Commons - http://commons.wikimedia.org/wiki/File:Printers_alley.jpg#mediaviewer/File:Printers_alley.jpg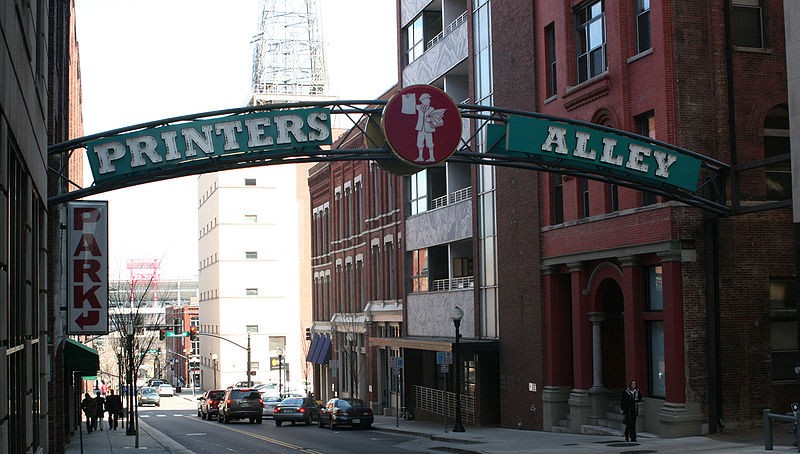 Newspaper delivery boys standing in Printer's Alley. Courtesy of "Library of Congress Archives Nashville Tennessee Collection.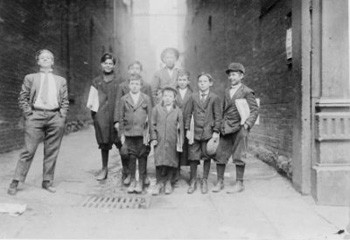 Backstory and Context
Since the population of the printing businesses of early 20th Century Nashville was largely male, local establishments – both respectable and less so – soon sprang up to cater to their needs. In 1909, the sale of liquor was outlawed, but the establishments of Printer's Alley considered this a very minor obstacle and continued to serve alcohol under secret official protection. And in 1939, after Prohibition was abolished but the sale of individual drinks remained illegal, Printer's Alley established a "bring your own bottle" policy, where bartenders gladly mixed the drinks patrons brought in with them.

However, if you think the officials of Nashville were up in arms about this dissolute behavior in their fair city, think again. Judges, businessmen and even high-ranking politicians not merely looked the other way but frequented the area. One of the most colorful characters associated with the alley was Mayor Hilary Howse. After moving to Nashville as a teenager in 1884, Howse by the turn of the century had opened a furniture store with his brother and got involved in politics. Elected mayor in 1909, he liked to brag to reporters that he not only tolerated the naughty goings-on in Printer's Alley, but patronized them himself! (Lest the reader judge him harshly, it should be noted that Howse also gave aid to poor families and cleared slums during his tenure.) Ousted by "reformers" in 1913, Howse cleaned up his act, quit drinking and even joined a church. Newly enfranchised female voters brought him back to the Mayor's office in 1923. However, to the delight of the patrons of Printer's Alley, the reformed Howse did absolutely nothing to clean up the area, which retained both its naughtiness and its distinct character. He died in office in 1938.

In the 1940s, nightclubs sprang up in Printer's Alley, and performers such as Boots Randolph, Chet Atkins, Dottie West and the great Hank Williams frequently performed there. A noteworthy establishment was The Carousel. Unlike many of clubs in the area, though, jazz rather than country music was heard there. However, many of its performers were country players by day who loved jazz and enjoyed jamming there by night. These included Randolph, Atkins, Floyd Cramer, Buddy Harman and Hank Garland.

But perhaps the most famous club in Printer's Alley was the Rainbow Room, operated by one of Nashville's most beloved figures, David "Skull" Schullman. It was the only dancers' club in Nashville to hire a live band to accompany their routines. So popular was Schullman that he was declared the "Mayor of Printer's Alley" by the Nashville City Council. In the 1990's, Schullman converted the space into a country music bar in which top-flight talent performed; he even made cameo appearances on the country-themed TV show, Hee Haw. One night, Schullman was working alone in the club when he was attacked and killed by intruders. The club closed and never reopened. There have been claims that Skull's ghost still haunts the place.

As late as the 1960s, the area had over 35 major printing companies – many of which created posters for country music acts. The last of the printing firms left in the mid-1970s,

Today, Printer's Alley offers tourists many lively country music and blues bars. But lest you were worried that it's become too respectable, adult entertainment sites can still be found there, too.



Sources
Duke, Jan. "Nashville's Historic Printers Alley." Tripsavvy. May 20, 2003. http://nashville.about.com/cs/historynsites/a/printalley.htm.

"History." The Printer's Alley. Accessed March 26, 2015. http://www.theprintersalley.com/history2.html
"Hilary Howse." Tennesse Encyclopedia. Accessed March 26, 2015. http://tennesseeencyclopedia.net/entry.php?rec=665.
"Mayors of Nashville." Nashville History [Blog]. July 29, 2009. http://nashvillehistory.blogspot.com/2009/07/mayors-of-nashville.html.
Additional Information