Carter H. Harrison Technical High School (Maria Saucedo Scholastic Academy)
Introduction
Carter H. Harrison Technical High School was buillt in 1910. The school was initially named after Admiral David Farragut, but the name was changed a few years after the school opened in honor of former mayor Carter H. Harrison, Sr. Harrison was assasinated in 1893 during his fifth term as mayor. The high school closed in 1983 and the building is now home to the the Maria Saucedo Scholastic Academy.
Images
Harrison High School Post Card from Circa 1923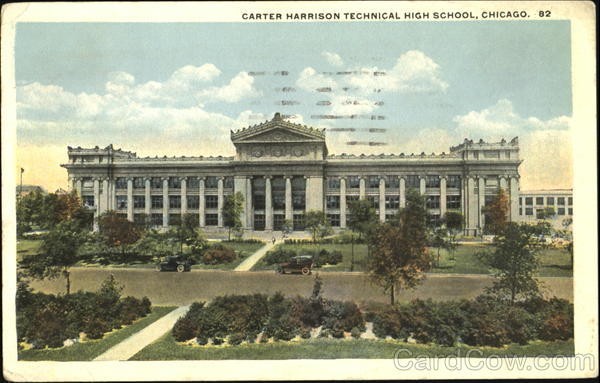 Community Reporter Cover " Harrison High Shut Down'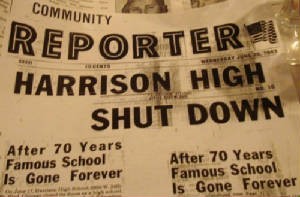 Backstory and Context
Harrison Carter High School is named after the five term mayor of the city of Chicago, not to be confused with Harrison Carter Jr. who was also a five term mayor. Harrison Carter Sr. was also a member of the United States House of Representatives from Illinois's 2nd district and was assonated in his home during his fifth term as Mayor in 1893.
Harrison High School was a state of the art facility for its time hosting nearly six thousand students throughout day and evening classed in a single day. Some of the perks for the Harrison Hornets included 45 classrooms, 28 special classrooms, 7 labs, assembly hall, gymnasium and swimming pool. Over the years Harrison High School has developed great scholars and athletes such as; Arthur Goldberg (Supreme Court Justice), Irwin Kostal (Disney Legend), Al Brosky football great (College Hall of Fame/Chicago Cardinals Player) and Walt Kudzik (Washington Redskins).
Currently this facility is now call the Maria Saucedo Scholastic Academy servicing grades K-8 in the Little Village Area of Chicago. The tradition continues as the school is rated at the highest possible level, Level 1.

Sources
http://www.illinoishsglorydays.com/id697.html http://www.saucedo.cps.k12.il.us/about_us.html https://www.cardcow.com/175093/carter-harrison-technical-high-school-chicago-illinois/
Additional Information