St. Andrews African Methodist Episcopal Church, Sacramento, The First AME Church on the Pacific Coast
Introduction
The St. Andrews African Methodist Episcopal Church was established in 1850, making it the oldest African American church on the Pacific Coast.
Images
This plaque on the wall of the freeway shows the location of the former church and serves as a reminder of the decisions that went into the construction of urban highways and interstates.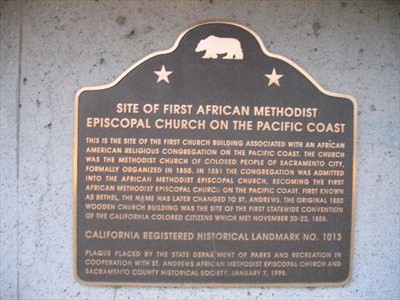 Another Historical Plaque on the corner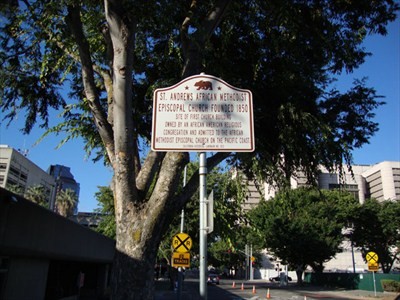 The St. Andrews AME Church, Sacramento at its current location at 2131 8th Street Sacramento, CA 95818.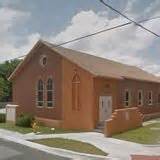 Backstory and Context
Built to serve the needs of a small congregation of African-Americans who had been gathering for religious services in Daniel Blue's home on I Street near 4th and 5th streets, the first St. Andrews AME Church was constructed on 7th Street at a location that is now owned by Sacramento County and is near to where it now sits at 2131 8th Street. Two of its first leaders were Blue and Barney Fletcher, the latter was one of the organizers of the services that were held at Blue's home. Pastor John Fitzgerald was perhaps the first preach within the church itself.

First named Bethel, the St. Andrews AME Church was a haven attracting African-Americans from hundreds of miles around. It gave them, people who often lived lives on the margins that were full of uncertainty, a place of fellowship, a place to be and feel safe, and a base from which they were able to change their world.

One of the first societal changing agents to grow out of the warm embrace of the St. Andrews AME Church was the hosting of the California Colored Citizens convention from November 20 to 22, 1855. This gathering of African-Americans from all around the state raised legislative issues and helped change many laws that were not just to African Americans in the US. This convention was held again 1856 and 1865.

Although the original church on 7th Street is now owned by the county, St. Andrews AME Church has been recognized as a California Historical Landmark and a plaque commemorating its historical importance is now hung in the place of the church to this day. The church at its current location is still open and doing God's work. And, as it always has been, the church and its congregation is dedicated to being a beacon that reaches out to an ethnically and politically diverse Capital City.

Sources
Race-based legislation in the North. Africans In America from Public Broadcasting Service. Accessed April 23, 2017. http://www.pbs.org/wgbh/aia/part4/4p2957.html.

History of St. Andrews. Official website of St. Andrews Church. Accessed April 23, 2017. http://www.standrewsame.org/history.


Additional Information