Cliff House
Introduction
First built in 1863, the Cliff House restaurant is a part of the Golden Gate National Recreation Area and sits fittingly on the cliffs overlooking the Pacific Ocean. During its prime, the restaurant was a favorite dinning location among celebrities and other world renowned individuals such as Presidents William McKinley and Teddy Roosevelt. Unfortunately, the original structure was badly damaged when a schooner exploded on the rocks right below the restaurant, but continued to operate until it was destroyed by a chimney fire in 1894. However, a second Cliff House was built in its place and opened in 1896, but it was also destroyed by fire in 1907. A third Cliff House opened in 1909 and operated until 1925. In 1937, Playland owners George and Leo Whitney purchased the property, remodeled it so that it reflected its original neoclassical style, and reopened it in 1938. Since 1977, the restaurant has been owned by the Golden Gate National Recreation Area.
Images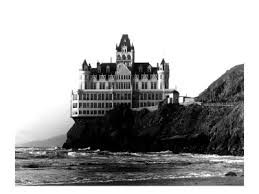 The first Cliff House 1863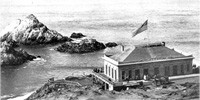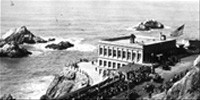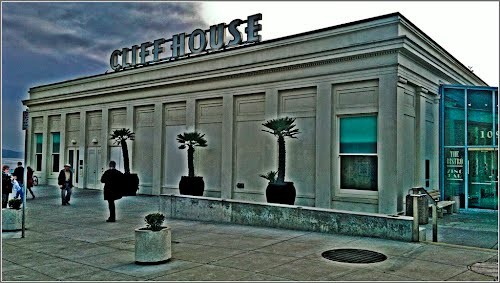 Backstory and Context
The original Cliff House was the product of Senator John and C.C. Butler, but it was Captain Junius Foster, who leased the restaurant, that made Cliff House a major sightseeing attraction. After several renovations and an additional two wings, Adolf Sutro (a well-known and prominent San Franciscan) purchased the Cliff House in 1883.

Sutro's poor management capabilities led him to lease to Sroufe and McCrum, a local wholesale liquor company. This gave the Cliff House somewhat of a scandalous reputation and ended up falling under the care of J.M. Wilkins, who was encouraged to bring back a family friendly atmosphere. After a structural damaging explosion, the Cliff House was restored by Dr. Emma Merrit and John Tait using the Sutro estate fund. The Cliff House was temporarily shut due to military orders and stayed closed until the 1930s.

Cliff House was bought by George and Leo Whitney in 1937 to complement the Playland-at-the-Beach attraction nearby. For six years, from 1955 to 1961, a sky tram was in operation across the Sutro Baths basin, taking up to 25 visitors to Point Lobos at a time. Playland closed down in the 1960s and Cliff House was eventually taken over by the National Park Service in 1977, becoming part of the Golden Gate National Recreation Area.
Sources
Cliff House. Parks Conservancy. Accessed April 16, 2017. http://www.parksconservancy.org/visit/park-sites/cliff-house.html.

Cliff House History. National Park Service. Accessed April 16, 2017. https://www.nps.gov/goga/learn/historyculture/cliff-house.htm.

Wild, Chris. The house on the cliff. Mashable. Accessed April 16, 2017. http://mashable.com/2015/05/07/cliff-house/#6ZWOR.PEdZq3.

The Cliff House. San Francisco. Accessed April 16, 2017. http://www.sanfrancisco.com/the-cliff-house-b8891.

Additional Information