Thanksgiving Point
Introduction
Founded in 1996, Thanksgiving Point is a nonprofit farm, garden, and museum complex. As part of this complex, the Museum of Ancient Life includes a variety of exhibits that range from dinosaurs to geology and other natural science fields. The museum complex also includes the Museum of Natural Curiosity, Farm Country, and Ashton Gardens. Thanksgiving Point also includes events for the family, such as festivals and corn mazes.
Images
Thanksgiving Point gardens

Thanksgiving Point's Museum of Ancient Life includes dinosaurs and other museum exhibits.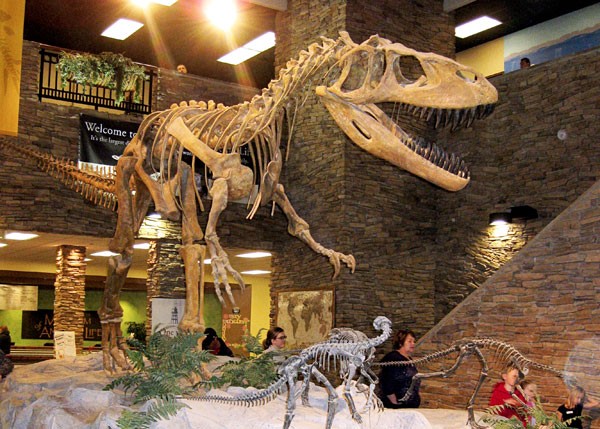 Backstory and Context
In February, 1995, Alan and Karen Ashton, founders of Thanksgiving Point, bought land in Lehi, Utah in hopes of give back to the community and have something for everyone to enjoy. Thanksgiving point was then founded in 1996. Annually, Thanksgiving Point welcomes in 1.9 million visitors from all over the United States and the world.
Opened in 2000, the Museum of Ancient life includes things such as fossils and rocks. Thanksgiving Point is a proud owner of the largest collection of Dinosaur displays in the world. Other places, such as the gardens, opened in 1997. Almost 5 miles of walking trails will take you through the 15 themed gardens Thanksgiving Point has. During the Tulip Festival, happening every April since this part opened, 250,000 tulips are there for the visitors to see. This makes a great program for the children and teachers interested in educational field trips.
Thanksgiving Point Golf Course opened in 1997 and is home to the annual Champion's Challenge. The golf course was founded by Jonny Miller and is owned by Vanguard Golf Management. Thanksgiving Point Golf Course is the largest golf course in Utah, over 7,000 yards long and 200 acres. There are also places for shopping and eating at Thanksgiving Point.
Another portion of Thanksgiving Point is being added in the spring of 2014, called Museum of Natural Curiosity. It will include 5 new exhibits, such as rain forests and traveling.
With quality at the core of what it offers, Thanksgiving Point contributes to the lives of individuals, families, and communities by offering transformative experiences that change lives through the promise of discovery. Hands-on discovery is delivered through innovative educational courses, day camps and field trips. Educational offerings are designed for every age group, from toddlers to adults.
Additional Information