Woodrow Wilson Presidential Library
Introduction
The Woodrow Wilson Presidential Library, adjacent to the childhood home and birthplace of Woodrow Wilson, opened to the public in 1990 and offers artifacts and archival sources related to the life and presidency of Woodrow Wilson. The library also includes periodicals, artifacts, and archival documents from the era of his presidency. The adjacent building, known as the Manse, is a museum with period furniture and seven exhibitions on Wilson and his time as president. The grounds also hold a 1919 Series 51 Pierce-Arrow limousine that Wilson used frequently for business travel.
Images
Woodrow Wilson Presidential Library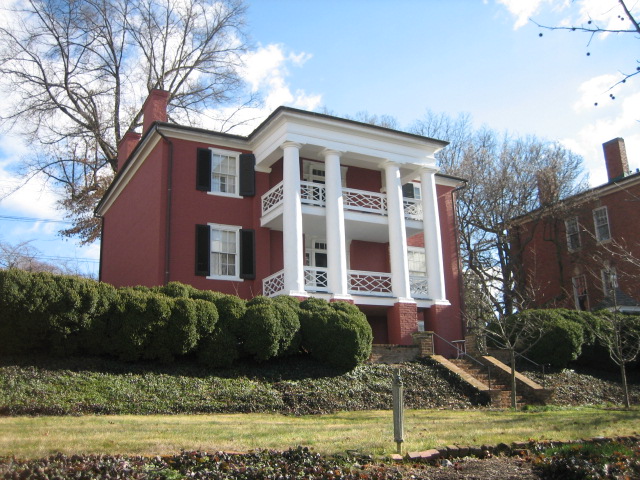 Backstory and Context
Woodrow Wilson was born in Staunton, Virginia to a family of four children. His grandfather was an advocate of tariffs and opponent of slavery, and he edited a newspaper reflecting those views called The Western Herald and Gazette. Wilson's grandparents were immigrants from Ireland and they moved to the United States in 1807 and later moved to Ohio. Wilson was only four when Lincoln was elected president, but he claimed that his earlier memory was standing in his yard hearing a passerby say that the election of Lincoln would lead to war. Despite the anti-slavery position of his grandparents, Wilson's parents were supporters of the Confederacy during the Civil War.
Wilson attended Davidson College in North Carolina but transferred to the College of New Jersey as a freshman. He majored in political philosophy and history, joined a fraternity, became secretary of the school's football association, and was elected president of the school's baseball association. He also studied Whig literature and became a managing editor for the school's newspaper. After graduating from college, Wilson went to the University of Virginia School of Law, but poor health conditions forced him to leave that school and continue his studies elsewhere. In 1883, Wilson attended John Hopkins University for his doctoral studies and Ph.D. After graduation, he was a professor at Bryn Mawr College from 1885 to 1888.
After teaching at the prestigious women's college, Wilson secured a position at Princeton University. In 1902, he became president of Princeton. New Jersey Democrats scouted Wilson as a potential candidate for the upcoming gubernatorial election and Wilson agreed to run and won that election. While serving as New Jersey'sgovernor from 1911-1913, Wilson vetoed several bills, passed labor laws related to women and children, signed antitrust laws, and restricted the selection of juries from local sheriffs.
Wilson had presidential aspirations in the 1912 election and soon became a leading candidate for the Democratic Party. His main opponent in the primaries was Speaker of the House Champ Clark of Missouri. After securing the nomination, he entered a four-way race with incumbent President William Howard Taft, Bull Moose Party nominee Theodore Roosevelt, and Socialist Party nominee Eugene V. Debs. Governor Wilson won the popular vote and received 435 electoral votes, and served two terms as President.
President Wilson supported the conservation of national resources, banking reform, reducing tariffs, and providing equal access to raw materials. Wilson signed the Revenue Act of 1913 which reduced tariffs and replaced the lost revenue with a federal income tax. Wilson also opposed women's suffrage but softened his opposition in the latter years of his presidency as a political calculation. Today, Wilson's indifference towards the rights of African Americans and willingness to turn a blind eye to racial violence and lynching have shaped his legacy.
Following Europe's willing drift into war, Wilson's primary concern was the war. Wilson's official position was neutrality, which helped him secure re-election in 1916. As Germany and their allies attacked American ships. Wilson supported a formal declaration of war. Although it would take about a year for American troops to reach Europe in significant numbers, American support was still critical to the victory of the western allies. After the war ended, Wilson led the American delegation at the Paris Peace Conference and tried to shape postwar Europe and the world with his 14 Points, including the creation of the League of Nations. However, opposition at home meant that the United States never joined the league and the U.S. largely returned to isolationism.
Despite growing health issues, Wilson wanted to run for a third term, but the convention refused to nominate him and instead supported the candidacy of Ohio Governor James M. Cox for the 1920 presidential election. Ohio Senator Warren G. Harding defeated Cox in the general election. Wilson did not attend Harding's inauguration due to his declining health and he died on February 3, 1924. He was buried in the Washington National Cathedral becoming the only president to be buried in the nation's capital.
The Woodrow Wilson Library opened in 1990 as an additional education space for the life of Woodrow Wilson. Researchers are able to access all archival materials at no cost. The Library has an extensive collection of manuscripts, periodicals, and photographs available for view in person and digitized online. The Manse, another name for a Presbyterian minister's house, was Wilson's birthplace and childhood home. The house, including what is now called "the Birthing Room," are open to the public. 
Exhibits includes galleries titled, Wilson's Family, Wilson's time at Princeton, The Governorship of New Jersey, The Presidential Years, World War I, The Treaty of Versailles, and The League of Nations. The grounds include a garden and the Pierce-Arrow limousine used by Wilson during his presidency. In 2008, The Garden Club of Virginia refurbished the garden area adding additional plants and restoring the fencing.
Sources
"Woodrow Wilson: The 28th President of the United States ", Whitehouse.gov. Accessed May 13th 2021. https://www.google.com/amp/s/amp.reddit.com/r/TrueOffMyChest/comments/ass0ns/sick_and_tired_of_people_who_are_cheating/.
Woodrow Wilson Presidential Library. Accessed May 13th 2021. https://www.woodrowwilson.org/.
Additional Information